Former Olympian wins award for anti-doping work
Posted
A Canadian anti-doping advocate and lawyer is recognized for making international sport more ethical.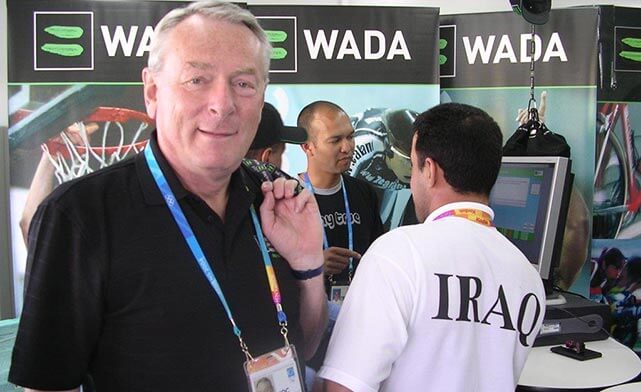 Richard Pound in Athens in 2004.
A Canadian Olympian-turned-lawyer received the second annual Scotiabank Ethical Leadership Award last week for his role in the fight against doping in international sport.
Richard Pound already has four Commonwealth Games medals for swimming, a spot on Time Magazine's 100 Most Influential People list, an Order of Canada and a National Order of Quebec. He has twice served as the vice president of the International Olympic Committee (IOC) and once as the chancellor of McGill University. Today, he is the chair of the board of Olympic Broadcasting Services.
In 1998, Pound led the IOC investigation into the Salt Lake City bribery scandal, resulting in 10 members being expelled and 10 being sanctioned. A year later, he founded the World Anti-Doping Agency and is known for taking a firm stand against the unethical behaviour. In 2013, he weighed in on the Lance Armstrong scandal, even suggesting that cycling could be dropped from the Olympics if it didn't clean up its act.
Pound was awarded the Ethical Leadership Award last Friday in recognition of the character, courage and ethical principles he has demonstrated throughout his career.
"This is an award I would never have expected to win. It means a lot to me because it reflects values that are very important to me. And it means something in particular because it comes from students," said Pound.
The award is presented each year at the Ethics in Action conference hosted by Dalhousie University's Rowe School of Business. The school aims to train tomorrow's business leaders to respect and appreciate the role of ethics in today's working world, said Peggy Cunningham, dean of the Faculty of Management at Dalhousie University, at the opening ceremony.
But while ethics are critical to the creation of better businesses and a better world overall, it is not enough for Canadian leaders to simply say they have strong ethics, said Brian Porter, president and chief executive officer of Scotiabank. "They must infuse the organization with ethical principles to guide the actions of employees and create cultures and management systems that enable ethical actions."
To that end, the conference also featured a case competition that required business students to think about a real-life situation that they might encounter after graduation. Awards were also given out for best essay and video.
Corporate Knights' president and CEO Toby Heaps was proud to serve as one of the judges for the case competition. "Although there was just one case, every team had its own unique and creative approach to solving the problem. I was encouraged by the humanity and agility of thought that this next generation of business leaders will bring to bare on our world," he said.
Pound's full acceptance remarks are recorded below.