Heroes & zeros: vol. 13
Posted
Retailer H&M embraces living wage plan for workers; South African utility Eskom spies on Greenpeace while pushing coal power.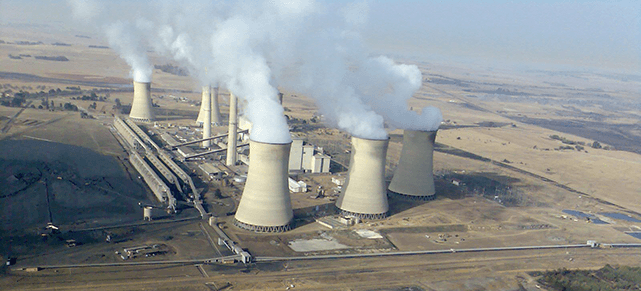 Arnot Power Station, Mpumalanga Province. Photo by Gerhard Roux
Hero: Hennes & Mauritz
Hennes & Mauritz (H&M), the world's second-largest clothing retailer behind Inditex (which owns Zara), unveiled a plan in November to pay a living wage to all its textile workers by 2018. Helena Helmersson, head of sustainability at H&M, announced the policy at the conference on Living Wage in International Supply Chains.
"We believe that wage development, driven by governments in some countries, is taking too long," Helmersson told delegates. "We want to take further action and encourage the whole industry to follow."
The pay strategy will begin with three factories in Cambodia and Bangladesh in 2014 and be expanded to the rest of the network by 2018. It will develop a "price method to ensure the true cost of labour," which will vary by country. H&M also aims to train suppliers as part of its social dialogue project, with the goal of establishing a Workers Participation Committee at every factory. Efforts to reduce factory production peaks will be further analyzed by H&M to ensure the most secure employment as possible year-round.
Although the utility was not involved in the April 2013 Savar building collapse in Bangladesh that killed 1,129 people, the entire industry has faced growing criticism over poor working conditions and low wages for its large workforce. Protestors in Bangladesh and Cambodia have clashed repeatedly with police over the past several months, resulting in deaths. Concessions by Bangladeshi factory owners, including support for a 77 per cent increase in the country's minimum wage, have only served to inflame local anger further.
Some organizations believe H&M did not go far enough, including the Clean Clothes Campaign. The civil society alliance of labour unions and NGOs expressed disappointment that H&M's roadmap did not include a concrete definition of its living wage. It is calling on H&M to adopt the Asia Floor Wage as a baseline, a figure established by union leaders and labour activists in Asia.
"Without such a definition it is both impossible to create a 'roadmap' to achieving its payment and similarly impossible to measure the roadmap's success," argued the Clean Clothes Campaign in a statement.
Zero: Eskom
South Africa's largest public utility, Eskom, is being heavily criticized over its request to exempt 14 of its 18 coal power plants from complying with new air pollution regulations. Eskom is responsible for roughly 95 per cent of electricity generated in the country, with 90 per cent of its supply coming from coal plants.
"The health impact of coal combustion in power stations is severe and the financial cost which the state must bear because of this is massive," says Bobby Peek, director of the South African NGO groundWork. According to a report by the University of Pretoria, an estimated 51 per cent of respiratory hospital admissions in Johannesburg and Ekurhuleni are attributed to domestic coal burning. Over 34,000 people are hospitalized per year as a result. The utility defended itself in one of its exemption applications, claiming that compliance would force electricity rates to rise. Higher prices would price low-income families out of the market, leading them to burn so much charcoal and wood that air quality would be further degraded.
Relations between environmental groups and Eskom were further strained after the utility was forced to apologize in November for spying on Greenpeace, Earthlife Africa Jhb and groundWork. Swartberg, a private firm contracted by the security team working for Eskom, made numerous attempts to infiltrate the NGOs. There were also unconfirmed reports of telephone surveillance of Earthlife Africa Jhb. Most of the activity was centred on the proposed Medupi coal plant, which is currently under construction. Backed by a World Bank loan, it will become one of the world's largest coal plants when completed in 2017. A critical aspect of receiving World Bank support at the time was agreeing to install pollution control equipment by 2020. Eskom is now looking to delay this until 2027, prompting a further World Bank review.
Agreeing to the extension would run counter to last year's announcement by the bank to finance new coal plants only in rare circumstances. World Bank president Jim Yong Kim wrote in a Washington Post op-ed last January that "the world's top priority must be to get finance flowing and get prices right on all aspects of energy costs to support low-carbon growth."
Click here to view our complete Heroes and Zeros series.