Danone Canada becomes the country's largest consumer-facing certified B Corporation®
The certification was awarded by third-party non-profit organization B Lab® following a rigorous B Impact Assessment.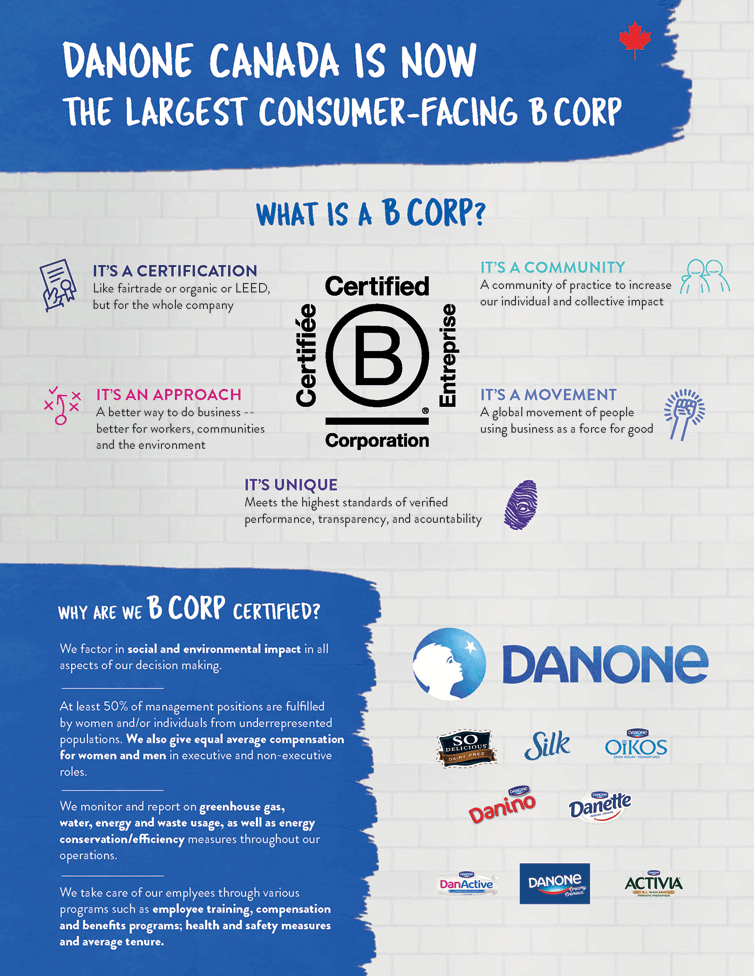 This article is "sponsored content" as defined by Corporate Knights' content disclosure policy.
Danone Canada – the maker of the popular health-focused dairy- and plant-based brands Activia®; OIKOS®; DanActive®; Silk® ; and So Delicious® Dairy Free – today becomes the country's largest consumer-facing Certified B Corporation®.
The B Impact Assessment evaluated the company according to the highest standards of social and environmental performance, accountability, and transparency.
"Canadians are very conscious of the challenges facing the health of people and the planet. Consumers are rightfully holding businesses accountable for their capacity to use their scale to make the world a better place. Danone shares those values, and I'm thrilled that Danone Canada has become the country's largest consumer-facing Certified B Corporation®, reinforcing our commitment to use business as force for good," said Pedro Silveira, President of Danone Canada. "We are now part of a like-minded community, and our certification should lead the way for others to join this movement, because this is unquestionably the future of doing business."
Danone is a purpose-driven company that has always balanced business growth with social responsibility. The B CorpTM certification is the latest step in the One Planet, One Health initiative to benefit people and the planet, today and in the future.
Highlights of Danone Canada's B CorpTM-certified credentials include:
The importance the company gives to social and environmental impact in all aspects of its decision–making;

The presence of women and/or individuals from underrepresented populations in at least 50 per cent of management positions, as well as equal average compensation for women and men in executive- and non-executive roles;

The monitoring and reporting of GHG, water, energy and waste usage, as well as energy conservation/efficiency measures throughout its operations;

Its leading approach to human resources, including employee training, compensation and benefits programs; health and safety measures; and average tenure.
For more information, visit www.bcorporation.net/community/danone-canada.