Canadian cleantech conundrum
Canada's cleantech exports are growing even as its share of the global market shrinks. It's time to close the gap.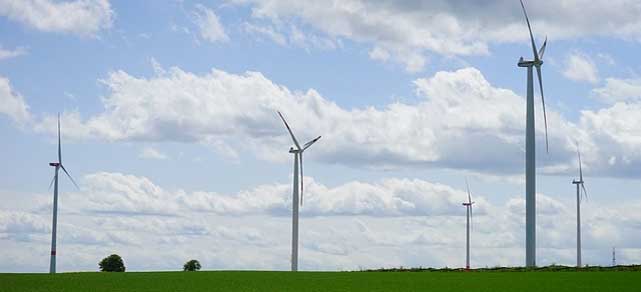 Canada's clean technology industry is the country's first new industry of the 21st century. In fact, with 50,000 people employed directly in more than 800 firms, some might say Canada's clean technology industry has come of age.
The industry reflects our national values and our ability to invest in innovation, to protect the environment, build strong companies and create good jobs. And to both grow and diversify our economy.
Canadian clean technology companies are winning in global markets where competition is fierce. People working in the industry are building companies with a range and diversity that is breathtaking, including creating new career paths that combine skill sets as diverse as engineering, international business development and communications.
Canada is building an industry that boosts productivity at home and grows trade abroad. The industry is creating jobs at a stunning rate and has continued to grow at four times the rate of the overall Canadian economy. Direct employment in the clean technology industry has already exceeded direct employment in the forestry and logging industries as well as pharmaceuticals and medical devices.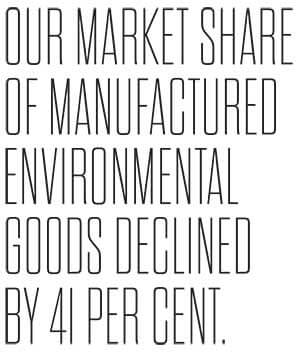 Employment in the Canadian clean technology industry now also exceeds that of the aerospace manufacturing sector, according to the "2015 Canadian Clean Technology Industry Report," compiled and published by my research company Analytica Advisors. And in 2013 alone, Canadian clean technology firms created three times the employment of GM's largest and busiest Canadian plant – the CAMI plant in Ingersoll, Ontario.
What unites these clean technology industry innovators? It's a collective desire to solve problems that have to do with our air, water and the earth. It's a dedication to building companies that protect our environment and grow our economy at the same time. Together, they're going after a global market that reached nearly $1 trillion in 2013, and export of their environmental goods already exceeds many sectors tracked by the federal government.
But this good news story is also a bad news story.
Unfortunately, Canada's global share of environmental goods is steadily declining and we are the world's third-greatest loser of market share since 2008. Our market share of manufactured environmental goods declined by 41 per cent – from 2.2 per cent to 1.3 per cent. Worse still, our global ranking fell from 14th to 19th place. After the UK and Japan, Canada's is the steepest decline in global market share.
For renewable energy and energy efficiency-related manufactured goods, Canada has lost 71 per cent of its 2005 market share and is the biggest loser of market share among the top 24 exporting countries.
The Analytica Advisors report noted that governments in countries such as Germany, Mexico, China and South Korea are wholeheartedly supporting their respective clean technology industries. It also found that the U.S., Europe and China are the top three market priorities for Canada's clean technology companies, and that for the second year in a row, China remains the third priority country, up from eighth place in 2013.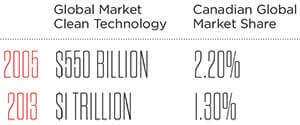 Overall, the Canadian economy represents two per cent of the global economy, but the country currently punches above its weight by being responsible for 2.6 per cent of global trade. Some industries do much better. Our civilian aerospace industry, for example, has a six per cent global market share.
Achieving just our 'fair share' of the global industry – that is, 2.5 per cent – would create a $50-billion Canadian clean technology industry by 2022.
After five years of study and four annual national reports documenting Canada's clean technology industry, the patterns I see continue to suggest that this 2.5 per cent goal is within Canada's grasp. However, we will need to have the kind of strategic capital and private sector engagement that aerospace and other sectors have enjoyed for the last several decades.
---
The survey for the 2016 Canadian Clean Technology Industry Report is now open. Click here for details.