Only 16, but Greta Thundberg is the voice of reason
The iron-willed teen has inspired over a million youth to confront their elders' failure to act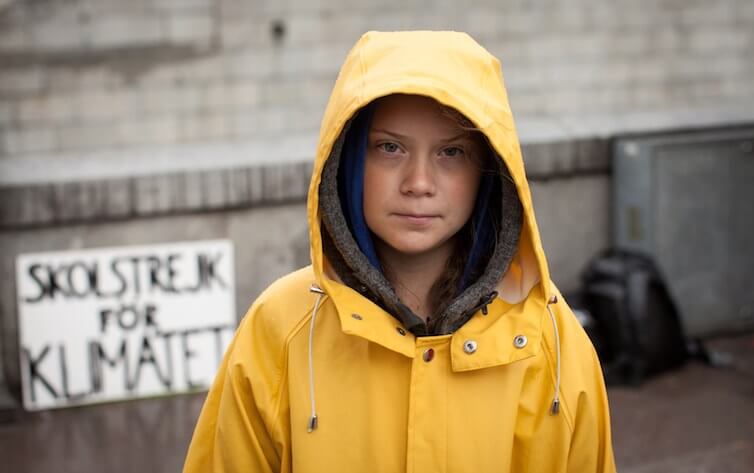 Greta Thunberg by Anders Hellberg
In the global debate over what to do about climate change, one party has typically been silent: the generation that will take charge of the earth when today's decision-makers (and decision-delayers) cede control or pass away. As a group of student activists wrote to the Guardian on March 1, "We are the voiceless future of humanity."
But now the next generation has a voice, and a name: pigtailed Swedish teen Greta Thunberg. By skipping school to protest climate change at the Swedish parliament, the iron-willed 16-year-old has inspired today's young people to confront their elders' failure to act.
Greta was a shy unknown when she walked out of school last August – following Sweden's hottest summer on record – to begin her SkolStrejk (school strike). After three weeks of haunting the Riksdag in central Stockholm, she reduced her strike to one day a week, Fridays, and the world started taking notice. Within a few months she was lecturing in Poland at a UN climate conference, dressing down the world's economic elite at the World Economic Forum in Davos, holding press conferences and reprimanding British Prime Minister Theresa May on Twitter.
In December, Greta was named one of Time magazine's 25 most influential teens and in March was nominated for the Nobel Peace Prize. Her TED Talk has more than a million views, and on March 15, over 1.4 million students at over 2,000 schools in 125 countries on all continents walked out of class in solidarity with Greta's fierce determination, making it "the biggest day of climate action ever," according to 350.org. With 150,000 protestors, Montreal was reportedly the single largest climate protest that day.
Montreal, Canada. https://t.co/SUKBSQVdx1

— Greta Thunberg (@GretaThunberg) March 15, 2019
How has Greta Thunberg broken through the clouds of apathy that have hindered such prominent activists as Al Gore, Naomi Klein and Bill Nye the Science Guy? She is driven by desperate seriousness and inspired by the teenaged shooting survivors in Parkland, Florida, who organized the March for Our Lives. Above all, she is a fearless critic who makes every word count.
In her address at Davos, Greta warned that good intentions are no longer enough: "Solving the climate crisis is the greatest and most complex challenge that homo sapiens have ever faced." But the solution, she said, is simple: "We have to stop the emission of greenhouse gases… Either we choose to go on as a civilization or we don't."
Adults, she noted, often say, "We owe it to the young people to give them hope." But, Greta insisted, clear-eyed and level-voiced, "I don't want your hope. I don't want you to be hopeful. I want you to panic. I want you to feel the fear I feel every day. And then I want you to act… I want you to act as if the house is on fire, because it is."
The daughter of an actor and an opera singer, Greta was diagnosed four years ago with Asperger's, a mild type of autism. Common symptoms include difficulties in social interaction and nonverbal communication. But one person's disorder is another person's superpower; Greta believes her disorder has fuelled her focus.
"I overthink," she says. "Some people can just let things go, but I can't, especially if there's something that worries me or makes me sad."
Never mind the flood victims, the polar bears or the increasing number of people killed by wildfires. Greta personifies the innocent victims for whom climate change is not a political football.
"We have the right to live our dreams and hopes," she insists. "Adults are jeopardizing our future… You say you love your children above all else, and yet you are stealing their future in front of their very eyes."