Brands are closing their doors in support of the global climate strike
Ben & Jerry's, Patagonia and Lush Cosmetics are among those who have joined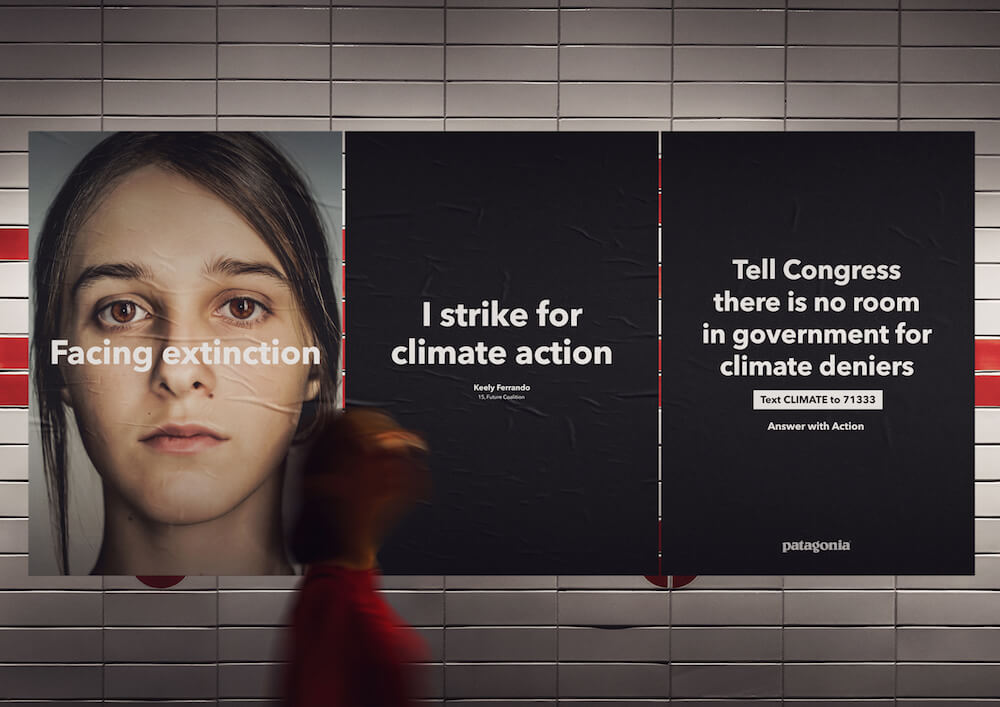 Ahead of the Global Climate Strike on September 20, altruistic brands are closing up shop in support of climate activists. Alongside Seventh Generation (the household products company which is donating its Today Show commercial airtime this week to environmental nonprofits) Ben & Jerry's, Patagonia and Lush Cosmetics have joined the strike.
Inspired by Swedish teen activist Greta Thunberg, the Global Climate Strike is a youth-led mobilization effort to bring attention to the climate crisis. Strikes are scheduled to take place internationally and across the U.S. with more than 171 companies expected to contribute in some form or another, whether that's shutting down for the day, closing their websites or making a charitable donation.
While an obvious show of solidarity, brands engaging in "disrupting" their usual business operations hope to solidify their values and identity in the minds of consumers, a tactic that will only grow in relevance in the face of climate change.
The tactic of closing doors and forgoing profit for several hours or even a whole day is not new. Starbucks closed 8,000 of its franchises for a day to undergo racial sensitivity training after its employees called the police on two black men who asked to use the bathroom without making a purchase first.
Since 2015, outdoor apparel store REI has closed on Black Friday, the busiest retail day of the year, to reground "in what we value most in life as an outdoor community," it said in a statement.
"There are more and more values-based organizations and values-based narratives being intentionally and strategically infused within the DNA of a company," said brand consultant and Wharton marketing professor Americus Reed. " … [The thought process is,] we might lose two hours of sales, but we are going to gain some super loyal customers."
The closed door represents to consumers that a brand is willing to put their money where their mouth is.
"For consumers, that's powerful," said Reed.
What's planned for the global climate strike
Amazon and Google have yet to formally join, but Google's Workers for Action on Climate Twitter account confirmed the group would be striking and more than 1,200 Amazon employees have already pledged to walk.
"It's an emergency, and we have to treat it as an emergency," said Brandi Halls, CMO, Lush Cosmetics. "As a business, it's the right thing to do. We want to answer Greta's call as an organization, and we hope other businesses will follow suit."
On Sept. 20 in the United States and Sept. 27 in Canada, Lush Cosmetics will close its 250 retail outlets as well as its headquarters and manufacturing facilities. It'll also halt all electronic sales the day of the strike.
Ben and Jerry's will delay the opening of its more-than-300 franchise scoop shops across the world during the strike from 12 to 2 p.m. local time. This is in addition to halting its manufacturing plants in Vermont and the Netherlands, which the brand said it has never done before.
"We're taking our marching orders from the youth who have organized this," said Chris Miller, Ben & Jerry's activism manager. " … At least for those corporations on the progressive side of the ledger, there is an opportunity to affect change through this kind of work. We've always understood that people connect more with our brand than just Chunky Monkey. It's about who we are as a company."
Like Seventh Generation, Patagonia plans to close most of their retail stores for at least a few hours to encourage their employees to participate in the strike. "For decades, many corporations have single-mindedly pursued profits at the expense of everything else," said Patagonia CEO Rose Marcario in an essay published on LinkedIn last week. " … They have responsibilities not just to their shareholders, but also to a wide range of stakeholders, including the planet itself. [W]e need them to follow through and walk the talk."
For Lush, the commitment to activism is central to their brand identity and a good recruiting tool to boot.
"It attracts a certain type of staff member who wants to work for a company where they can wear their beliefs on their sleeve," Halls said. "We believe that we have 5,000 activists on the streets at any given time."
How brands can make their activism effective
Of course, these companies are the usual players of brand activism, often given as a best-case scenario. While brand activism can be good for business, it can feel like an echo chamber for consumers.
"The people who are going to share information about Seventh Generation shutting down … are the people who are already following and loyal to the company anyway," said James Mourey, an assistant professor of marketing at DePaul University. "The opinion that's not changing is the person who thinks global warming is a hoax, or people who don't believe in science."
That said, in order for a brand's activism to be effective, it has to feel genuine and align with the brand's previous messaging.
"It can't come across as a sales pitch for the company," Mourey said.
See Kendall Jenner's tone-deaf Pepsi commercial, which tried to bridge the gap between Black Lives Matter activists and police with soda pop.
Patagonia VP of global marketing Cory Bayers' advice to CMOs looking to involve their brands in more meaningful community work is simple: Stay in your lane.
"Don't extend yourself in areas that aren't authentic to who you are as a brand and what you believe in," he said. "Don't look topically outward. Look inward, and build something that way."
Still, the corporate leaders of the more socially aware brands are hopeful businesses take the leap and join them in the strike.
"Hopefully by our actions, people join us. … Quite frankly, the younger generations expect it," Bayers said. "We don't have time. Now is the time to act. If we're not doing anything, our silence is complacency. … We are facing extinction. You can choose to ignore it, or [you] can fight."