Obama's climate rope-a-dope
New emissions-reduction deal with China blindsides observers, infuriates Republicans, triggers hope and skepticism.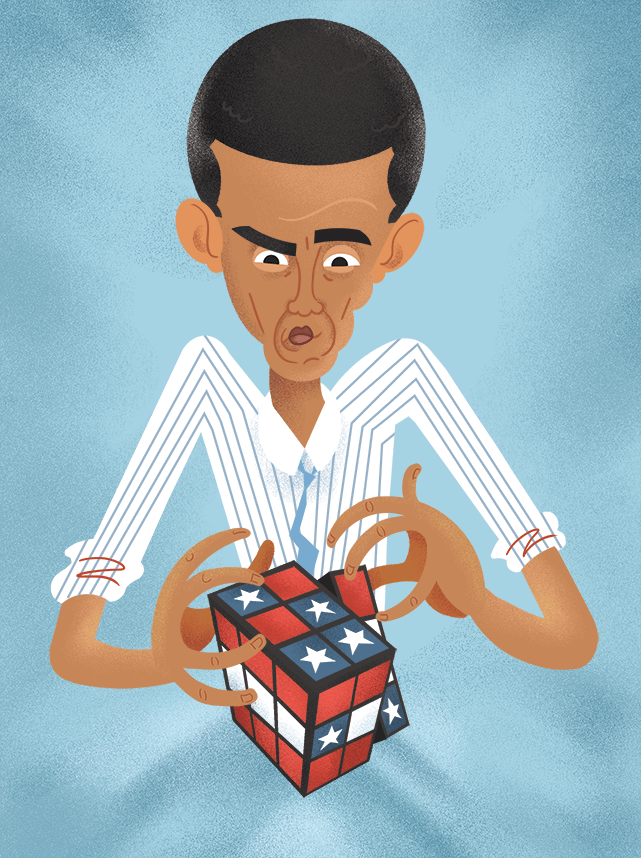 Illustration by Jack D.
Two years ago, Corporate Knights asked 12 U.S. environmental leaders to rank who they believed were the country's greenest presidents. Theodore Roosevelt got the most votes, followed by Richard Nixon and Jimmy Carter.
And where did President Barack Obama land? He got some love, but still came in a distant fourth. Phil Radford, who at the time was executive director of Greenpeace USA, wasn't impressed with Obama's record, particularly as it related to climate change. "We haven't seen real leadership from the president on this issue," he said.
Joe Romm, founding editor of the popular climate news site Climate Progress, was a little more sympathetic given the political obstructionism Obama had faced from a Republican-dominated Congress. "If it weren't for climate change, he could be No. 1," said Romm. "He said he would focus on climate in his second term. If he keeps true to that, then he could get higher on the list."
How much higher we may soon find out.
It seems Obama is keeping to his word, if the emissions-reduction deal he announced Wednesday morning with Chinese President Xi Jinping is any indication. Most observers were completely blindsided by the news. Obama held his cards close. He gave no hint of a coming deal or that negotiations were even taking place, perhaps because he wanted to be in front of a story that he knew Republicans would pounce on.
China pledged to cap its emissions by 2030 or earlier. The U.S. said it would reduce its GHG emissions by 26 per cent to 28 per cent below 2005 levels by 2025, roughly doubling its previous pledge. Together, the U.S. and China represent 45 per cent of the world's carbon emissions. The fact they have broken through what was seen as an impenetrable – and at times politically convenient – diplomatic logjam has stimulated hope as the next round of international climate negotiations approaches, and has pulled the rug out from those who pointed to a lack of action from the U.S. and China as an excuse for their own inaction.
Wednesday's announcement on its own isn't going to solve our climate woes. Crunching the numbers on this agreement misses the larger story. Even if purely symbolic, this is about demonstrating momentum-building leadership where, up until now, it has not existed at the scale required. The European Union's efforts have been commendable. With the U.S. and China now on board, things get really serious.
With this announcement, as Politico reported, "The Obama administration is set to roll out a series of climate and pollution measures that rivals any president's environmental actions of the past quarter-century – a reality check for Republicans who think last week's election gave them a mandate to end what they call the White House's 'war' on coal."
Obama, in the final rounds of this heavyweight political fight, seems to have engineered a kind of Republican rope-a-dope.
Of course, there is no shortage of opinion out there as to what this U.S.-China deal really means and how it will impact other countries. After all, it's voluntary – not binding. Below we've compiled a list of 23 quotes from politicians, journalists, environmentalists and other high-profile observers from around the world who have weighed in on the issue over the past 12 hours:
---
"This positive momentum opens the door for all major economies and in particular all other industrialized nations to bring forward their contributions to the Paris agreement in a timely fashion over the coming months. Investors have long called for policy certainty. Today's announcement is a firm and positive step towards that."
– Christiana Figueres, executive secretary, UN Framework Convention on Climate Change
 "What China is planning — starting on a path of renewable development, so that it can transition from fossil fuels as quickly as possible without damaging economic growth — lays out a model for emerging economies such as India, Brazil, and Indonesia to follow. Likewise, the U.S. is sending a message to those countries, and to the pro–fossil fuel governments in Canada and Australia, that we are serious about putting climate at the center of our international relationships."
– Ben Adler, Grist.org
"Renewable and nuclear energy accounted for 9.8 percent of China's energy mix in 2013. They have just promised to double that by 2030. That target will light a fire under China's already-aggressive renewable deployments and put even stronger limits on coal and other fossil-fuels."
– Melanie Hart, director for China policy, Center for American Progress
"The U.S. target shows a serious commitment to action and puts the U.S. on a path to reduce its emissions around 80 percent by mid-century. This pledge is grounded in what is achievable under existing U.S. law. However, we should not underestimate the potential of innovation and technology to bring down costs and make it easier to meet – or even exceed – the proposed targets. China's pledge to increase non-fossil fuel energy and peak emissions around 2030 as early as possible is a major development – and reflects a shift in its position from just a few years ago."
– Andrew Steer, president and CEO, World Resources Institute
"Our economy can't take the president's ideological 'War on Coal' that will increase the squeeze on middle-class families and struggling miners. This unrealistic plan, that the President would dump on his successor, would ensure higher utility rates and far fewer jobs."
– Mitch McConnell, U.S. Senate Minority Leader
"It is the latest example of the president's crusade against affordable, reliable energy that is already hurting jobs and squeezing middle-class families."
– John Boehner, Republican Speaker of the U.S. House of Representatives
"The United States will be required to more steeply reduce our carbon emissions while China won't have to reduce anything."
– Jim Inhofe, U.S. Senator (Republican) from Oklahoma
"Now there is no longer an excuse for Congress to block action on climate change. The biggest carbon polluter on our planet, China, has agreed to cut back on dangerous emissions, and now we should make sure all countries do their part because this is a threat to the people that we all represent."
– Barbara Boxer, U.S. Senator (Democrat), chairman of Senate Environment and Public Works Committee
"Today could be the most important day so far this century in climate and energy politics… The private negotiations were extensive, and ultimately both Presidents Obama and Xi are giving a signal that they are willing to overcome narrow economic interests to recognize their shared responsibility on this issue."
– Li Shuo, senior climate and energy policy officer, Greenpeace East Asia
"Game on. The planet's leading emitters have put the rest of the world on notice: It's time to act. But while this is an historic step for the U.S. and China, both countries need to push for the strongest goals possible to give the world a fighting chance to stay below 2°C of warming. In the case of the U.S., its earlier pledge to reach 30 per cent reductions by 2025 should be a benchmark for any final global climate agreement."
– Lou Leonard, vice-president, WWF-US
"By demonstrating their willingness to work together, the leaders of the United States and China are opening a new chapter in global climate negotiations. This bold leadership comes at a critical time for our planet when the costs of carbon pollution affect our lives more and more each day."
– former U.S. vice-president Al Gore
"Canada has long justified its own failures to limit the growth of greenhouse gas emissions by pointing to the inaction of heavy emitters like the U.S. and China, but that excuse does not stand up to scrutiny."
– Chris Severson-Baker, managing director, the Pembina Institute
"The difference between a 26 and a 28 per cent cut in U.S. emissions is on the order of 120 million metric tons of carbon dioxide emissions annually. That's smaller than the Energy Information Administration's projected annual growth in Chinese energy emissions for each year between 2025 and 2030. Very loosely speaking, a mere one-year shift in the Chinese peaking year could matter at least as much to global emissions as the difference between the various U.S. targets that have now been announced."
– Michael Levi, fellow for energy and environment, Council on Foreign Relations
"The U.S.-China climate change deal turns the most pragmatic conservative argument against limiting our own greenhouse gas emissions – that it would amount to unilateral economic surrender – on its head."
– Brian Beutler, senior editor, New Republic
"I wish that I believed that logic and reason played any role in the politics of climate change. Because if I did, the news of the U.S.-China deal on carbon emissions would be a moment for sudden new optimism."
– Paul Krugman, economist and New York Times columnist
"It's not ambitious. First, it's something they (China) have floated previously, and it still gives them enormous amounts of room to raise emissions. Second and more important, is that they probably won't raise emissions that much regardless of what they say to the U.S. Their emissions growth has slowed dramatically due to a slowing economy."
– Derek Scissors, American Enterprise Institute
"Enough is enough. If Tony Abbott and Clive Palmer were waiting for the world to act, well, here it is. Australia cannot afford the Abbott government's denial of global warming science or his protection racket for the big end of town."
– Christine Milne, Australian Senator
"If Tony Abbott still refuses to discuss the need to take action on climate change at the G20, he will embarrass Australia in front of the rest of the world."
– William Shorten, Leader of Australia's opposition Labor Party
"Today, China and the United States have demonstrated the leadership that the world expects of them. This leadership demonstrated by the governments of the world's two largest economies will give the international community an unprecedented chance to succeed at reaching a meaningful, universal agreement in 2015."
– Ban Ki-moon, secretary general, United Nations
"China Vows To Begin Aggressively Falsifying Air Pollution Numbers."
– headline for the satirical news sites The Onion
"The U.S.-China climate deal announced today in Beijing may well mark the end of finger-pointing between the two countries and the start of cooperation on reducing greenhouse-gas emissions. It eliminates what is perhaps the biggest excuse for inaction on a global climate pact: that any other country's commitments would be meaningless until the two biggest carbon emitters acted."
– Bloomberg News editorial
"The climate breakthrough in Beijing gives the world a fighting chance… The U.S. and China have yet to put their cards on the table on how they intend to achieve deep decarbonization. Still, the G2 has now spoken, and together with the EU, which made its own bold announcements just recently, the world's three biggest economies and largest emitters are now on course for a serious agreement in Paris."
– Jeffrey Sachs, director, The Earth Institute at Columbia University
"A major diplomatic breakthrough and – assuming both sides can carry out their promises – an enormously positive step in the uncertain battle against climate change."
– New York Times editorial board.
"While China has good 'intentions' we get real 'unemployment'. Such a deal!"
– Pat Michaels, director, Cato Institute Center for the Study of Science
"This announcement clearly means that Stephen Harper can no longer hide behind the excuse that he is waiting for others to act. The international community is clearly moving forward, with or without us – if we do nothing it will be a disgrace."
– Bruce Hyer, deputy leader, Green Party of Canada