Heroes & zeros: United Egg Producers and Unaoil
United Egg Producers sets a deadline for male chick culling, while U.K. authorities open criminal investigation into Unaoil.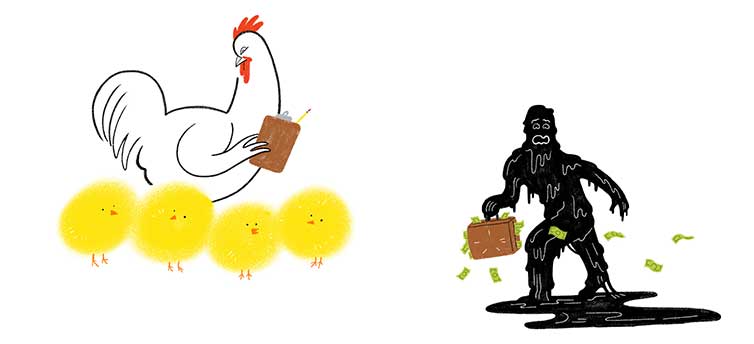 Illustration by Jack D.
Hero: United Egg Producers
United Egg Producers (UEP), the agricultural cooperative representing 95 per cent of American egg producers, announced plans in June to eliminate the use of male chick culling by 2020. All male chicks bred for egg production are killed after birth, a process undertaken through gassing, grinding or asphyxiation. The animal rights group Human League estimates that over 100 million chicks are culled in this manner every year. Repurposing them as broiler chickens has been dismissed by egg producers for years due to the increasingly different breeding requirements involved. While egg producers have been reluctant to end the practice, the combination of promising technological advancement and pressure from animal welfare activists like the Human League ultimately led to UEP's 2020 phase-out. Individual corporations such as Unilever have already pledged to eliminate the practice throughout their supply chain.
"We are aware that there are a number of international research initiatives underway in this area, and we encourage the development of an alternative with the goal of eliminating the culling of day-old male chicks by 2020 or as soon as it is commercially available and economically feasible," said UEP in a statement. A handful of researchers and startups in Europe and North America have been making progress on developing technology that would determine the sex of the egg, backed by industry and government support. The German government allocated €3 million last year towards in-ovo sex checking. Researchers at McGill University have been working on a product using hyperspectral imaging with Egg Farmers of Ontario, while several German researchers have been experimenting with cutting and then resealing a small hole in the egg. Dutch startup Ovo uses a small needle to extract allantoic fluid for testing.
The positive externalities from the eventual elimination of egg culling are likely to go beyond the animal welfare component. Current practices for determining the sex require an employee carefully examining each chick to identify sexual organs, a process that requires specialized labour. In addition, all chicks use up resources as they are birthed and enter the incubation process. Pre-hatch screening would substantially reduce costs, a factor that likely played a significant part in UEP's decision-making process.
Zero: Unaoil
The U.K.'s Serious Fraud Office (SFO) announced in July that it was opening a criminal investigation into Monaco-based Unaoil over allegations of bribery, corruption and money laundering in the oil and gas sector. "We have been approached by a number of sources who may have information relevant to this investigation," the SFO said in an announcement. It also encouraged members of the general public to come forward with any relevant information that may assist with the investigation. The SFO has been receiving assistance from both U.S. and Australian authorities.
Allegations against the company first emerged due to investigative reporting conducted by the Australian newspaper The Age and The Huffington Post in March. This multi-part series relied on a leaked cache of internal Unaoil emails sent between 2001 and 2012, indicating that the company bribed foreign officials while helping to secure contracts for numerous multinational corporations involved in the oil and gas sector – including Rolls-Royce and Petrofac. The company was particularly active in the Middle East and some former Soviet states, but also extended its reach into parts of Africa and Asia. The reporters were unable to determine if most of these companies were aware of the alleged bribery actions being taken on their behalf, but some firms like Australia's Leighton Offshore supposedly hid bribes within Iraqi contracts.
Several days later, Monaco authorities raided the offices of Unaoil and turned the information over to British authorities. Along with the involvement of British firms in the investigation, documents from the Panama Papers leak found that several of Unaoil's companies and subsidiaries were incorporated in the British Virgin Islands. The company is controlled by the Ahsani family, all of whom have British passports. Many of the allegations of corruption were conducted on British soil or involved British nationals.
Unaoil has repeatedly denied the corruption allegations, expressing dismay at the publishing of stolen material. "We stand by our firm's legacy and look forward to the facts of this case being properly brought to light," the firm said in a recent statement. The company then accused the hackers in possession of the emails of having originally attempted to extort the company.