The power of collaboration for creating sustainable value: Vol. 1
We look at some of the decision-makers working within and outside of their respective industries to affect positive change.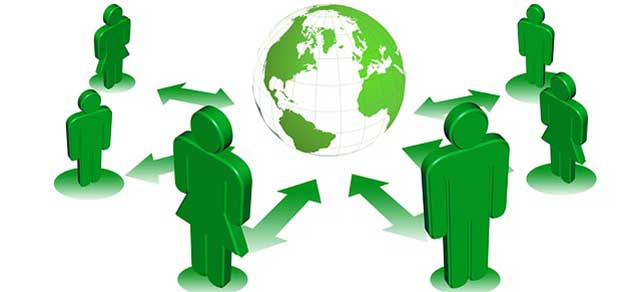 The call to action is loud and clear: step up, widen the lens, and identify what actions are required to address the escalating issues that threaten the sustainability of our social, environmental and economic development.
Access to new reserves and resources, widening talent gaps, escalating financial and economic volatility, costs associated with energy, taxes and capital investment costs – are all examples of challenges that have reached new peaks and continue to impact industry. Not insignificant in and of themselves, these challenges pale in comparison to the bigger challenges in which they are enveloped: climate change, water scarcity, population explosions, aging infrastructure and mega shifts in how people communicate and interact.
Progressive organizations are responding by replacing old business paradigms – solely driven by short term gain and bottom line profit – with a more socially and environmentally responsible way of doing business. They are adopting a more collaborative and integrated approach to creating value that benefits business, society and future generations.
They recognize that the issues affecting our future sustainability impact all of us, beyond the boundaries of pure finance, and that they are too complex and far reaching to be resolved in isolation.
This article looks at some of the movers and shakers at the forefront of this new mindset who are collaborating within and outside of their respective industries to affect positive change for the greater good: Holcim, Environmental Defence and Steam Whistle Brewing.
"Whether partnering with an NGO or company, shared purpose and the transparent exchange of information are important pre-requisites for collaboration." – GlobeScan/SustainAbility Survey, Collaborating for a Sustainable Future'
Holcim and Environmental Defence – Finding a common ground
As one of the world's leading suppliers of cement and aggregates (crushed stone, gravel and sand) – Holcim wanted to find a way to produce gravel in a more sustainable manner. And to do that, the company recognized it needed some help.
Enter sustainability-geared NGO, Environmental Defence. "Before, community groups typically found themselves at the mercy of massive gravel and sand operations with little consideration for their concerns," says Rick Smith, former Executive Director of Environmental Defence. "Business strategies rarely included environmental and social responsibility as part of the equation."
Collectively, the two bodies hashed out a short list of things required to create "green gravel". The list would eventually provide the framework for the group known as Socially and Environmentally Responsible Aggregate (SERA).
"From its inception, SERA was an unconventional collaboration," says Bill Galloway, Senior VP at Holcim. "While we knew we had a common interest to introduce a new approach to responsibly sourced construction materials, one of the most obvious challenges we faced was to be able to find common ground between the ENGOs, community groups and Ontario Aggregate operators."
In 2012, the Aggregate Forum of Ontario (AFO) and SERA merged to create the Cornerstone Standards Council (CSC) – a one-of-a-kind collaboration between a number of aggregate industry, environmental, community and Aboriginal representatives that seeks to address the challenge of competing demands for construction materials, community planning and a healthier environment.
"CSC's vision is a prosperous and environmentally and socially responsible aggregate materials industry," says Lorne Johnson, Executive Director of Cornerstone Standards Council. "The collaborative approach taken by all of CSC's participants is important to the development of these standards."
In addition to holding operators accountable in the eyes of the various stakeholders, the voluntary, independently audited certification system will help them earn their social operating license by going above and beyond existing regulatory requirements on key social and environmental issues identified by CSC.
For a sector rife with conflict between operators, first nations and community groups these voluntary standards offer a new way forward.
"Ontario was ground zero for this change. It faces great development pressures which give rise to high demand for aggregate materials, but also means that the sites and their operations are increasingly in conflict with communities and the environment" remarks Keith Brooks, Program Manager at Environmental Defence. But it was Environmental Defence and Holcim's collaboration that paved the way for the new industry standards, creating the potential for a more sustainable aggregate industry. Community tree-planting initiatives at Dufferin's Acton quarry are one such example of building social and environmental value.
"The Ontario aggregates industry itself is highly fragmented, consisting of 10 to 12 large companies and about 90 small- to medium-sized operators, and is generally quite conservative when it comes to change," says Galloway. "With CSC, we are introducing a new way of planning and doing business." The collaboration also shows the role that a company looking to do things a little differently can play in building a more sustainable industry.
Smith points out that CSC echoes a trend being undertaken by many sectors. "The emphasis on creating value that benefits business as well as the environment and local communities has skyrocketed," say Smith.
Looking ahead, as the value on sustainable and restorative business practices is more commonly recognized as a means to meeting the escalating challenges of climate change and resource constraints, this trend will likely continue to expand.
Steam Whistle Brewing – community growth through the arts
For a company like Steam Whistle Brewing, providing a social product goes hand in hand with community engagement.
"Our slogan on the neck of every bottle, The Good Beer Folks, signifies our focus on product quality, being good employers, and building a sense of community inside and outside our business", says Sybil Taylor, Communications Manager.
Since the company's inception in 2000, Steam Whistle has sponsored over 600 community, cultural, and charitable events a year including concerts and exhibits for emerging musicians and visual artists.
The brewery itself, located in the iconic John Street Roundhouse – a historic site used by Canadian Pacific to service steam passenger trains – has become a de facto art space, hosting exhibits monthly, even participating in the Scotiabank CONTACT Photography Festival.
"We are not just a manufacturer of a consumer product – we envisioned using our facility for other purposes right from the beginning" says Taylor. And it's that understanding of how a company can give back to the community, which makes Steam Whistle stand out.
Take the company's UNSIGNED concert series, for example. The regular event showcases Canada's up and coming talent, with 100% of ticket sales feeding back into arts communities across the country.
It's a prime example of how a company's collaboration can help stimulate community growth – especially with an underfunded industry like the arts.
Everyone can do it
Regardless of size, focus, or sector, opportunities for creating shared value that positively impact the restoration of our environment, economy and society can be initiated by any leader inspired to take sustainability to the next level in collaboration with like minded visionaries in action. All it takes is the will, a compelling business case and support from executive sponsors and management with the right vision and resources.
To view the complete collaboration series, click here.