Pension play
New Ontario amendment gives boost to ESG consideration by pension funds.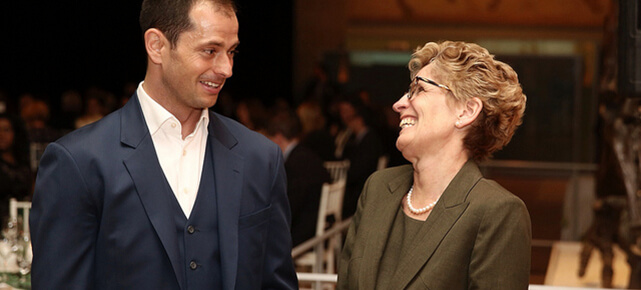 Ontario Premier Kathleen Wynne (right) with Corporate Knights CEO Toby Heaps at the company's Best 50 Gala in 2013.
A recently-approved amendment to regulations under the Ontario Pension Benefits Act will require Ontario pension funds to disclose information about their consideration of environmental, social and governance (ESG) factors.  Beginning in 2016, pension funds' statement of investment policies and procedures will have to "include information as to whether environmental, social and governance factors are incorporated into the plan's investment policies and procedures and, if so, how those factors are incorporated."
The amendment provides legislative support for the consideration of ESG factors by pension fund administrators. For years, there has been debate as to whether taking ESG issues into account is consistent with the fiduciary duties of administrators. Some administrators have been hesitant to broaden the scope of their analysis beyond traditional financial parameters on the grounds that doing so would breach their duty to beneficiaries. This has often caused them to focus on narrowly-defined financial considerations in making investment decisions.
However, it is increasingly recognized that ESG issues can have a significant bearing on the long-term success of companies in which pension funds invest, and consequently on funds' ability to pay promised benefits.  Companies' inadequate environmental management, lack of attention to human rights issues or poor corporate governance are not only ethical concerns but can impact long-term returns. Growing acceptance of the view that consideration of ESG issues is part of prudent investing can be seen in the adoption of pension fund ESG disclosure regulations in many countries, the responsible investment policies and practices by major institutional investors and by the growth of responsible investment networks like the UN Principles for Responsible Investment, to which many of Canada's largest funds belong.
A number of funds in Canada incorporate ESG considerations into their asset selection, proxy voting procedures, and direct engagement with companies in their portfolio. Some large funds, such as the Canada Pension Plan or the Ontario Teachers Pension Plan, have developed in-house capacity to research and manage ESG risks. Other funds use external advisors like the Shareholder Association for Research and Education (SHARE).
This amendment provides clear legislative support for these activities for pension funds in Ontario. SHARE encouraged the adoption of this regulation and we hope to see the adoption of similar measures by other Canadian jurisdictions, so Canadian pension administrators operate under equivalent frameworks and beneficiaries have similar access to information about their plans.
Anne Wittman is the Director of Law and Policy at the Shareholder Association for Research & Education. SHARE is a Canadian leader in responsible investment services, research and education for institutional investors.