New England bound
Proposed 1,000 MW clean-power line from Quebec to Vermont clears key hurdles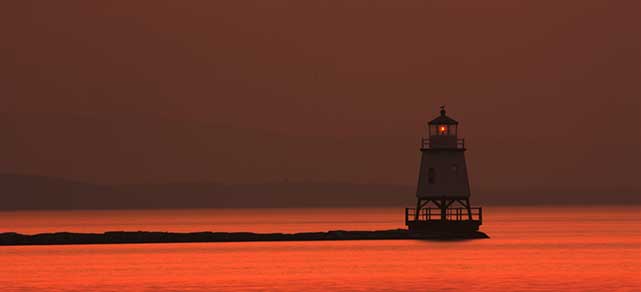 Lake Champlain
The New England Clean Power Link transmission line took an important step forward after securing two of the three key permits needed to begin construction of the cross-border clean energy connection.
TDI New England's $1.2 billion proposal to construct a high-voltage direct current line would transmit 1,000 MW of Canadian hydro and wind power 248 kilometres south into Vermont. TDI New England, a subsidiary of financial firm Blackstone Group, has already secured seven electric suppliers interested in transmitting clean energy along the line.
Vermont's Public Service Board granted siting approval in January, followed by the U.S. Army Corps of Engineers the following month. The only major permit remaining is one granted by President Barack Obama, needed for all energy transmission projects that cross international borders. U.S. Department of Energy officials have already recommended that the president grant his approval for the project.
Roughly two-thirds of the line will travel underwater through Lake Champlain, with the remaining portion running along existing rights-of-way. TDI New England has agreed to pay at least $283.5 million towards the cleanup of Lake Champlain over the line's anticipated 40-year lifespan.
Another project of the Blackstone Group, Transmission Developers, is also developing the Champlain Hudson Power Express in New York. This project aims to bring Canadian clean energy south to New York City.
States across New England are in the process of determining how best to meet aggressive clean energy targets by 2020. ISO New England is projecting that 8,000 MW of power will be taken offline by 2020, requiring at least 6,300 MW from new sources. Supporters of imported clean energy from Canada argue that it will help states meet renewable energy targets in a cost-effective manner, while others argue that it won't do as much to bolster local renewable energy generation.
The Massachusetts Clean Electricity Partnership was formed in February by TDI New England and other hydro producers to push the state legislature to support Massachusetts Governor Charlie Baker's pro-hydro bill.