Canadians invest in the future
On renewables, Canadian investors punch above their weight.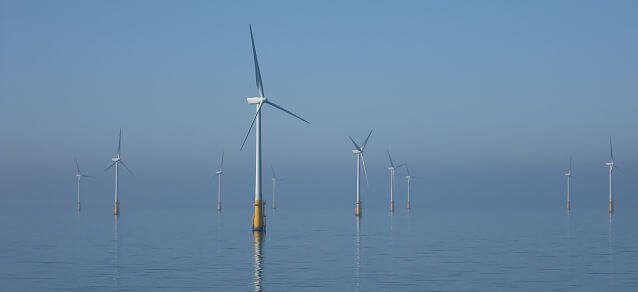 Barrow Offshore Wind Farm in the East Irish Sea.
Brookfield Asset Management and La Caisse de dépôt et placement du Québec were among the Top 10 investors in renewable energy in 2013, according to data from Bloomberg New Energy Finance obtained by Corporate Knights.
Of the two, Brookfield – through Brookfield Renewable Energy Partners – placed highest, ranking the sixth-largest renewable investor in the world. Including debt and equity, it invested $1.27 billion (U.S.) in assets in 2013 that collectively generate 596 megawatts of emission-free electricity, mostly from wind and hydroelectric projects.
"The total for 2014 will be significantly higher," said Andrew Willis, spokesman for Brookfield, pointing to wind farm investments in Ireland and a 417-megawatt hydroelectric facility in Pennsylvania so far this year.
La Caisse de dépôt et placement du Québec, which manages public and private pension and insurance funds in Quebec, ranked as the world's eighth-largest renewable energy investor in 2013.
Canadian asset managers clearly punched above their weight last year, a trend that appears to be growing stronger in 2014, and not just because of Brookfield's increased investment activity.
Toronto-based power developer Northland Power was the driving force behind a second-quarter investment in a massive Dutch offshore wind project, which has been described as a "record-breaking" deal. Northland owns 60 per cent of the group that led the $3.8 billion (U.S.) financing for the 600-megawatt offshore project, located in the North Sea. It is believed to be the largest investment to date in a non-hydro renewable energy venture.
Topping all investors last year was Warren Buffett's Berkshire Hathaway. In June, Buffett revealed at the Edison Electric Institute's annual convention that Omaha, Nebraska-based Berkshire had put roughly $15 billion into renewable energy assets in 2013, and surprised the crowd when he said – without hesitation – he's ready to do it again.
"There's another $15 billion ready to go, as far as I'm concerned," he told the audience.
Michael Liebreich, chairman of the advisory board at Bloomberg New Energy Finance, said earlier this summer that the new "upswing" in renewable energy investment is not targeted at any specific technology or project size. Whether wind or solar, large or small, the deal volume is growing – even among venture capitalists and private equity investors.
"We are expecting the full year figures for 2014 to show a clear rebound in global investment in clean energy," he said. "The debt-and-policy-fuelled bubble years of 2007 to 2010 were inevitably going to be followed by a period of consolidation; that period now definitely looks to be over and the industry is gathering momentum once again."
The signs are everywhere, from the fact that all new generating capacity in the United States in July came from renewable sources – i.e. no new natural gas or coal plants were brought online – to the report this week that onshore wind is now the lowest cost form of wholesale power, at least according to the U.S. Department of Energy's Lawrence Berkeley National Laboratory.
And Wednesday, it was reported that for the first time since 2006 the solar industry is experiencing a shortage of photovoltaic panels, following eight years of supply glut.