U.S. EPA starts long-overdue crackdown on fugitive methane emissions
Efforts to be directed at the country's oil and gas sector.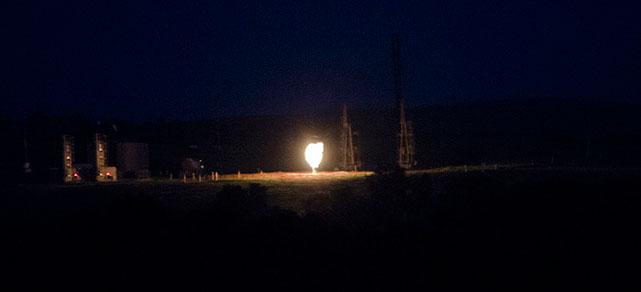 Natural gas flaring in McKenzie County, North Dakota. Photo by Tim Evanson
For the first time, the U.S. has proposed federal regulations that would require oil and gas companies to significantly reduce the amount of methane that can escape from drilling and processing activities, specifically those related to oil and gas "fracking" sites.
So-called fugitive emissions are a big contributor to total U.S. greenhouse-gas emissions. Compared to carbon dioxide, methane is anywhere from 34 to 86 times more potent as a heat-trapping gas depending on how long it remains in the atmosphere. Generally, the gas becomes less potent in the atmosphere over time.
The new rules were put forward by the U.S. Environmental Protection Agency, which has set a broad goal of lowering the country's methane emissions by up to 45 per cent from 2012 levels by 2025. If passed, these particular regulations would get the EPA roughly halfway to its goal.
Janet McCabe, the agency's acting assistant administrator for its office of air and radiation, estimated that complying with the new rules would cost the industry up to $420 million (U.S.) over the next 10 years. That said, savings due to efficiencies and the ability to capture more methane for sale is expected to reach $550 million over the time period.
In other words, the EPA argues there will be a net benefit for the industry if it complies with the new standards.
Studies suggest that regulators in both the United States and Canada have dramatically underestimated the amount of fugitive methane emissions, partly because of a lack of reliable monitoring.