Choice cut
What impact does human consumption of meat and dairy products have on climate change?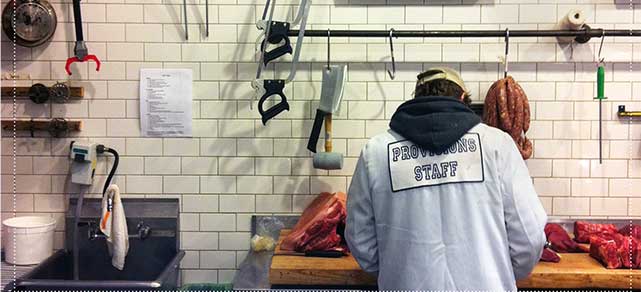 Green Grape Provisions, Brooklyn N.Y. Photo by Jack D.
Is the human consumption of meat and dairy products "climate change's forgotten sector"? That's what a December study from Chatham House concludes, pointing to a major lack of public awareness of the link between meat and GHG emissions.
According to the study, the livestock sector accounts for an estimated 14.5 per cent of global GHGs and rising demand for meat and dairy is outpacing supply-side reductions in emissions intensity. Climate change, it seems, is not a primary consideration in food choices and governments have not been prepared to increase public understanding of the food-GHG link.
That must change, the study says. "Recent analyses have shown that it is unlikely global temperature rises can be kept below 2 degrees C without a shift in global meat and dairy consumption."