Osoyoos country
Exploring Canada's first indigenous-run winery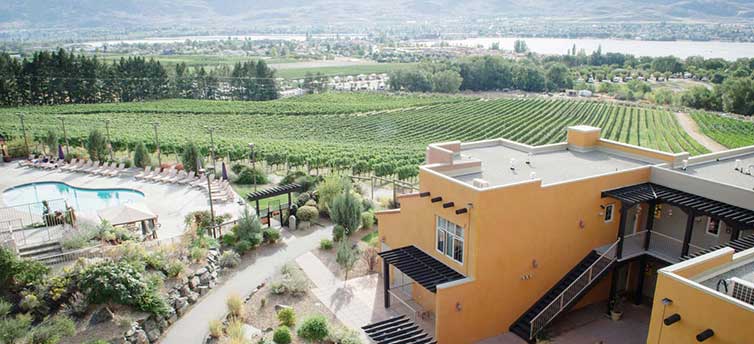 Photo courtesy of Spirit Ridge at Nk'Mip Resort
With an intriguing blend of natural beauty and more than 200 wineries, B.C.'s Okanagan Valley is not only Canada's most heralded wine region but was ranked ahead of Tuscany and California's Napa Valley on a recent USA Today global list of 10 Best Wine Regions to Visit. The Okanagan is also home to Canada's first aboriginal winery, Nk'Mip Cellars, set amid the rolling hills of the country's only desert and named Canadian Winery of the Year at the 2016-17 InterVin International Awards.
Over the past 15 years, the Osoyoos Indian Band has developed Nk'Mip Resort (pronounced in-ka-meep and meaning "bottomland" of the valley). The property now encompasses the winery, vineyard, four-star resort, condos, nine-hole golf course and RV park, along with the dramatic Nk'Mip Desert Cultural Centre, itself a winner of a Governor General's Medal in Architecture. More controversially, in 2012 it won a bid to lease land to the provincial government for the construction of a new maximum security prison.
The 550-member Osoyoos Band owns more businesses per capita than any first nation in Canada, making it an economic powerhouse in the region and one of the most prosperous First Nations in Canada.
It wasn't always thus. "A hundred years of enforced dependency through the reservation system and welfare handouts had broken our tradition of hard work and independence," states longtime Chief Clarence Louie. "The reserves took away people's ability to support themselves and it brought them to their knees."
Like many other First Nation reserves, the Osoyoos Band once struggled with high unemployment and drug and alcohol issues. Eighty per cent lived in poverty, many labouring as migrant field workers, riding the rails from Washington State to California.
Raised by a single mother on the reserve, Louie left to get a university education at age 19, enrolling at First Nations University of Canada in Regina and then obtaining his degree in native studies from the University of Lethbridge, Alberta. He returned to his band in B.C., determined to reverse the multi-generational damage caused by residential schools and the reserve system.
Elected chief at 24, in 1988 Louie created the Osoyoos Indian Band Development Corporation (OIBDC), with a mandate to develop businesses that both reduce government dependency and create community involvement, to bring back traditional First Nations values of honour, caring, sharing and respect. "Jobs are the most important thing," he explains. "We'll keep a company going even if it's losing money, if we can keep people employed."
The band doesn't operate its business strictly like corporate Canada, notes Louie. "For example, with our profits, we built the cultural centre. It doesn't make money – no museums make money. It's a leadership responsibility to educate our people and visitors about our land and our history." The band, however, remains focused on financial independence and the creation of well-paying jobs. "It's the economic horse that pulls the social cart, whether it's on the reserve or off."
The establishment of the OIBDC was the high-octane fuel that propelled the band to its success today, becoming one of the major economic engines and employers in the South Okanagan, generating more jobs than it has band members.
"They're a very progressive band, and we all work together for what's best for all of us," says Osoyoos Mayor Sue McKortoff. "Many band members work at Nk'Mip, but there's a lot of other people working for them too." McKortoff believes the band helped put Osoyoos on the tourism map with all the enterprises it offers. "We're all reaping the benefits," she adds.
In a joint venture with international winery giant Constellation Brands, Nk'Mip Cellars opened its doors in 2002. Some 135 people – band members together with non-natives –work at the 18,000-square-foot Nk'Mip Cellar and its vineyards, with all wines made from grapes grown on native soil.
Starting as a cellar hand, Nk'Mip assistant winemaker and band member Justin Hall travelled to New Zealand to obtain his post-graduate viticulture and enology diploma, making him the first-ever certified First Nations winemaker in Canada. One of his creations is Dreamcatcher, a blend of five white grapes. "It's a lot of work to get the balance right," says Hall. "We use Riesling grapes for the acid backbone, Sauvignon Blanc for a fresh green characteristic, Ehrenfelser for an aromatic citrus bouquet and round it out with Chardonnay and Pinot Blanc."
His favourite wine? The Nk'Mip Qwam Qwmt Syrah: "Jammy with characteristics of pepper on the nose. The character of the wine is a classic mix of warm and cool climate grape growing."
Enthusiastic and optimistic, 35-year-old Hall represents a younger generation of First Nations who are reversing centuries of oppression, savouring a taste of financial success and starting to believe in their future.
He notes that the band's goal is not just to make money but to encourage young native people like him to enter the business. Diplomacy isn't in his job description, but it's part of what he does. "We want to build trust and relationships with non-natives, so we can grow our businesses and help future generations."
Wine critic Rhys Pender, MW (Master of Wine), says the Osoyoos Band was smart to joint venture with an established winery operator. "The band had the land and the high quality grapes, but they didn't have the knowledge," says Pender. "They sent Justin Hall overseas to learn winemaking, and now he's transferring that knowledge on within the band, educating the next generation of winemakers."
Native bands frequently call on Chief Louie, asking how they too can replicate the Osoyoos model. In Osoyoos, the economy is wine and tourism, so that's where the band focused its attention, he says. Louie concedes that in other areas, especially the remote regions where reserves are often located, economic development is a tougher challenge but could still be pursued through joint ventures or other avenues in the forestry or mining industries. Only in the last decade or so have natives even participated in economic development conferences and shifted their attention to business creation, Louie says.
"We're getting our independence back that we had before the reserve system," he says. "Our young people are backpacking through Europe with the money they saved from working in our businesses. They can actually afford to go."
Louie's brash speaking style and laser-like focus on economic development is not without its critics. Clifford Atleo, in a paper titled "From Indigenous Nationhood to Neoliberal Aboriginal Economic Development," decries Louie's war on what he sees as dependence-induced laziness. "Louie is buying into the stereotype of the 'lazy Indian' by placing the blame solely on a culture of dependence and not critically analyzing the conflicting Indigenous and Settler values that have previously inhibited Indigenous participation in the mainstream economy," he writes. "Connected to this is the privileging of the liberal values of individuality and competitiveness."
Winemaker Justin Hall, for his part, is proud of their achievements at Nk'Mip. "Some Canadians are afraid to enter a reserve," he says. "But so many people visit our winery and stay at our resort and campgrounds, and say they feel safe here, and that they're having a great time. We're proud when we see hundreds of people at our winery, and proud to show them our culture, what we've accomplished here."