London stalling
New report calls for radical overhaul of London congestion charge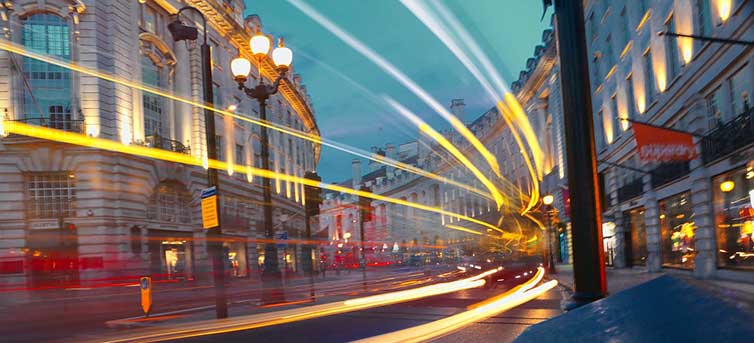 Regent Street, London
London should replace its existing inner city congestion charge with a broader pay-per-mile system, according to a report submitted by the London Assembly transport committee in January.
The city first introduced a fee to enter the Congestion Charge zone in 2003 under then-mayor Ken Livingstone, a ground-breaking model that has been replicated in other cities like Stockholm and Milan. Originally priced at £5, the fee is applied to all vehicles entering central London between 7 a.m. and 6 p.m. on weekdays. Daily charges have since increased to £11.50, although a western expansion of the congestion zone was eliminated in 2011. All revenue is collected by Transport for London, the transportation body responsible for Greater London.
Hailed by economists as an effective method for reducing congestion, the measure has been successful at reducing the presence of private vehicles in the city's core. Between 2000 and 2014, the number of private vehicles in central London was cut in half. In addition, the speed of traffic flows increased for several years. But over the past five years, traffic and air pollution has grown steadily worse across the city, leaving politicians in search of a new and broader solution to the city's congestion woes.
The London Assembly transport committee's report, titled "London Stalling," identifies several key reasons for this. While congestion would be much worse without the charge, there's been a marked rise in private-hire cabs like Uber in the city centre, as well as vans delivering goods purchased online. In addition, existing road space has been reallocated away from private vehicles in favour of dedicated bus lanes, greater pedestrian road safety and new bike lanes. A construction boom has also been responsible for ongoing traffic delays. Public transit usage has risen to 45 per cent from 37 during that time, but buses are increasingly slowed down in traffic.
Calling for a complete overhaul of how roads and traffic are used throughout London, the report proposes some form of road pricing scheme that charges more based on the time of day, the location and the distance travelled. "Road pricing would be a fairer approach, as road users would pay according to how much they contribute to congestion," states the report. The program could be gradually expanded to encompass a larger swathe of London, a feat that would involve newer technologies that have come onto the market in the past decade. "This does not necessarily mean every driver should start paying more than they already do, but every journey should be charged according to its true cost to London in terms of congestion, pollution and public health," the report adds.
The report contains 11 recommendations in total, including a workplace parking levy, the establishment of a system for delivering goods purchased online at metro and rail stations, a ban on personal deliveries to workplaces and lowering restrictions on night-time deliveries.