Butt out
Think tank accused of being front for big tobacco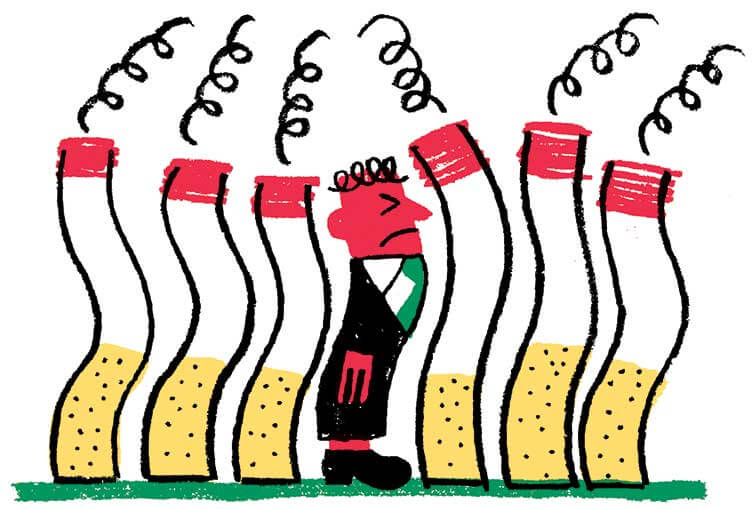 Illustration by Benoit Tardif
A group of international development and health organizations launched a pressure campaign in November against the International Tax and Investment Center (ITIC), a Washington, D.C.-based think tank that has been criticized as a mouthpiece for the tobacco industry.
The coalition took particular aim at the ITIC's extensive list of companies and organizations it claimed to have an association with on its website, contacting each entity to confirm the state of their relationship. This resulted in demands from Nestlé, the World Bank and law firm Pinsent Masons, among others, that the ITIC immediately remove all references to them from its website. The ITIC has since removed all references to organizations that complained.
"This is a fantastic victory," said Deborah Arnott, chief executive of Action on Smoking and Health. "For years, this tobacco industry-funded tax think tank has bolstered its credibility by claiming the support of major global organizations – and now those claims have been revealed as completely hollow."
Describing itself as an organization founded to promote tax reform and public-private initiatives, the ITIC has received significant funding from tobacco companies in the past and often weighs in on tax issues related to tobacco pricing.
In 2014, the director general of the World Health Organization, Margaret Chan, warned attendees at an annual gathering for the Framework Convention on Tobacco Control to not trust the ITIC's intentions: "Please, do not be fooled by them. Their agenda, at least, is easy to see: to undermine your power, your efforts to adopt the robust, expert-driven proposed guidelines on tobacco tax and price policy."