The biz-friendly treehugger
The trees still get love, but environmental groups that once saw corporations as adversaries now welcome them as partners.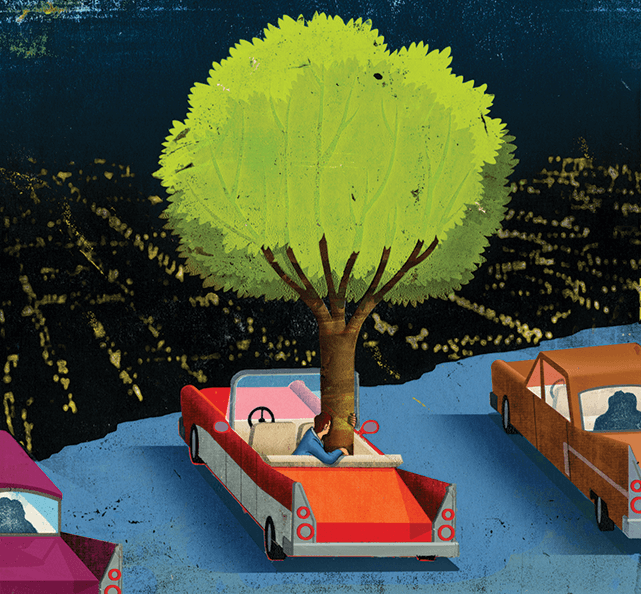 Illustration by Pete Ryan
When Robert Napier retired in 2007 as head of the WWF-UK, Christopher Ward, then chairman of the environmental group, noted the committed conservationist was leaving the organization in better shape than when he joined. Ward also heaped praise on Napier for the key role he played in putting climate change on the global agenda.
The source of Napier's value as an environmental leader, Ward added, was his ability to see industry as an opportunity, not a threat, which allowed WWF to foster "ethical partnerships that brought not just financial benefits but changes in working practices and attitudes, too."
The environmentalist community, of course, did not exactly give Napier the warmest of welcomes when he was appointed in 1999. Traditionalists could not get past the fact that he was a former Rio Tinto mining executive who didn't despise the corporate sector.
After Napier took charge at WWF-UK, celebrated British activist and occasional Corporate Knights contributor George Monbiot raised the alarm over a "corresponding decline in the radical content of the organization's work."
Environmental groups, Monbiot argued in The Ecologist, should never get into bed with business people because fiduciary duty forces them to pursue "the most unsustainable development they can get away with."
Since then, the environmental landscape has shifted dramatically. So-called "dark greens" like Monbiot continue to play an influential role confronting evil as they see it. But like it or not, they are now surrounded by "bright greens," meaning business-friendly earth lovers like Napier.
Indeed, as Yale environmental management grad Ben Goldfarb points out, "the stereotype of the conservationist hurling himself between the whale and the harpoon is increasingly anachronistic and so too is the image of courageous litigators taking down evil polluters." For better or worse, he wrote in a Guardian column earlier this year, the "modern environmentalist is more likely to partner with a chemical company than prosecute one."
That might be a stretch. Nevertheless, the shifting landscape has had a profound impact on today's environmental organizations, which are nothing like your grandparents' NGOs.
Forget tree-hugging liberal arts grads sporting ponytails. Thanks to bright green thinking, international environmental organizations are now stocked with MBAs, lawyers, engineers and professional policy wonks. Determined to use their expertise to help clean up capitalism, they jump back and forth between environmental organizations and the private sector.
Believe it or not, it is now even relatively common for environmentalists to work corporate assignments while still at NGOs. In Canada, for example, Pembina Institute, a non-profit focused on sustainable energy solutions, generates a significant proportion of its revenue from a for-profit consulting arm, which has a client portfolio ranging from Albertan oil plays to Bay Street financial institutions.
As an early adopter of this semi-business business model, you might expect Calgary-based Pembina to have been ostracized by its peers. But according to former Pembina executive director Marlo Raynolds, now a private sector executive with renewable-energy developer BluEarth Renewables, the organization was flooded with requests to assist other NGOs in figuring out how to make some green by helping corporations reduce their carbon footprints and develop sustainable practices.
College of the Atlantic president Darron Collins, a former WWF managing director who worked with global retailers such as WalMart to reform procurement policies, says the rising tide of business-friendly environmentalists stems from a realization in the 1980s that activists and scientists alone can't solve the world's problems.
"It didn't take that long to recognize that the private sector is the ultimate driver of change," Collins says, noting he was attracted to the WWF as a young anthropology PhD precisely because of its willingness to work with the corporate world. "I always believed that if you are not playing with the private sector, you are not going to effect change."
Not everyone, of course, has noticed the growing environmentalist appreciation for the suit-and-tie crowd. Earlier this year, Joe Oliver, Canada's natural resources minister, generalized environmentalists as left-leaning activists with one goal: "No forestry. No mining. No oil. No gas. No more hydro-electric dams." The sheer ignorance of that comment almost makes bright greens laugh.
"I am a radical," jokes Mark Tercek, head of The Nature Conservancy, America's largest environmental group, which seeks non-confrontational, market-based solutions to conservation challenges. "After all, I am willing to work with the other side."
Tercek, a former partner at investment bank Goldman Sachs, wrote the bookNature's Fortune: How Business and Society Thrive by Investing in Nature to promote even closer relationships between bright greens and the corporate world. Under his leadership, The Nature Conservancy passionately pursues working with companies such as Dow Chemical to incorporate the value of nature into corporate goals, strategies and business objectives.
Bruce Lourie, president of Canada's Ivey Foundation, which also takes a pragmatic approach to conservation, realized about 20 years ago that NGOs had to reinvent themselves. After launching a consulting company to build relationships among government, the private sector and environmental organizations, he was surprised to learn that young people joining his company had no interest in working for traditional NGOs, which were seen as "so 1970s."
These were smart individuals determined to change the world, he says, "but they thought the best way to do that was by working with the corporate sector." Lourie blames misconceptions about modern environmental organizations on the media. "One of the big frustrations we have is a lack of balanced reporting. You can have a thousand scientists say climate change is real and reporters seek out ones who say it isn't, or they take extreme views and write a confrontation story."
As part of its Conserving Canada's Forests Program, Ivey was a major driver of the coalition building that led to the landmark Canadian Boreal Forest Agreement (CBFA) in 2010. The deal was a historic truce between 21 members of the Forest Products Association of Canada and nine environmental organizations, who agreed to work together on a comprehensive set of goals and activities designed to make Canada the world's leading jurisdiction in forest sustainability.
But it was just one initiative supported by Ivey's program, which helped create more than 2,500 new parks or protected areas covering 60 million hectares as well as increase the number of hectares certified by the Forest Stewardship Council by 5,130 per cent. And yet, media coverage has pretty much focused on Greenpeace's decision to opt out of the CBFA, despite the fact that other environmental groups are still cooperating with industry on the initiative.
"Environmental confrontations make good stories," Lourie says, "but focusing on them doesn't provide an accurate account of what's happening."
Dark greens see pragmatic environmentalists as stooges who naively put themselves at risk of being used for green-washing purposes. But Collins insists there is really nothing to lose being "cautiously optimistic that cooperative relationships will do more good in the long run."
And as far as Tercek is concerned, building trusting relationships with the private sector is the only way to address big, critical and complex issues. He simply does not see the value in deploying scare tactics to push for blanket bans on existing industry practices such as hydraulic fracturing without first exploring possible solutions that are not at odds with economic growth.
"I have tremendous respect for everyone in the environmental movement," Tercek says. "But we all say we are driven by science and the facts tell us the job is not getting done. We have less forest, fewer coral reefs, less topsoil and biodiversity, more greenhouse gases. So something is wrong. The old fashioned way of doing environmental work is insufficient to the challenge."
While bad corporate apples will always exist, the bright greens point out that there's nothing about fiduciary duties that forces business people to support unsustainable practices, especially today. A trash-the-earth culture also makes recruiting and retaining good people difficult while putting companies at risk of revenue disruption and reputation destruction, which executives have a duty to prevent.
Furthermore, as global warming concerns among consumers increase, Tercek insists responsible companies will gain an ever-increasing competitive advantage. "People are smart," he says. "If you live in New York or New Jersey, you understand risks that storms like Sandy pose. People in areas suffering from floods or droughts right now don't need environmentalists to tell them they have a problem."
When Monbiot dismissed Napier's value as an environmentalist because of his business experience, Jonathon Porritt, co-founder of Forum for the Future, a UK-based non-profit that works with business and government to create a sustainable future, offered a rebuttal. Simply put, he argued Mother Nature could not afford a single-minded environmental movement committed to just "the easy option," which he described as looking down with moral superiority on the corporate world, secure in the absolutist view "that multinationals are the principal engine of environmental destruction, that the individuals who work for those companies are amoral, incapable of being influenced by cogent analysis or moved by fears for their own children, and that those who work with them must by definition be morally inadequate and politically compromised."
Today, with the window to address climate change closing, Porritt firmly stands by his position. "We have no choice," he says, "but to find the most intelligent and robust ways of working with the private sector. Given that the quality of leadership in the private sector is, in my opinion, infinitely greater than the quality of leadership in the political sector, it would be insane not to try and make those relationships work."