Spotlight on green buildings in Canada
Corporate Knights assembled an expert panel to help construct a list of the top sustainable buildings in Canada.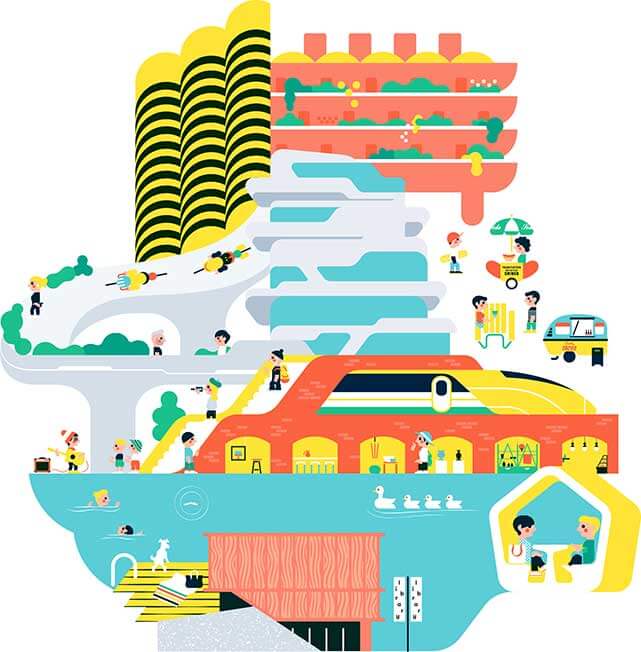 Illustration by Studio Tipi
Howard Roark, the protagonist architect in Ayn Rand's The Fountainhead, eschews conventional thinking in favour of designing buildings that are elegant and efficient.
This, it turns out, is the key to about a third of the solution to climate change and a good deal of human happiness in most industrialized countries, where buildings account for over a third of greenhouse gases and 90 per cent of peoples' time.
When buildings are designed to elegantly tap into nature's flows of sunlight, water and air, a graceful green simplicity is achieved. Sunlight brightens the indoors, supplemented with ultra-efficient and soft LED lights. The building breathes in the warmth or coolness from the ground and air using heat pumps to keep temperatures comfortable. Blue roofs funnel rainwater for non-potable uses and a garden of tasty fruits and vegetables on the rooftop, which doubles as a lovely place for summer parties.
It also turns out building to this type of specification can generate a positive net present value, and enhance peoples' productivity, while also resulting in a 70 per cent lighter environmental footprint.
Canada has experienced a rapid growth in our green buildings stock, though most of our buildings are far from the smart, efficient and elegant ideals that are now both possible and cost effective.
According to a recent report by the Canada Green Building Council and the Delphi Group, there has been a marked increase in market penetration for LEED-certified buildings in Canada over the past five years. Only 0.8 per cent of new construction floor space in Canada built between 2005 and 2009 was LEED-certified, a number that jumped to 10.7 per cent for the 2010-2014 period.
Some sectors have shown greater leadership than others, namely those in the commercial and institutional sectors. Nearly 30 per cent of institutional buildings built in Canada between 2010 and 2014 have been LEED-certified, followed by 22 per cent in the commercial real estate space.
While LEED is certainly the biggest player in the green buildings space, there are a number of additional certification regimes that have cropped up in recent years as well.
One offshoot of LEED is the Cascadia Living Building Challenge, which "calls for the creation of building projects at all scales that operate as cleanly, beautifully and efficiently as nature's architecture." The VanDusen Botanical Garden and Visitor Centre in our ranking was created with Cascadia certification in mind.
The WELL Building Standard, meanwhile, is the world's first building standard focused exclusively on human health and wellness. It is designed to blend best practices in design and construction together with evidence-based medical and scientific research. The MNP Tower in Vancouver has applied to be Canada's first WELL-certified office building.
This growth in Canada, however positive, pales in comparison to developments in Europe. The EU has mandated that by 2020, all new buildings within its boundaries will be "nearly zero-energy buildings."
What holds us back in Canada are old conventions and short-term thinking, but which our political leaders have recently begun to express a sense of urgency about rectifying.
As Roark put it: "The hardest thing to explain is the glaringly evident which everybody has decided not to see."
Fortunately, as the following ranking make clear, there are a growing number of people with eyes wide open toward a future of elegant and efficient buildings.
Click here to go back to the ranking landing page.