Banff Centre offers the practice of purpose
Participants take a guided journey towards a renewed sense of meaning and energy in their lives and work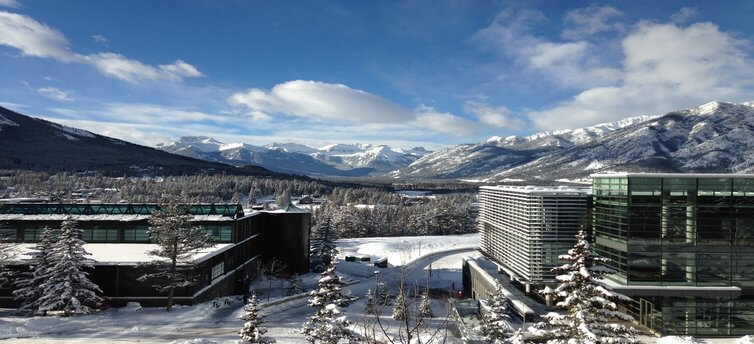 "This is showtime on Mother Earth," Dr. Julian Norris exclaims. He is speaking animatedly with a group of 20 of us, who have come together from various regions, professions and backgrounds to a classroom overlooking the Rocky Mountains in Canada. The setting inside the classroom looks not unlike a conventional leadership seminar, with poster paper taped on the wall, magazines, scissors and glue laid out across a long side table, and paper and pens at each table, although the view through the floor-to-ceiling windows is spectacular. Then Norris and his co-instructor ask us to get in a circle, and they lay a red thread in front of our feet on the ground and guide us through our first attempt at crossing a threshold.
This is Banff Centre's Foundations of Purpose course, a week-long interdisciplinary exploration of each participant's unique purpose through a series of tactics that are unlikely to be found at any other leadership course or conference in North America. In fact, the program is designed precisely to fit this missing part of leadership training. As Laurie Edward, Program Manager for Leadership Programming at Banff Centre says, "In other leadership seminars and courses, driven and intelligent people become undone at the request to make a purpose statement and often aren't able to create one cognitively, but need to come to it experientially."
Making use of the exceptional landscape of Banff, Alberta and the program instructors' respective backgrounds—ranging from business and leadership consulting, anthropology, wilderness education, psychology and performing arts—participants explore various approaches to uncovering and creating purpose. They are encouraged to pursue unusual methods with an open mind. Crossing a threshold is a recurring and potentially transformative exercise in the course. It is the practice of imagining a threshold that, once you cross it, will move you from the reality you are currently in to a new reality – perhaps one more natural, more vivid, or more spiritual. I admit that the first time I tried this in the classroom I had to suspend my disbelief but, with practice and an open mind, I did feel a cognitive and experiential change between the world preceeding the threshold, and the one across the line, especially once we took the exercise out to the mountains. Creating an alternative perception of the world in which your self, your experience, and your connection to nature is enhanced is surprisingly possible, and helpful if you are going to stretch yourself in the other ways that are asked of you in this course.
In a time when, as Norris believes, it is harder than ever to be human, it can be helpful to connect with the natural world and remember that we are not separate from nature, but deeply part of it. "Purpose is ecological," Norris will tell you, "and we have to bring our full selves to the world to build a healthy culture." Both he and fellow instructor Laura Larriva Page, who conjointly lead the course, emphasize that purpose is relational and must be expressed through our relationships and interactions with others.
Banff Centre was founded 85 years ago, in 1933, as a summer arts institution—essentially made-up of a single course in drama—intended to help people cope with the Depression. While arts programming has always been at the core of the institution, Banff Centre began conferences in 1953 and management programs in 1954. These days, major funders include the University of Alberta and the Suncor Energy Foundation. These donor entities support maintaining a space that is dedicated to people doing work, including personal or professional development, or creating music, art, theatre or writing, and designed for participants to bring something of value back to their communities or organizations. "Banff Centre is about holding space and exploration," Edward explains, "and holding people in the process of creation."
Banff Centre is also dedicated to access and diversity with a commitment to Indigenous perspectives and presence. To aid in this, there is funding to support low-income participants. From April 1, 2017 – March 31, 2018, Banff Centre welcomed 545 participants in its Leadership programs, including Indigenous Leadership. Of those participants, 74% received a scholarship. In the same time period, the centre welcomed 3,500 participants in its Arts programs, and 66% received a scholarship. Inclusion across socio-economic lines as well as the incorporation of arts into business on campus and in the classroom is in many ways "what Canada is reaching for in this moment," says Edward.
Humans are often keen to develop and evolve, after all. But are corporations? Purpose in the individual is necessary for purpose within a corporation. But often, even with the best of intentions, a company experiences "mission drift," when the stated mission of the company fades and self-preservation takes over. Edward sees a future in which corporations are on the hook for employees that don't know what they are supposed to be doing in the world. They will have to pivot from the work they have been doing for a long time as the economy shifts. "People will be trained in skills that as an organization you need to move away from," she explains, "and this represents a corporate liability." Embracing the individual's exploration of purpose can help companies become more adaptable. Our capacity to deal with external crises depends on the quality of our inner selves, and an organization's ability to succeed depends on the resilience of the individuals therein. The foundational question that created the course – and the one participants will explore throughout the week and long after they leave is – what do you really want to do?
The next Foundations of Purpose course runs from May 26 – May 30, with applications due by May 14, 2019.