New report finds social procurement, circular economy and industry collaboration are changing how Canadian public institutions spend their money
Nineteen leading public sector organizations from the Municipal Collaboration for Sustainable Procurement (MCSP) have released a new report on the state of sustainable public procurement in Canada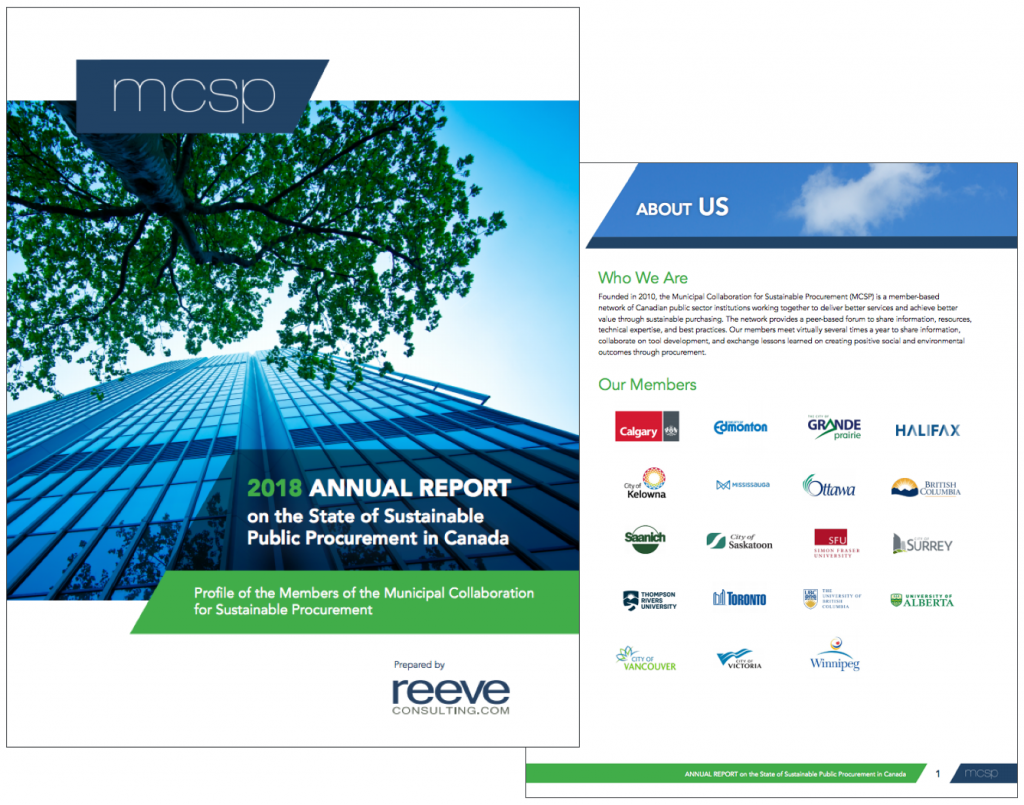 A network of nineteen leading public sector organizations from the Municipal Collaboration for Sustainable Procurement (MCSP) have released a new report on the state of sustainable public procurement in Canada. "Sustainable procurement has reached a turning point in its relevance as a strategic tool to drive sustainability in the public sector," says Tim Reeve, Managing Director of the MCSP. "We are seeing a vibrant national conversation around sustainable procurement as a core strategy for the public sector to take action on climate change, poverty reduction, and building healthy communities."
Established in 2010 by Reeve Consulting, the MCSP supports Canadian public-sector institutions to work together in aligning their spending with their values and commitments on sustainability. The network offers a best practice framework, helps benchmark organizations, facilitates webinars and working groups for members to exchange lessons learned and develop new tools and resources, as well as produces a widely read annual report. The report highlights the country's latest sustainable procurement trends, showcases the popular 'moon chart', which benchmarks members, and offers member updates and success stories around social and aboriginal procurement, green infrastructure, innovative training and communication programs, zero-waste and circular economy initiatives, and much more.
Trends
According to the report, there are some significant trends to watch. Social procurement, in particular, is receiving a lot of attention. Social procurement considers how procurement can positively impact the social wellbeing of their communities and addresses aspects such as poverty reduction, economic and social inclusion and supports local economic development and social enterprises. The Government of Canada and several provincial governments are creating an enabling environment for social purchasing and the use of Community Benefit Agreements (CBAs) or Community Employment Benefits (CEBs) to provide employment and skills training opportunities for Canadians with barriers to employment. Other public sector actors implementing social procurement include Infrastructure Canada, the Provinces of BC and Alberta, BC's Ministry of Transportation and Infrastructure, Infrastructure Ontario, the City of Vancouver, the City of Toronto, and Metrolinx. There are a growing number of national conferences supporting social procurement, from Econous in September 2018 to the Buy Social Summit in February 2019 and the Canadian Conference on Social Enterprise in May 2019, in addition to many other local and regional events.
Public institutions are bolstering their sustainable procurement efforts by collaborating with their peers. They are creating hubs and networks supporting a standardized approach to sustainable and social procurement at a regional level. For example, the Coastal Communities Initiative launched on Vancouver Island supports social procurement through education, training and coaching. On the East Coast, the Province of Nova Scotia is leading a working group on social procurement and social enterprise development. A collaborative social procurement initiative led by SFU is also in the design stage among BC universities.
Finally, throughout 2018, increasing awareness on the negative impacts of plastic waste has driven new commitments this year with new regulatory initiatives and investment in sustainable plastic alternatives and zero-waste strategies. The Government of Canada has been taking a leadership position internationally on plastic waste, launching the Ocean Plastics Charter at the G7 Leaders' Summit in June 2018. Federal agencies are working to reduce plastic waste in their purchasing and operations through promoting the procurement of sustainable plastic products and the reduction of associated plastic packaging waste. This action follows on bans on single-use disposable plastics by various orders of government and public institutions worldwide. In Canada, commitments have been made by Montreal, Victoria, Vancouver, and universities such as UBC. There are a number of multisectoral and industry-led initiatives on plastic worth watching: the Ellen MacArthur Foundation's New Plastics Economy Global Commitment, the UK Plastics Pact, Circulate Capital, and the Alliance to End Plastic Waste.
Overall, sustainable procurement is gaining more traction as a driving force for positive change. in its 2017 Global Review of Sustainable Public Procurement, the United Nations Environment Programme confirmed its strategic opportunities for the public sector. Furthermore, Canada's biannual Clean50 Awards, which recognizes Canadian sustainability leaders, created a new public sector award category for sustainable public procurement.
Success Stories
MCSP members are growing their body of work around sustainable procurement programs and applying sustainability to new procurement categories. They are developing innovative partnerships with certification organizations and academic researchers to design new approaches and engage supplier communities. In August 2018, Simon Fraser University became the first university in Canada to become an Aboriginal Procurement Champion, a special designation by the Canadian Council for Aboriginal Business (CCAB). The university is now working to embed a clause on Aboriginal procurement into the university's overall procurement policy. Mary Aylesworth, SFU's Director of Financial Operations, is excited to see SFU take action on reconciliation by supporting Indigenous entrepreneurship and economic development. She says, "I want to see this grow, so that all public sector organizations think about how they can work with Aboriginal businesses before going out to the general market."
On the environmental side, the Province of BC took a leap forward in supporting marketplace innovation and the transition to zero-emission vehicles. The BC Ministries of Environment and Climate Strategy and Citizens' Services jointly released a supply arrangement for EV charging stations, which makes investing in charging infrastructure more accessible for BC government ministries and the province's broader public sector, including municipalities, universities, school districts and healthcare. This initiative is a big deal for action on climate change, as each electric vehicle (EV) on the road in BC displaces four tonnes of CO2 annually.
The supply arrangements offer either supply or supply and install of EV charging stations. Public organizations can use the supply arrangements to buy charging stations for use by their fleets and by the public on their property. According to Soledad Reeve, former Director of Procurement Transformation at the BC Ministry of Citizens' Services, "this supply arrangement will save many public buyers across BC the time, effort and cost of running individual procurements, since the suppliers available through the supply arrangement have been qualified through an evaluation process developed by experts." Public organizations with funding for electric vehicle infrastructure can now plan their expenditures more quickly, efficiently and effectively.
The report highlights other member success stories including the University of Alberta's new designation as a Fair Trade Campus, the City of Winnipeg's innovative box spring recycling pilot with Indigenous social enterprise Mother Earth Recycling, the City of Edmonton's efforts to divert oil filters and containers, glycol and waste fuel by considering end-of life management in their tenders, and an ambitious new Zero Waste Food Ware Strategy and series of plastic waste reduction initiatives by the University of British Columbia's Student Housing and Hospitality Services (SHHS).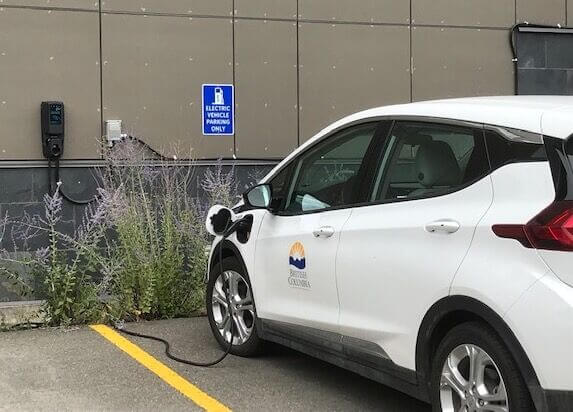 Province of BC's electric vehicle charging station
Looking to the Future
Reeve is proud of MCSP members' accomplishments and is excited about the growth of the network in 2019. "The MCSP fulfills a very important niche as the only known Canada-wide sustainable procurement network catering specifically to public procurement professionals," he says. "We have a new strategic plan to chart our course to 2022 and are looking forward to supporting a diverse range of public sector organizations to gain better business and social value from sustainable procurement." This includes collaborating with Canadian Business for Social Responsibility (CBSR), Espace de concertation sur les pratiques d'approvisionnement responsible (ECPAR), and the Ontario Public Buyers Association (OPBA) to develop new events and services as well as delving deeper into hot topics like plastics, circular procurement, supplier engagement, infrastructure, training and communications, and measurement and reporting frameworks.
Download the full report here and contact Reeve Consulting here if you are interested in learning more about the MCSP.