Businesses are becoming increasingly aware that water scarcity can affect their bottom lines. A new report, "From water risk to value creation," released by CDP today at conferences in Barcelona and London, highlights the range of water-related risks that companies face in the global supply chain.
The report identified over 850 risks using water management data collected from 174 companies listed on the FTSE Global 500 Equity Index. While 42 per cent of the Global 500 companies failed to report, 82 per cent of respondents have set water-reduction targets and 90 per cent have integrated water stewardship strategies across all of their companies.
Two-thirds of the businesses surveyed said they faced water-related risks and 68 per cent said these risks pose "a substantive risk to their businesses." And there is no shortage of examples to show their concerns are justified.
Barrick Gold, a Canadian mining company, shelved its $5 billion (U.S.) Pascua-Lama mine in October 2013 over the Chilean government's concerns about local groundwater pollution. Rio Tinto divested its 19 per cent share from the Pebble Mine copper and gold project in Alaska after the U.S. Environmental Protection Agency used the Clean Water Act to protect salmon fisheries. And BHP Billiton has invested almost $2 billion (U.S.) in a desalination plant to provide adequate water for its copper mine in Chile's Atacama Desert.
These large-scale risks highlight the challenges companies must address when they choose to operate in environmentally delicate areas. But the report also exposes the risks that companies face if they want to sell their products to people living in emerging markets – some of the fastest growing, but most water-scarce places on the planet.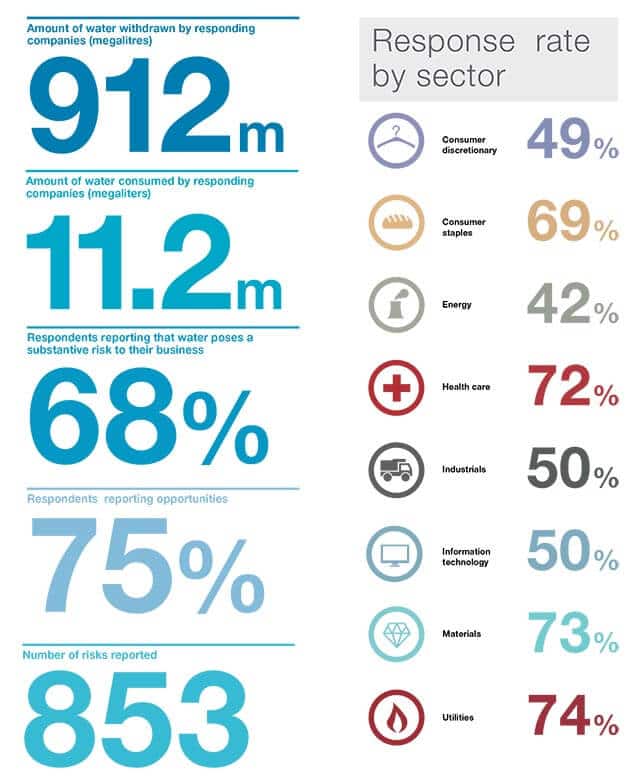 Unilever is a $50 billion company that sells its products to 2 billion consumers each day in 190 countries, most of which are in emerging markets. The company relies on water to grow the crops it needs to create its products, which are represented by well-known brands, such as Dove, Sunlight, Knorr and Lipton.
But consumers also need access to water to use their products, which account for more than 90 per cent of domestic water use, from washing dishes to cleaning hair, skin and clothes.
"Consumers experiencing water scarcity in developing countries are making trade-offs about which tasks will get their scarce ration of water. This is putting the growth of our products at risk," the company said in its response to the CDP survey.
To deal with this problem, Unilever has designed products for developing markets that use less water, such as a water-efficient fabric condition called Comfort One Rinse that cuts the number of rinsing buckets from three to one, a spokesperson for the company said in an e-mail.
Unilever has also found business opportunity amid water scarcity by developing an in-home water purifier called Pureit that provides safe drinking water without the need for electricity. The product has been used by 45 million people around the world since 2005, said the company's spokesperson.