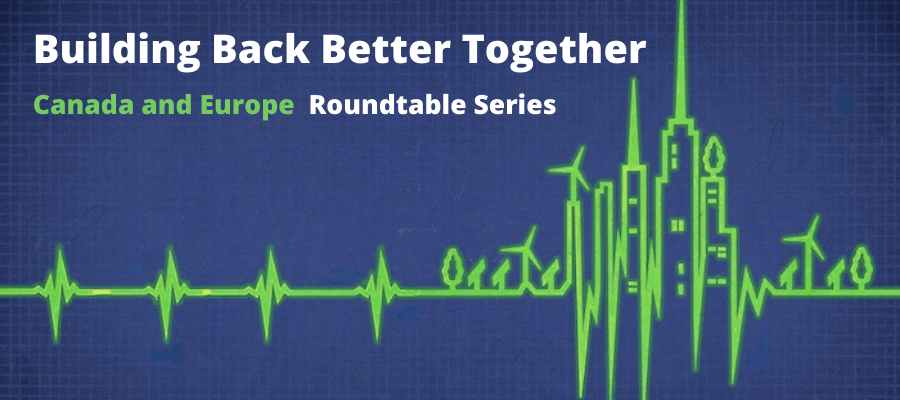 Join us for five roundtables in our latest initiative, Building Back Better Together – Canada and Europe, a virtual series in partnership with the Embassy of the Federal Republic of Germany in Canada.
In the spirit of globalizing a green recovery, Building Back Better Together explores key insights for how the international community can build back better post-COVID. The roundtables bring together Canadian, German and other European experts, policy-makers and business leaders to exchange insights from the current crisis to spark a global green recovery.
This virtual series takes place under the banner of Ottawa Climate Talks, initiated by the German Embassy, which have explored climate-related topics since 2015.
Our goal: To inspire Canadian and European decision-makers to seize this opportunity to Build Back Better Together.
These roundtables are aimed at policy-makers, business leaders, investors and civil society members from around the world, with a strong Canadian and European contingent. Each session will be preceded by a table-setting backgrounder by Shawn McCarthy, shared with registered participants in advance of the roundtable. The discussion will be international in breadth, with focused learning to support action across borders.
This session is also in partnership with the Embassy of France in Canada.
A lively discussion about the lessons that should have been learned from previous global economic crises and what we must do to get it right this time, with a mutual-learning focus on the different approaches to, and philosophies behind, green stimulus deals in Germany, France, Canada, and at the EU level, including the role that business can play in making green stimulus more effective. See our recent coverage of the EU budget deal for a taste of the discussion to come.
Wednesday, Sept 30., 11-12 pm EDT
A look at the role of central banks (as the largest asset holders), plus an insider's view on the role of infrastructure banks and how finance ministries have been able to draft, package and put through green stimulus deals that leverage private sector investment.
Wednesday, Oct. 14., 11-12 pm EDT
An exploration of the more lucrative non-combustion uses for bitumen and how they could fit into the EU supply chain for lightweight vehicles (e.g. the German automotive industry), building materials and aircraft, among other possible uses and the opportunities this presents for Canada.
Wednesday, Oct 28, 11:00am-12pm EDT
Host:
Ambassador Sabine Sparwasser (Germany)
Moderator:
Diana Fox Carney
Panel:
-Wolfgang Seeliger (CEO, Leichtbau-BW GmbH)
-Marcelo Lu (President, BASF Canada)
-Carrie Fanai (Program Lead – Bitumen Value Chain Optimization, Enterprise Technology,
Suncor Energy Inc.)
-John Zhou (Vice President, Clean Resources, Alberta Innovates)
A deep dive into the potential of hydrogen for enhancing and completing the transition to clean energy and the opportunities for and barriers to – including technologies, generation, storage, infrastructure and use – realizing that potential. See our recent coverage on hydrogen's big moment for a taste of the discussion to come.
Thursday, Nov. 12., 11:00-12 pm EDT
Introductory Remarks:
Honourable Minister of Natural Resources, Seamus O'Regan
Host:
Ambassador Sabine Sparwasser (Germany)
Moderator:
Diana Fox Carney
Panel:
-Stephan Kaufmann (Commissioner, Federal Republic of Germany Green Hydrogen Strategy)
-Raffaele Piria (Senior Project Manager, Adelphi)
-Beaver Paul (Founder, SEN'TI Innovations)
-Sarah Petrevan (Policy Director, Clean Energy Canada)
An examination of how net-zero new builds and deep retrofits for residential and commercial builders are financed in Germany and other parts of the EU, and what Canada can learn to launch a green building wave here.
Wednesday, Nov. 25, 11am-12pm EDT
Moderator:
Diana Fox Carney
Host:
Ambassador Sabine Sparwasser (Germany)
Panel:
-Frederic Bettez (Managing Director—Investments, Canadian Infrastructure Bank)
-Stefanie Kerlein (Project Manager, IBA27–International Building Exhibition 2027)
-Julia Langer (CEO, The Atmospheric Fund)
-Sabrina Schulz (Policy Fellow, Das Progressive Zentrum)
-Andrea DelZotto (Executive and Director, Tridel)
For the latest articles, YouTube videos and reports on all things Green Recovery, check our Green Recovery reports page.