PRINT

Get Corporate Knights print magazine mailed directly to your home or workplace.
Canada (1 Year/ 4 Issues):
Canada (2 Years/ 8 Issues):

US/International (1 Year/ 4 Issues):

Alternatively, send a cheque and mailing address to:
Corporate Knights Inc, 147 Spadina Ave Suite 207, Toronto ON M5V 2L7.
Print subscribers also receive a digital copy of Corporate Knights by email.
Note that subscriptions are non-refundable once the first issue has been received.
Please send questions or comments to subscriptions@corporateknights.com.

DIGITAL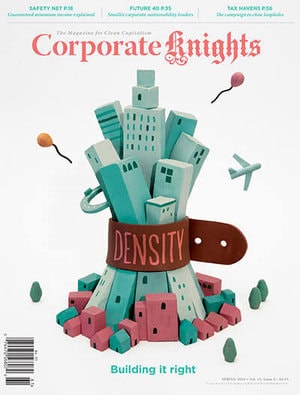 Read Corporate Knights quarterly magazine on your handheld or tablet device, or as a PDF on your laptop or desktop computer. You can choose to access a single issue or sign up for an annual digital subscription.
NEWSLETTER
Subscribe to our Weekly Roundup for sustainable business news and reports delivered straight to your inbox.