Oregon has proven itself as one of the greenest U.S. states, but the Beaver State isn't resting on its laurels. This July, it will launch North America's first distance-based road usage charging program, while Portland, its largest city, is proving to its municipal peers that it's possible to capture energy from the movement of water as it flows through city pipeline infrastructure.
Michelle Godfrey, an information officer with Oregon's department of transportation, is quick to point out that the road-charging program is not a pilot program – it's the real thing.
"It's fully operational. It's more than a pilot," said Godfrey. "But it's not quite a mandate."
Actual piloting took place between 2007 and 2013, part of a decision to look for new ways of raising new revenues for road maintenance and improvements. Revenues had been declining since the 1990 – more efficient vehicles, people driving less, and the gradual move to electric cars meant the amount of gas tax collected was dropping, a common problem for most states.
Oregon's transportation department conducted two pilot programs. In all, the state spent 12 years researching and testing the idea, to the point where legislators felt comfortable enough to pass supporting legislation.
But Oregon plans to ease into per-mile charging, said Godfrey. When the program launches on July 1, it will be limited initially to 5,000 passenger vehicles and participation will be on a volunteer basis. Volunteers will be charged 1.5 cents per mile driven in exchange for a gas tax refund.
Only distance will be tracked – not coordinates, which means congestion-based charging tied to time of day and location will not be permitted, at least for now.
"We have to get public acceptance first or it's going to be dead in the water," Godfrey said. "If you pile on too much controversial stuff at once, it's difficult to explain to people. So we're taking small steps, one step at a time."
Infrastructure for the Oregon system will be supplied and operated by Sanef ITS, a New York City-based operator of intelligent transportation solutions. The core technology platform will come from Intelligent Mechatronics Systems (IMS) of Waterloo, Ontario.
"For now it is a device that's plugged into the data port of the car," said Godfrey. "But it could be something else entirely down the road, such as a vehicle navigation system or a smart-phone app."
The choice of IMS signals how Oregon's system may evolve, and why other jurisdictions in North America may choose to replicate it. "My hope is, the nation soon follows," said Matthew Garrett, director of Oregon Department of Transportation.
Once the Sanef ITS/IMS black box is installed in a vehicle, a number of different services or "apps" can be added by activating them or through software updates.
Future options include usage-based insurance, location-based parking, congestion charging, and infotainment services. The Co-operators, for example, began offering a usage-based insurance service last year on the IMS system, which tracks driving behaviour, distance and location.
If, over the years, there is a demonstration of widespread public acceptance, a basic version of the program could ultimately become mandatory. To reward people who purchase more fuel efficient vehicles, it's also likely that per-mile charges will be set based on a vehicle's nameplate fuel efficiency.
Meanwhile, Oregon has openly shared the results of its pilot programs and its final program design with other states and Canadian provinces.
Godfrey said there have been no "official" inquiries from Canada – yet. "Though I know some Canadian officials have expressed an interest in looking at it."
Why would a move in this direction be more sustainable than a gas tax? Moving to low- or zero-emission transportation is only part of the solution to emission reductions. If per-mile charging, time-of-use fees and usage-based insurance become more commonplace, it could ultimately convince people to drive less.
Hey, Pipe Down!
In Portland, meanwhile, a novel project led by local company Lucid Energy is now generating electricity from the flow of water through municipal water infrastructure.
It is Lucid's first commercial installation in the United States, said company president Gregg Semler. "It's not dependent on the weather. It's not dependent on the sun shining or the wind blowing. What we're doing is taking the best of hydro, and doing it with no environmental impact."
Unlike large hydroelectric or run-of-river projects, there is no threat to aquatic life or ecosystems, the company says.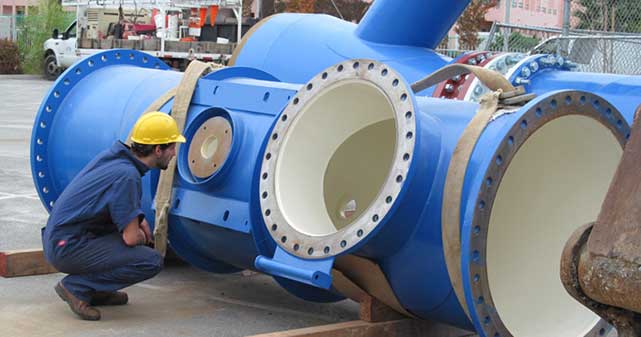 Lucid removed a section of the city's pipeline and replaced it with a pipe length that included four turbines, which spin – and generate electricity – as water rushes through. No additional pumps are required. Rather, the turbines are installed on downward slopes where water flow is gravity-assisted. The electricity produced is fed into Portland's local power grid under a first-of-its-kind power purchase contract.
"The amount of electricity generated is a function of the rate of flow and the pressure inside the transmission pipe," the company said. A single 40-foot section of pipe containing four turbines could produce up to 100 kilowatts of power. "One mile of 42-inch diameter pipeline could produce as much as 3 megawatts or more of electricity."
For future projects, Lucid is targeting municipalities, industrial facilities and agricultural operations that have portions of water pipelines that are gravity fed. Pipelines must be 24 to 96 inches in diameter and have water that flows at three to 12 feet per second.