Toronto installed the highest square footage of green rooftops last year than any other Canadian city, and was second in North America behind Washington, D.C., according to a report from non-profit industry association Green Roofs for Healthy Cities (GRHC).
Of the 5,537,240 square feet of green roofs installed in 2014, Toronto contributed about 775,000 square feet – or about 14 per cent of the total. Put another way, the area coverage of Toronto installations last year exceeded the combined efforts of Chicago and New York City, which ranked fourth and fifth place, respectively.
Washington, D.C., was the clear leader, installing about 1.2 million square feet, or 22 per cent of the total.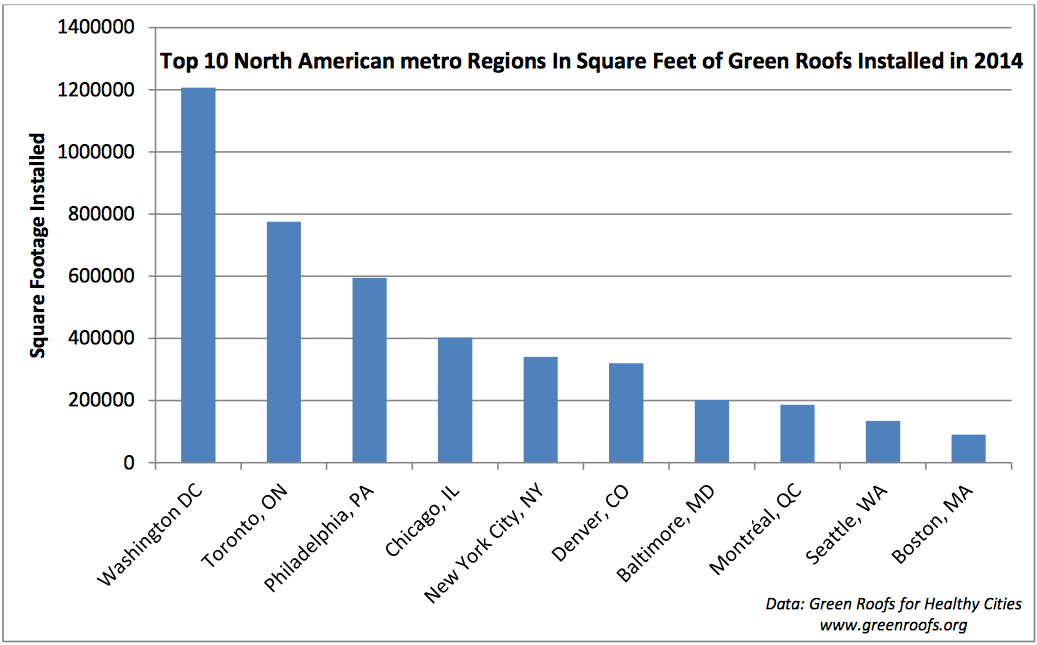 Toronto's performance made it the first Canadian city to rank among the top five. "The Toronto Green Roof by-law of 2009 requiring green roofs on most new buildings has resulted in the permitting of more than 2 million square feet of green roofs," the association said.
An increasing number of metropolitan areas are promoting green roofs because of the many benefits they bring, including improved urban air quality, reduction in the heat island effect in cities, improved stormwater management, and job creation.
Green rooftops are also known to increase city biodiversity and offer a way to grow herbs and vegetables for local use.
One trend that became clear in this year's report is that the business community is getting serious about green roofs. "In a significant shift from the previous year, more square feet were installed on private projects than public," the association said.
The one major caveat to the report, however, is that it's a limited sample of North American cities. The survey data used to capture market activity comes only from Green Roofs for Healthy Cities members, and of those members only 27 of 89 supplied data.
"We estimate that the data in this report generally understates the market activity by anywhere from 25 to 50 per cent given that not all firms in the industry are members of GRHC and not all members are able, or willing, to participate in the annual survey," it says.
"Nonetheless, the data does provide important insights into the composition of the industry."
Given that cities that have something to brag about tend to be the ones that eagerly report data, there's a good chance the top five identified in this report are an accurate reflection of the market leaders.