The Clean200™ is an educational tool intended to give individuals the ability to research companies that are effectively balancing people, planet, and profit. The Clean200 list may be used by individuals free of charge. All commercial investment products derived from The Clean200 require a licence. Contact abehar@asyousow.org or Corporate Knights Inc. for more information.
FOREWORD
Corporate Knights and As You Sow have released the annual update of the Clean200 global list of publicly traded companies that are leading the way with solutions for the transition to a clean energy future.
Since our first report was launched in the summer of 2016, a great deal has changed in the world.
Larry Fink, the CEO of the largest investment firm in the world, wrote in his 2022 letter to CEOs:
"It's been two years since I wrote that climate risk is investment risk. And in that short period, we have seen a tectonic shift of capital. Sustainable investments have now reached $4 trillion. Actions and ambitions towards decarbonization have also increased. This is just the beginning – the tectonic shift towards sustainable investing is still accelerating. Whether it is capital being deployed into new ventures focused on energy innovation, or capital transferring from traditional indexes into more customized portfolios and products, we will see more money in motion. Every company and every industry will be transformed by the transition to a net zero world."
It is these very companies in 35 countries that make up the Carbon Clean 200.
More than 1,000 companies have now committed to a net-zero-emission target in line with a 1.5°C future, representing US$23 trillion in market capitalization, more than the GDP of the United States.
The Clean200 companies are leading the way by putting sustainability at the heart of their products, services, business models, and investments, helping to move the world onto a more sustainable trajectory.
This year's Clean200 companies rose to the top of a pool of 8,480 global firms based on rigorous assessment of the amount of revenue each company earns from products and services aligned with the Corporate Knights Clean Economy Taxonomy. They did so while ensuring that their businesses are not fundamentally offside important criteria for socially responsible investors, including being a company flagged by As You Sow's Invest Your Values platform, which identifies fossil fuels, weapons, private prisons, thermal coal, or having a record of systemically obstructing climate policy.
Key Findings:
Geographically, Europe and the Americas each account for 37.5% of this year's Clean200, while the remaining 50 companies are headquartered in the Asia Pacific region. The United States dominated the 2022 list, with 52 companies on the Clean200, while Canada had the second largest share with 18, closely followed by China, which 16 Clean200 companies are headquartered in.
On average, 58% of revenues earned by Clean200 companies are classified as clean, which is up from 39% in 2021 and significantly above the 20% average clean revenue for their MSCI ACWI peers.
But none of this would have legs if the Clean200 weren't also faring well financially. On this score, as of January 31, 2022, the Clean200 has outperformed its MSCI ACWI peers by 3.94% since the Clean200 was launched in July of 2016.
Clean200 companies generated a total return of 107.09%, beating the MSCI ACWI broad market index (103.15%) and MSCI ACWI/Energy Index of fossil fuel companies (31.67%) on Total Return Gross — USD Basis from the Clean200 inception of July 1, 2016, to January 31, 2022.
To put that in context: $10,000 invested in the Clean200 on July 1, 2016, would have grown to $20,709 by January 31, 2022, versus $20,315 for the MSCI ACWI broad market benchmark and $13,167 for the MSCI ACWI/Energy benchmark for fossil fuel companies.
Looking Ahead:
What is needed now is for the rest of the business world, most importantly the big-money investors who have been sitting on the sidelines, to also lean into this form of clean capitalism.
Now that BlackRock, the largest investor in the world, with a whopping US$8.7 trillion under management, has jumped on the net-zero-emissions bandwagon, it is only a matter of time before it becomes the standard, placing a 100% sustainable and zero-carbon economy within our grasp. To date, financial firms have pledged that more than US$130 trillion of assets will be net-zero by 2050.
The good news for our species is that the forces of pride and profit have shifted to support the emerging regenerative economy based on justice and sustainability, leaving the extractive economy to wind down. We will see this escalate as the transition kicks in and every company on the planet reduces emissions by 5% per year over the next decade.
With the sun shining on climate solutions, companies are free at last to shed their carbon cloaks.
With all this action, we hope that the Clean200 can do two things:
Provide a useful north star for investors looking to pinpoint the companies leading the way to a clean energy future.
Dispel the myth that clean investing is about sacrificing returns.
To make things easier, Corporate Knights and As You Sow are proud to present the latest edition of the Clean200.
While we're not promising any home runs, we are happy to report that the Clean200 now has more than a five-year track record and is outperforming both the broad-based benchmark and its high-carbon global counterparts.
CLEAN200 PERFORMANCE VS. BENCHMARK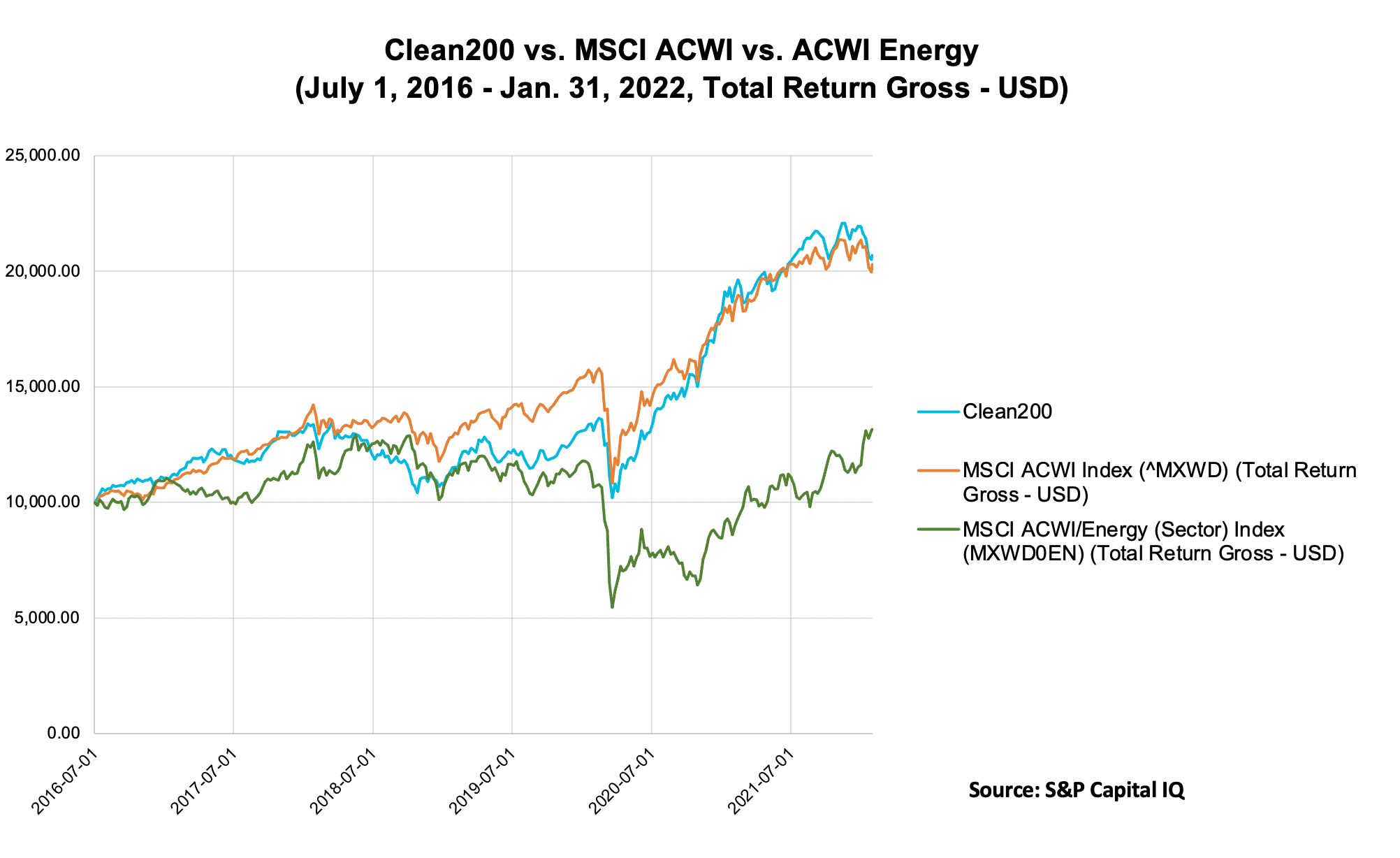 | GICS Sector | # of Clean200 Companies |
| --- | --- |
| Industrials | 57 |
| Information Technology | 48 |
| Utilities | 28 |
| Materials | 24 |
| Consumer Discretionary | 15 |
| Consumer Staples | 12 |
| Communication Services | 6 |
| Health Care | 6 |
| Energy | 2 |
| Real Estate | 2 |
CLEAN200 COMPANIES BY COUNTRY
| Country | # of Clean200 Companies |
| --- | --- |
| United States | 52 |
| Canada | 18 |
| China | 16 |
| France | 12 |
| Japan | 12 |
| Germany | 9 |
| Spain | 6 |
| Finland | 6 |
| Ireland | 6 |
| Netherlands | 6 |
| United Kingdom | 6 |
| Hong Kong | 6 |
| Denmark | 5 |
| Sweden | 5 |
| Brazil | 4 |
| Belgium | 3 |
| Italy | 3 |
| Norway | 3 |
| Singapore | 3 |
| Switzerland | 3 |
| Australia | 2 |
| India | 2 |
| Israel | 2 |
| South Korea | 2 |
| Taiwan | 2 |
| Austria | 1 |
| Bermuda | 1 |
| Greece | 1 |
| New Zealand | 1 |
| Thailand | 1 |
| Turkey | 1 |
THE CLEAN200™ METHODOLOGY
The Clean200 are the largest 200 public companies ranked by clean revenue. The ranking was first calculated on July 1, 2016, and publicly released on August 15, 2016, by Corporate Knights and As You Sow. The current list has been updated with data through January 31, 2022.
The Clean200 companies are ranked by their clean revenues in U.S. dollars. The dataset is developed through assessment of a company's revenue that aligns with the definitions laid out in the Corporate Knights Clean Taxonomy, primarily sourced from Corporate Knights Research. To be eligible, a company must earn more than 10% of total revenues from clean sources.
The Clean200 uses negative screens. It excludes all oil and gas companies, all utilities that generate less than 50% of their power from green sources, the top 100 coal companies measured by reserves, the top 100 oil and gas companies as measured by reserves, as well as all fossil fuel companies, majority fossil-fired utilities, pipeline and oil field services companies, and other fossil-fuel-related companies screened on As You Sow's Fossil Free Funds. In addition, the Clean200 excludes weapons companies, including major military arms manufacturers found on the SIPRI Top 100 arms-producing and military services list, as well as cluster munitions, nuclear weapons, and civilian firearm manufacturers screened on As You Sow's Weapon Free Funds. The Clean200 also excludes palm oil, paper/pulp, rubber, timber, beef, and soy producers that are screened on As You Sow's Deforestation Free Funds, companies using child or forced labour, and companies that engage in negative climate lobbying. The full list of exclusionary screens is provided below.
| Clean 200 Negative Screens | Criteria | # Excluded |
| --- | --- | --- |
| Blocking climate policy | Categorized by the InfluenceMap lobbying red flag metric, which highlights companies that are engaged in corporate lobbying on climate change. (Source: CK) | 1 |
| Cement carbon laggards | Companies in the cement industry that were divested by NBIM. (Source: CK) | 1 |
| Coal industry | Company has coal industry classification, is found on the Global Coal Exit list from Urgewald, or is on the NBIM's exclusion list for thermal coal. (Source: CK + AYS) | 16 |
| Controversial weapons | Company sells controversial weapons and is deemed ineligible for investment by the NBIM and NZuperFund. (Source: CK) | 1 |
| Conventional weapons | Company is found on the list of top 100 military contractors, or company earns more than half of its revenue from conventional weapons, as tracked by Stockholm International Peace Research Institute (SIPRI). (Source: CK) | 1 |
| Deforestation-risk agribusiness producer/trader | Company engages in deforestation in South America and Southeast Asia as deemed by Chain Reaction research, Deforestation Free Funds, or was divested from by NBIM. (Source: CK, AYS) | 10 |
| Fossil-fired utilities | Company has industry classification of utilities, and has fossil fuel power generation or gas distribution, and has less than 50% clean revenue, as calculated by Corporate Knights. (Source: CK, AYS) | 10 |
| Fossil fuel financers | Company is found on the Banking on Climate Chaos list of 60 largest commercial and investment banks that are lending to and underwriting debt/equity issuances of fossil fuel companies, or from Corporate Knights Research. (Source: AYS) | 10 |
| Fossil fuel insurers | Company is found on the Insure Our Future list of 30 leading primary insurers and reinsurers that are insuring and investing in coal, oil, gas. (Source: AYS) | 4 |
| Illegal activity | Company's ratio of fines, penalties, or settlements/revenue for the most recent ranked year exceeds 1.1%. (Source: CK) | 1 |
| Oil & gas industry | Company has industry classification of oil/gas, or is found on the Global Oil/Gas Exit list from Urgewald. (Source: CK, AYS) | 11 |
| Prisons | Company is recommended for divestment by the Investigate project of the American Friends Service Committee. (Source: CK, AYS) | 0 |
| Severe environmental damage | Identifies companies that have caused several environmental damage and have been excluded by NBIM (Source: CK) | 2 |
| Top 200 carbon reserve owners | Company ranks in The Carbon Underground 200™, compiled and maintained by FFI Solutions (formerly Fossil Free Indexes℠), which identifies the top 100 coal and the top 100 oil/gas publicly-traded reserve holders globally. (Source: AYS) | 2 |
THE CLEAN200™ LIST
| Rank | Name | Country | GICS Sector |
| --- | --- | --- | --- |
| 1 | Apple Inc | United States | Information Technology |
| 2 | Alphabet Inc | United States | Communication Services |
| 3 | Intel Corp | United States | Information Technology |
| 4 | TSMC | Taiwan | Information Technology |
| 5 | Iberdrola SA | Spain | Utilities |
| 6 | Tesla Inc | United States | Consumer Discretionary |
| 7 | Cisco Systems Inc | United States | Information Technology |
| 8 | HP Inc | United States | Information Technology |
| 9 | Schneider Electric SE | France | Industrials |
| 10 | Siemens AG | Germany | Industrials |
| 11 | Suez SA | France | Utilities |
| 12 | Panasonic Corp | Japan | Consumer Discretionary |
| 13 | Vestas Wind Systems A/S | Denmark | Industrials |
| 14 | Salesforce.Com Inc | United States | Information Technology |
| 15 | Unilever PLC | United Kingdom | Consumer Staples |
| 16 | Shanghai Construction Group Co Ltd | China | Industrials |
| 17 | Sanofi SA | France | Health Care |
| 18 | Koninklijke Philips NV | Netherlands | Health Care |
| 19 | Siemens Gamesa Renewable Energy SA | Spain | Industrials |
| 20 | ABB Ltd | Switzerland | Industrials |
| 21 | LONGi Green Energy Technology Co Ltd | China | Information Technology |
| 22 | Accenture PLC | Ireland | Information Technology |
| 23 | Tianneng Power International Ltd | China | Consumer Discretionary |
| 24 | Nine Dragons Paper (Holdings) Ltd | Hong Kong | Materials |
| 25 | SAP SE | Germany | Information Technology |
| 26 | Kering SA | France | Consumer Discretionary |
| 27 | Hewlett Packard Enterprise Co | United States | Information Technology |
| 28 | 3M Co | United States | Industrials |
| 29 | Nokia Oyj | Finland | Information Technology |
| 30 | Xinjiang Goldwind Science & Technology Co Ltd | China | Industrials |
| 31 | Hitachi Ltd | Japan | Industrials |
| 32 | CEMIG | Brazil | Utilities |
| 33 | Johnson Controls International PLC | Ireland | Industrials |
| 34 | Telefonaktiebolaget LM Ericsson | Sweden | Information Technology |
| 35 | Samsung SDI Co Ltd | South Korea | Information Technology |
| 36 | Adidas AG | Germany | Consumer Discretionary |
| 37 | Industria de Diseno Textil SA | Spain | Consumer Discretionary |
| 38 | Contemporary Amperex Technology Co Ltd | China | Industrials |
| 39 | Steel Dynamics Inc | United States | Materials |
| 40 | Aptiv PLC | Ireland | Consumer Discretionary |
| 41 | Carrier Global Corp | United States | Industrials |
| 42 | Lenovo Group Ltd | Hong Kong | Information Technology |
| 43 | Rexel SA | France | Industrials |
| 44 | VMware Inc | United States | Information Technology |
| 45 | Micron Technology Inc | United States | Information Technology |
| 46 | Centrais Elétricas Brasileiras S.A. - Eletrobrás | Brazil | Utilities |
| 47 | L'Air Liquide Société Anonyme pour l'Etude et l'Exploitation des Procédés Georges Claude SA | France | Materials |
| 48 | Henkel AG & Co KgaA | Germany | Consumer Staples |
| 49 | Kone Oyj | Finland | Industrials |
| 50 | Ecolab Inc | United States | Materials |
| 51 | Nike Inc | United States | Consumer Discretionary |
| 52 | Outokumpu Oyj | Finland | Materials |
| 53 | Companhia de Saneamento Básico do Estado de São Paulo SABESP | Brazil | Utilities |
| 54 | BT Group PLC | United Kingdom | Communication Services |
| 55 | Indorama Ventures PCL | Thailand | Materials |
| 56 | Koninklijke KPN NV | Netherlands | Communication Services |
| 57 | DS Smith PLC | United Kingdom | Materials |
| 58 | Prysmian SpA | Italy | Industrials |
| 59 | Nordex SE | Germany | Industrials |
| 60 | Konica Minolta Inc | Japan | Information Technology |
| 61 | Signify NV | Netherlands | Industrials |
| 62 | Legrand SA | France | Industrials |
| 63 | Acciona SA | Spain | Utilities |
| 64 | Alstom SA | France | Industrials |
| 65 | Smurfit Kappa Group PLC | Ireland | Materials |
| 66 | Sekisui Chemical Co Ltd | Japan | Consumer Discretionary |
| 67 | Dassault Systèmes SE | France | Information Technology |
| 68 | Commercial Metals Co | United States | Materials |
| 69 | Xerox Holdings Corp | United States | Information Technology |
| 70 | Byd Co Ltd | China | Consumer Discretionary |
| 71 | Ørsted A/S | Denmark | Utilities |
| 72 | Nexans SA | France | Industrials |
| 73 | China Longyuan Power Group Corp Ltd | China | Utilities |
| 74 | PPG Industries Inc | United States | Materials |
| 75 | China Railway Signal & Communication Corp Ltd | China | Information Technology |
| 76 | Umicore SA | Belgium | Materials |
| 77 | Natura & Co Holding SA | Brazil | Consumer Staples |
| 78 | Canadian National Railway Co | Canada | Industrials |
| 79 | Sungrow Power Supply Co Ltd | China | Industrials |
| 80 | Essity AB | Sweden | Consumer Staples |
| 81 | Adobe Inc | United States | Information Technology |
| 82 | FirstGroup PLC | United Kingdom | Industrials |
| 83 | Danaher Corp | United States | Health Care |
| 84 | Kingspan Group PLC | Ireland | Industrials |
| 85 | Beijing Enterprises Water Group Ltd | Hong Kong | Utilities |
| 86 | MLS Co Ltd | China | Information Technology |
| 87 | Sims Ltd | United States | Materials |
| 88 | Kimberly-Clark Corporation | United States | Consumer Staples |
| 89 | NIO Inc | China | Consumer Discretionary |
| 90 | Workday Inc | United States | Information Technology |
| 91 | Risen Energy Co Ltd | China | Information Technology |
| 92 | Brookfield Renewable Partners LP | Bermuda | Utilities |
| 93 | Trane Technologies PLC | Ireland | Industrials |
| 94 | Guodian Technology & Environment Group Corp Ltd | China | Industrials |
| 95 | Rengo Co Ltd | Japan | Materials |
| 96 | Celestica Inc | Canada | Information Technology |
| 97 | Sprouts Farmers Market Inc | United States | Consumer Staples |
| 98 | Brambles Ltd | Australia | Industrials |
| 99 | Autodesk Inc | United States | Information Technology |
| 100 | Arçelik AS | Turkey | Consumer Discretionary |
| 101 | GCL-Poly Energy Holdings Ltd | Hong Kong | Information Technology |
| 102 | Telus Corp | Canada | Communication Services |
| 103 | CSX Corp | United States | Industrials |
| 104 | Electrolux AB | Sweden | Consumer Discretionary |
| 105 | NVIDIA Corp | United States | Information Technology |
| 106 | Cascades Inc | Canada | Materials |
| 107 | Stanley Black & Decker Inc | United States | Industrials |
| 108 | Yokogawa Electric Corp | Japan | Information Technology |
| 109 | Osram Licht AG | Germany | Industrials |
| 110 | American Water Works Company Inc | United States | Utilities |
| 111 | WSP Global Inc | Canada | Industrials |
| 112 | Packaging Corp of America | United States | Materials |
| 113 | Murata Manufacturing Co Ltd | Japan | Information Technology |
| 114 | Canadian Solar Inc | Canada | Information Technology |
| 115 | CapitaLand Investment Ltd | Singapore | Real Estate |
| 116 | Meridian Energy Ltd | New Zealand | Utilities |
| 117 | Canadian Pacific Railway Ltd | Canada | Industrials |
| 118 | McCormick & Company Inc | United States | Consumer Staples |
| 119 | Puma SE | Germany | Consumer Discretionary |
| 120 | First Solar Inc | United States | Information Technology |
| 121 | Akzo Nobel NV | Netherlands | Materials |
| 122 | Eisai Co Ltd | Japan | Health Care |
| 123 | EDP Renováveis, S.A. | Spain | Utilities |
| 124 | Renewable Energy Group, Inc | United States | Energy |
| 125 | Ricoh Co Ltd | Japan | Information Technology |
| 126 | Analog Devices Inc | United States | Information Technology |
| 127 | West Japan Railway Co | Japan | Industrials |
| 128 | Cheng Loong Corp | Taiwan | Materials |
| 129 | Keikyu Corp | Japan | Industrials |
| 130 | Solvay SA | Belgium | Materials |
| 131 | Campbell Soup Co | United States | Consumer Staples |
| 132 | China Datang Corporation Renewable Power Co, Limited | China | Utilities |
| 133 | Hanwha Solutions Corp | South Korea | Materials |
| 134 | Tech Mahindra Ltd | India | Information Technology |
| 135 | Takeda Pharmaceutical Co Ltd | Japan | Health Care |
| 136 | Emerson Electric Co | United States | Industrials |
| 137 | City Developments Ltd | Singapore | Real Estate |
| 138 | Schnitzer Steel Industries Inc | United States | Materials |
| 139 | Xinyi Solar Holdings Ltd | China | Information Technology |
| 140 | Citrix Systems Inc | United States | Information Technology |
| 141 | CIMIC Group Ltd | Australia | Industrials |
| 142 | STMicroelectronics NV | Switzerland | Information Technology |
| 143 | Andritz AG | Austria | Industrials |
| 144 | Novozymes A/S | Denmark | Materials |
| 145 | Stantec Inc | Canada | Industrials |
| 146 | Atea ASA | Norway | Information Technology |
| 147 | Metso Outotec Corp | Finland | Industrials |
| 148 | Nibe Industrier AB | Sweden | Industrials |
| 149 | Harsco Corp | United States | Industrials |
| 150 | Green Plains Inc | United States | Energy |
| 151 | Chr Hansen Holding A/S | Denmark | Materials |
| 152 | Evoqua Water Technologies Corp | United States | Industrials |
| 153 | SolarEdge Technologies, Inc | Israel | Information Technology |
| 154 | Transcontinental Inc | Canada | Materials |
| 155 | Red Electrica Corporacion SA | Spain | Utilities |
| 156 | JinkoSolar Holding Co Ltd | China | Information Technology |
| 157 | Northland Power Inc | Canada | Utilities |
| 158 | Georg Fischer AG | Switzerland | Industrials |
| 159 | Cargotec Corp | Finland | Industrials |
| 160 | Owens Corning | United States | Industrials |
| 161 | SunPower Corp | United States | Information Technology |
| 162 | Siemens Ltd | India | Industrials |
| 163 | Svenska Cellulosa SCA AB | Sweden | Materials |
| 164 | Coloplast A/S | Denmark | Health Care |
| 165 | Pearson PLC | United Kingdom | Communication Services |
| 166 | Essential Utilities Inc | United States | Utilities |
| 167 | Sunrun Inc | United States | Industrials |
| 168 | Orkla ASA | Norway | Consumer Staples |
| 169 | MTR Corp Ltd | Hong Kong | Industrials |
| 170 | ERG SpA | Italy | Utilities |
| 171 | Atlantica Sustainable Infrastructure PLC | United Kingdom | Utilities |
| 172 | Maxeon Solar Technologies, Ltd | Singapore | Information Technology |
| 173 | Enphase Energy Inc | United States | Information Technology |
| 174 | GFL Environmental Inc | Canada | Industrials |
| 175 | ON Semiconductor Corp | United States | Information Technology |
| 176 | KP Tissue Inc | Canada | Consumer Staples |
| 177 | Gildan Activewear Inc | Canada | Consumer Discretionary |
| 178 | Ormat Technologies Inc | United States | Utilities |
| 179 | Arcadis NV | Netherlands | Industrials |
| 180 | Vitasoy International Holdings Ltd | Hong Kong | Consumer Staples |
| 181 | Aalberts NV | Netherlands | Industrials |
| 182 | Boralex Inc | Canada | Utilities |
| 183 | Innergex Renewable Energy Inc | Canada | Utilities |
| 184 | Encavis AG | Germany | Utilities |
| 185 | Beyond Meat Inc | United States | Consumer Staples |
| 186 | Uponor Oyj | Finland | Industrials |
| 187 | Quadient SA | France | Information Technology |
| 188 | TPI Composites, Inc | United States | Industrials |
| 189 | Neoen SA | France | Utilities |
| 190 | SMA Solar Technology AG | Germany | Information Technology |
| 191 | Scatec ASA | Norway | Utilities |
| 192 | Ellaktor SA | Greece | Industrials |
| 193 | Barco NV | Belgium | Information Technology |
| 194 | TransAlta Renewables Inc | Canada | Utilities |
| 195 | Cogeco Communications Inc | Canada | Communication Services |
| 196 | Bloom Energy Corporation | United States | Industrials |
| 197 | Falck Renewables SpA | Italy | Utilities |
| 198 | Ballard Power Systems Inc | Canada | Industrials |
| 199 | Energix - Renewable Energies Ltd | Israel | Utilities |
| 200 | FuelCell Energy, Inc | United States | Industrials |