Just two weeks after the unexpected election of Donald Trump – heralding an administration that could undo years of environmental regulations – the outgoing head of the U.S. Environmental Protection Agency (EPA) made her first public appearance with a simple message: Change is harder than it seems.
As diners munched on a lunch of chicken and cookies bearing the EPA logo, Gina McCarthy ticked through accomplishments from her four years atop the agency, even though those achievements may soon be undone.
Trump campaigned on a platform that would effectively reverse the Obama administration's energy policy: more coal and gas, more drilling and no concessions to a climate change agenda. His transition team has promised to unleash a "treasure trove of untapped energy" representing "trillions of dollars in economic output and countless American jobs," mostly by repealing regulations and freeing up more oil, gas and coal development. International work to push other countries on climate change could also be imperiled.
McCarthy acknowledged the anxiety within the environmental community over the election outcome, but herself projected calm because of one factor that Trump can't change: the market.
"The global transition to a low-carbon economy is much more than one regulation," she said. "The energy market and the commitment of the private sector are now driving our inevitable journey."
While there's plenty the incoming president can do to promote more oil and gas drilling, reopen long-stalled pipeline discussions and scrap regulations meant to clean emissions from power plants, not much can be done to turn back the energy sector's transition to cleaner power.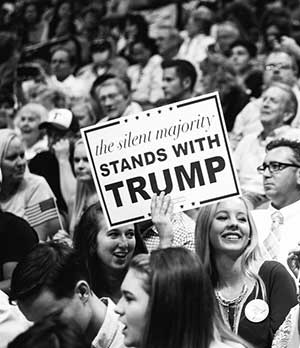 The assembly of Trump's cabinet gives an indication of how his administration will treat the existing energy and environment infrastructure. The EPA nominee, Oklahoma attorney general Scott Pruitt, wants to strip regulations and return more power to the states. Former Texas governor Rick Perry was chosen to head the Department of Energy, an agency he once pledged to eliminate. Secretary of state nominee Rex Tillerson would come to the government from a stint as CEO of ExxonMobil and is sure to look for new fossil fuel resources.
But whether that's enough to shift the market remains to be seen.
If there's a consistent theme to the incoming administration's philosophy, it is reducing Washington's authority. Pruitt comes to the EPA having made his career by suing that agency to lift rules on everything from air pollution to clean water (although he was largely unsuccessful). Trump has also named several other advisers – including investor Carl Icahn – who want to shed regulations, which a Republican-controlled Congress will gladly help with.
The EPA will be centre stage for that effort, with one of the biggest targets being the Clean Power Plan. As the bedrock of Obama's climate action policy, the power plan set state-by-state emissions reduction targets, which could be met through a combination of energy efficiency, reduction in coal-fired power or setting up an early cap-and-trade system among states.
To Democrats, it was a flexible, state-empowering way to get the country on clean energy, but Republicans saw it as the final strike in the so-called "war on coal." Twenty-seven states (including Pruitt's Oklahoma) along with major industry groups sued the federal government to halt the rules, resulting in an unexpected Supreme Court ruling that put the plan on temporary hold (a lower court consideration of those arguments will not be decided until early 2017). Republicans in Congress also passed resolutions to overturn the standards, which were vetoed by Barack Obama.
The Trump administration can stop defending it in court and the EPA could re-examine it, although environmentalists have said they'll keep fighting in court to defend it. The Supreme Court has ruled that the Clean Air Act requires the EPA to address carbon dioxide pollution, which green groups say gives them leeway to keep challenging Trump to keep some sort of power plan regulations on the books. Many states have already made progress on meeting the goals, making it less of a lift.
But Trump's rollbacks won't stop with the Clean Power Plan. His transition team has also said that it would stop a Department of the Interior rule on stream protection that has curtailed mountaintop-removal mining and re-examine royalty rates on coal mining. The administration will also reopen a moratorium on federal coal mining leases that was put in place by Interior Secretary Sally Jewell last year as part of a broader review of the environmental and economic impact of coal mining.
Trump is also likely to look at rules that the gas industry has said are restricting hydraulic fracturing and natural gas extraction, including limits on emissions of methane, which traps more heat than carbon dioxide. Rules on water pollution, the use of biofuels and chemical plant safety are also on the target list.
A Republican-controlled Congress will help in reversing some of the rules through legislation; others, written through executive order, can simply be struck down.
The EPA is bound by environmental statutes to clean up water and air and crack down on companies that pollute, and there's no desire among Republicans to lose those core missions. But the agency could face spending cuts that would hamstring enforcement. And Trump's EPA could simply sit on regulations it does not want to implement; affected parties would sue, but the slow court system would work to the government's advantage.
Simply lifting those regulations, though, isn't expected to revive the fossil fuel industry, as coal has been on the way out for a decade. The U.S. Energy Information Administration (EIA) found that coal production fell 18 per cent in 2016 and that power from natural gas would surpass coal in the U.S. in 2016, owing in large part to the low price of natural gas. Forty-one coal plants closed in 2016 and many more planned expansions have been cancelled – projects that would be expensive and unlikely to restart unless coal somehow became significantly cheaper.
Even the price of solar and wind power have fallen precipitously; the price of residential solar fell 5 per cent between 2015 and 2016, while utility-scale solar fell 12 per cent, according to the Lawrence Berkeley National Laboratory. That's made renewables more attractive for states and utilities. The EIA found that 70 per cent of the utility-scale generating capacity coming online in 2016 would have zero emissions, mostly from wind and solar.
Whether that would continue without government support remains to be seen. Trump has questioned wind energy, saying over the summer that wind power "kills all your birds" and telling the New York Times that producing wind turbines generates harmful emissions. He would need help from Congress to reverse federal spending on renewable energy, electric vehicles and nuclear power, but could manage to get the support he needs.
Much of the growth in renewables has been aided by a five-year extension of wind and solar production tax credits passed by Congress in 2015, which some environmentalists worry could be at risk in a grand tax deal (although leading Republicans have said they won't be cut). An analysis by Greentech Media predicted that the market for new solar power could be halved if the tax credits were lost. But individual states and corporations have committed to purchasing renewable power, meaning the market could weather a government attack.
Climate change, of course, is not only a domestic program, and the international stage offers a huge testing ground for the Trump administration's climate views. Trump famously said climate change was a hoax invented by the Chinese and has cast doubt on the scientific consensus of human impact on the climate.
Speaking to the New York Times in November, Trump showed little evolution on climate change. Although he said he has "a totally open mind," he also expressed more concern about the business community. "It also depends on how much it's going to cost our companies," he said when asked about climate change.
Others in the cabinet similarly question the role of humans in global warming, with one major exception: Tillerson, the secretary of state nominee who has even (sortof) backed a carbon tax in the context of its benefits for the oil industry (see here for more).
It's hard to say whether Tillerson would prioritize climate change the way his predecessors did. The Obama administration used bilateral agreements with countries like China (with the U.S. setting an emissions reduction target for 2025), India (expanded clean energy research) and Canada (both countries agreed to cut methane emissions) to prod nations to join United Nations talks.
Trump, meanwhile, has hinted that the U.S. could exit the Paris agreement, although some key advisors have pointed out that could send a chilling message (even conservative talk show host Bill O'Reilly has said Trump shouldn't withdraw to maintain "goodwill" in other international talks). A U.S. exit could cripple the trust holding up the agreement, much like the U.S. government's failure to ever sign onto the Kyoto Protocol led to that international agreement never coming into force.
So far, countries are promising to stay in, with China especially taking up the mantle of leadership, and major businesses are urging the White House not to give up on the agreement. Nations are still working out the more binding monitoring and compliance mechanisms for the Paris Agreement (the early guts of those mechanisms were discussed at the most recent climate conference in Marrakech), a move that could be weakened if the U.S. leaves.
Without domestic climate action, the U.S. staying in or exiting seems like a symbolic move. But Trump and the Republican-controlled Congress have also said they'd eliminate climate aid to other countries, such as the $3 billion commitment to the UN Green Climate Fund and other payments to help developing countries adapt to rising sea levels or extreme weather.
Tosi Mpanu Mpanu of the Democratic Republic of Congo and a leader of developing nations at the climate talks, told Reuters that his "only worry is the money," saying it would slow down his country's progress to cutting its reliance on fossil fuels.
Another area where Trump could have more impact at home and abroad is fossil fuel production and transmission. Industry groups have long wanted to open up public lands and offshore areas for drilling. After the Obama administration in November shut off Atlantic and Arctic areas to drilling, the American Petroleum Institute said the decision would "close the door on creating new jobs and new investments for years." Republicans have also pushed to lift other restrictions on oil and gas drilling, including Endangered Species Act decisions that have limited economic activity in certain areas.
Trump is sure to work to open up more drilling, although Obama has worked to head him off. In late December, the White House used an offshore leasing law to indefinitely shut off certain Arctic and Atlantic areas to oil drilling, following the November decision to stop leasing them for five years. Reversing those moves would be unprecedented and time-consuming.
It also remains unclear if the industry would even take advantage of the offshore areas. Arctic drilling has attracted little interest because of the high difficulty level and cost, and the gas glut means companies may not be looking for vast new areas anyway. The support from Trump does mean that fossil fuels won't be phased out as quickly as they would have under a Democratic administration.
Trump's election also means a likely restart to discussions about cross-border pipelines, like the Keystone XL or Dakota Access Pipeline, which had faced opposition from the Obama administration. Conservatives in Canada have also been urging Liberal Prime Minister Justin Trudeau to restore talks on Keystone, while environmentalists have said it would open up dirty tar sands drilling that would impose a massive climate cost.
In all, Trump's goals are well established, since they follow much of the Republican orthodoxy from years past. But writing political positions is easy; enacting them in the real world is hard.
Now the question is whether the market will let them become a reality.