For decades, fossil fuel interests have actively lobbied against progressive climate policies, while corporations in other sectors, for the most part, sat on the sidelines of the debate. 
That is now changing, as companies have started to match their environmental slogans with positive action. But that change is not happening as fast in the United States, Australia, Japan and Canada as in other countries, and that's having an effect on climate policy, according to a recent report by independent think tank InfluenceMap.
The think tank analyzed 350 of the world's large companies for what it calls their Scope 4 emissions – a relatively new term that tracks the greenhouse gas (GHG) implications of a corporation's government lobbying. (Scope 1, 2 and 3 emissions entail GHGs that come from a company's own operations, energy use and indirectly through supply chains, respectively.) InfluenceMap's "A-List" of companies celebrates 15 corporate leaders that have the smallest gaps between what they say publicly about climate and how they seek to alter public policy. IKEA, Unilever, H&M and Tesla are among the corporate leaders on the A-List, which was first compiled in 2018. Apple was on the list in 2018 but has since fallen off as InfluenceMap has made some of its criteria harder to meet. 
Almost all the corporations on the A-List are based in the European Union; three are American and none are Canadian. The think tank analyzed nine Canadian corporations for the report, including Cenovus Energy and Enbridge. This absence of Canadian companies is in large part because many of the largest corporations in Canada are either financial corporations more focused on financial regulations in their lobbying efforts (and excluded from the list) or in the fossil fuel sector, says Dylan Tanner, the executive director of InfluenceMap. 
"It probably means there isn't a huge amount of corporate support for strong climate policy in the country, other than maybe some of the top-line letters and the marketing slogans that are used," says Tanner.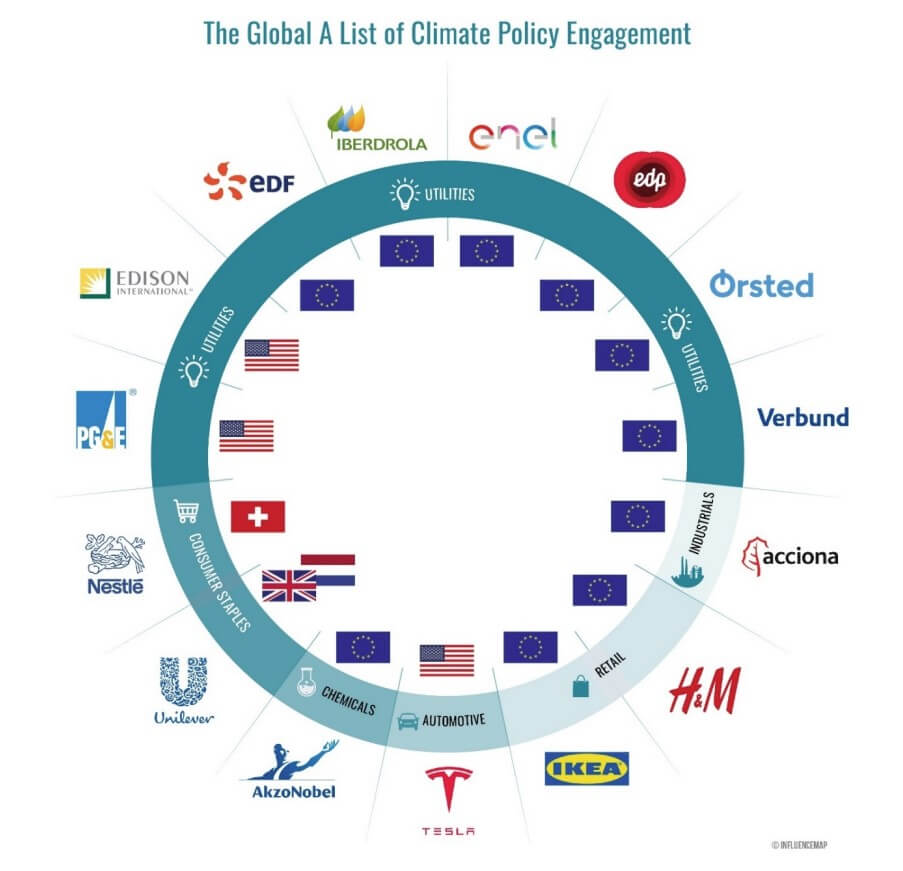 In order to make InfluenceMap's A-List, corporations had to be supportive of the goals of the Paris Agreement to limit global temperatures, be actively engaged in support of climate policies, and not be members of industry associations (such as the U.S. Chamber of Commerce) that look to obstruct such policies. There is a lot of lobbying activity that can't be tracked, because it happens in private meetings, but InfluenceMap looks at consultation comments it acquires through freedom-of-information requests or through disclosures on government websites. 
The think tank also released a list of 21 "potential leaders" that are on the "right track" but are held back by either their links to industry associations that oppose strong climate policy or their "low engagement" on the issue. (There were also no Canadian companies on the potential leaders' list.) Microsoft made the potential leaders' list but was held off the A-List because of its membership in the U.S. Chamber of Commerce and its silence on that group's public positions. The U.S. Chamber of Commerce has been vocally opposed to progressive climate policy and has actively worked to block the Build Back Better Act that American lawmakers are currently negotiating. 
The report says that the dominance of European companies on the list "likely corresponds with the leadership of the EU on climate. The relative support for ambitious climate policy by the corporate sector in the EU and U.K. goes a long way to explain the policy gap since the Paris Agreement between European countries and regions such as the US, Japan, Australia, and Canada."
Tanner adds that while companies are powerful, they're not the only actors pushing politicians toward meaningful action to combat the climate crisis. Public support and general politics are also important factors. But at the same time, the necessary policy changes would have happened a lot faster if there weren't such a disparity between many corporations' public statements about climate and what they say behind closed doors. 
"It's a major blockage to the major issue facing humanity," Tanner says.