The United States has managed to decouple economic growth from coal-generated power over the past 10 years, and the trend is only accelerating. This is the main conclusion in the latest report by London-based Carbon Tracker Initiative.
U.S. coal has been facing a perfect storm of factors that include a new flood of natural gas, the rise of renewables and stricter pollution controls from the Environmental Protection Agency, said the report, The U.S. Coal Crash – Evidence for structural change.
"Cheap gas has knocked coal off its feet, and the need to improve air quality and ever-lower renewables costs has kept coal down for the count," said Carbon Tracker's senior researcher Luke Sussams in a statement.
Coal use in the U.S. power market has declined by more than 10 per cent since domestic coal use peaked in 2009. Over 260 U.S. coal mines were closed between 2011 and 2013 as a result.
Meanwhile, financial markets have begun to take notice.
The Dow Jones Total Market Coal Sector Index was down 76 percent between 2011 and 2013, compared with the Down Jones Industrial Average, which grew by 69 percent during that time.
"The roof has fallen in on U.S. coal, and alarm bells should be ringing for investors in related sectors around the world," said Andrew Grant, Carbon Tracker's financial analyst. "These first tremors are amongst the clearest signs yet of a seismic shift in energy markets, as high carbon fuels are set to be increasingly outperformed by lower carbon alternatives."
Click to enlarge: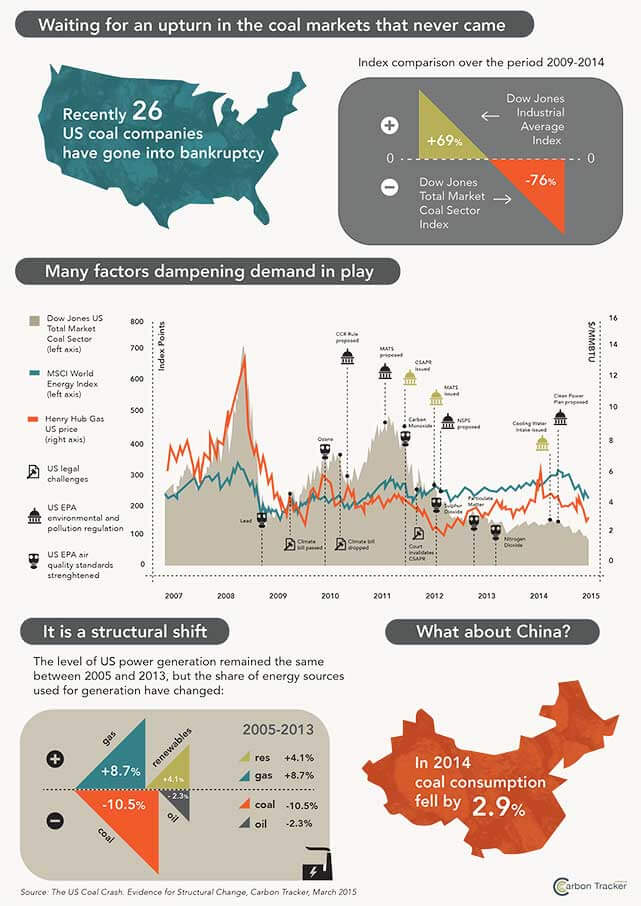 Another report published a few weeks ago by Oxford University's Stranded Assets Program revealed the 100 global power companies facing the most risk from the growing pressure to shut down highly polluting coal plants. Chinese companies dominated the top of the ranking, but U.S. companies, including Warren Buffett's Berkshire Hathaway, occupied 10 of the top 25 places.
It is particularly notable that this rapid decline has occurred without the introduction of a federal carbon tax or a comprehensive global climate deal, the report points out.
American coal companies, such as Peabody Energy Corporation, are unlikely to find more friendly markets in China, the report suggests. Although Chinese coal has been expanding for decades, consumption fell by 2.9 per cent in 2014 and is likely to continue its descent. Even more surprising: carbon dioxide emissions also fell by one per cent in 2014 across China.
The Chinese government is taking increasingly aggressive action against its dirtiest coal facilities as domestic opposition continues to build around smog and other environmental externalities related to coal power generation. A Chinese carbon market is expected to be unveiled in 2016, and government bureaucrats are showing increased willingness to speak out against entrenched fossil fuel interests.
All signs point to a long-term structural decline that is already well underway for the U.S. coal industry.