Canada's cities must do more to prepare for the increased flooding expected as a result of climate change, says a new report, prepared in part because of concern over rising insurance costs for homeowners.
Some cities are doing better than others, but, "I am amazed at their overall lack of preparedness to limit the potential for flooding and to not suffer unduly when floods do occur," says Blair Feltmate, a professor in the Faculty of the Environment at the University of Waterloo, who led the research study funded by The Co-operators Group Ltd. insurance company.
The report, "Preparedness of Fifteen Canadian Cities to Limit Flood Damage," is part of a project that, according to Feltmate, is intended "to motivate cites to be more proactive and to lower their risk profile from flooding so insurers can continue to offer affordable coverage."
It's a first look at the issue in Canada, he says. "Relatively little effort has gone into what are the key areas of vulnerability, and what we need to do to mitigate them. First we need to recognize the challenges; then, we need to address them."
The researchers interviewed a total of 60 officials from 15 cities, selected because they are large, encompass Canada's different geographic areas, and are instrumental in supporting regional, provincial or national economic continuity.
Every city was graded – from a low of E to a high of A for each of 16 issues related to their existing or planned preparedness for flooding events. Those 16 grades were then used to determine an overall grade. Ottawa came out on top, with a grade of A-, closely followed by Winnipeg, at B+. Halifax trailed the pack with a D grade.
Almost every Canadian city is prone to flooding: They are, after all, built in river valleys or beside lakes or oceans. But the risk is growing as climate change leads to more frequent intense rainfall events and, in a few places, increased and rapid snow melt. Calgary, Mississauga and Toronto all experienced severe flooding in 2013, and most of the 15 cities in the study have had major floods during this decade.
"What constitutes a one-in-100-year flood now is really only one in 20, due to changes in the intensity of storm events," Feltmate says. "In close to all cases, cities do not possess flood-plain maps for the kind of storms we get today, let alone those we'll experience 25 or 30 years from now."
Much of the destruction these storms cause is from floodwater flowing overland, for which insurance coverage is not offered in Canada.
The Co-operators and the University of Waterloo embarked on the project to determine whether steps could be taken to reduce the impacts of this overland flooding so that the insurance industry might be more inclined to offer coverage for it.
In the first phase, senior executives from Canada's property and casualty insurance industry identified 14 initiatives that could create such a situation.
In the second phase, an advisory roundtable known as Partners for Action – comprised of people from the insurance industry and government, flood risk experts, professional associations, business and law – set three "winning conditions" that must be established to help reduce flood risk. Using them as guidance, they whittled the 14 conditions from the first phase down to a priority list.
Determining the level of flood preparedness in major Canadian cities was identified as one of the priorities, which, in turn, led Co-operators to engage Feltmate to conduct the study, the first of many on de-risking cities. Ongoing collaboration of Partners For Action stakeholders will include calculating the economist costs and benefits of adaptation, determining the social and environmental co-benefits, and emphasizing the need for improved flood mapping across Canada.
Sewer backups rising
This first report doesn't relate to insurance protection for overland flooding. But storms do lead to sewer backups into basements, which many policies do cover. And across the country, in nine of the past 11 years, claims for such damage have exceeded the premiums paid, Feltmate says.
Reducing backup damage is essential to keep the cost of this insurance under control, he says. "If cities become increasingly risky, premiums and deductibles will go up and the cap limits will get lower."
Almost all 15 cities did well on what Feltmate calls a "big ticket" group of issues. This means they had:
• Up-to-date flood plain maps;
• Land-use plans that attempt to control or protect development in flood-prone areas;
• Consistent efforts to improve urban drainage, such as ensuring that culverts, sewer grates and storm sewer systems remain clear and promoting "green" solutions to reduce storm water run-off;
• Policies that support the installation in new construction of backflow valves, which prevent sewage backup into residential basements.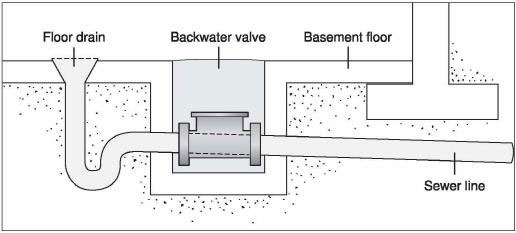 Scores varied for other measures, such as management of the water supply and raw sewage, and identification and funding of emergency responders.
But in what the report terms "areas of outstanding challenge," most of the cities lag. These include encouraging the retrofit of backflow valves on existing homes, as well as a series of issues that many cities contend are not municipal responsibilities — e.g. measures to ensure that during floods, transportation and communication networks continue to operate, and electricity, petroleum, banking services and retail food remain available.
"Cities would say, 'that's important but it's not our responsibility'," Feltmate says. "But if something goes wrong, they'll be blamed for not coordinating and managing the situation."
Adding to the risk, some municipal politicians, under pressure from developers and the public, continue to approve construction in areas that officials recommend be restricted due to flood risk, Feltmate says. "There still is an element of the citizenry that says, 'we want to live near water. We've been in the city 25 years and have never seen a flood.' Often, the politicians will acquiesce," particularly since new construction boosts property tax revenues.
But that attitude is changing, he says. On a scale of zero to 100, five years ago the politicians would have received a mediocre score of 50 for allowing development where it shouldn't occur. "Today, it's around 80."
In addition to urging progress on "big ticket" items, the report advises municipal leaders to act on the areas they now say are outside their responsibility, like the provincially controlled 400-series expressways in Toronto, and Vancouver's provincially operated electric system.
Mayors, for example, could bring together the service providers to produce flood preparation plans, Feltmate says. That's especially true for Toronto, the country's largest city. "The ramifications of it failing would be felt across Canada. Toronto has a heightened responsibility to be ahead of the curve, which they're not answering."
Cities must also step up education programs, including making homeowners aware of subsidies for backflow valves, the report states. It found that homeowners haven't been taking advantage of the subsidies, because they don't understand the function and importance of backwater valves, or haven't realized subsidies were available.
"The Co-operators is committed to working with Canadians to ensure they understand the risk associated with flooding and have strategies for protecting themselves and their properties," says Rob Wesseling, executive vice-president of The Co-operators' property and casualty insurance products and chief operating officer of The Sovereign General Insurance Company.
"Professor Feltmate's report and recommendations provide a great benchmark for municipalities as they work to protect their communities and citizens."
On Monday, The Co-operators launched a new insurance coverage product that can protect homeowners in Alberta against damage caused by overland flooding, such as flooding caused by an overflow from a body of water, sewer/water backup and accumulation of surface water caused by heavy rain.
"Planning is currently underway to make the product available across the country," the company said.
Click here to go back to the ranking landing page.