Current opportunities:
---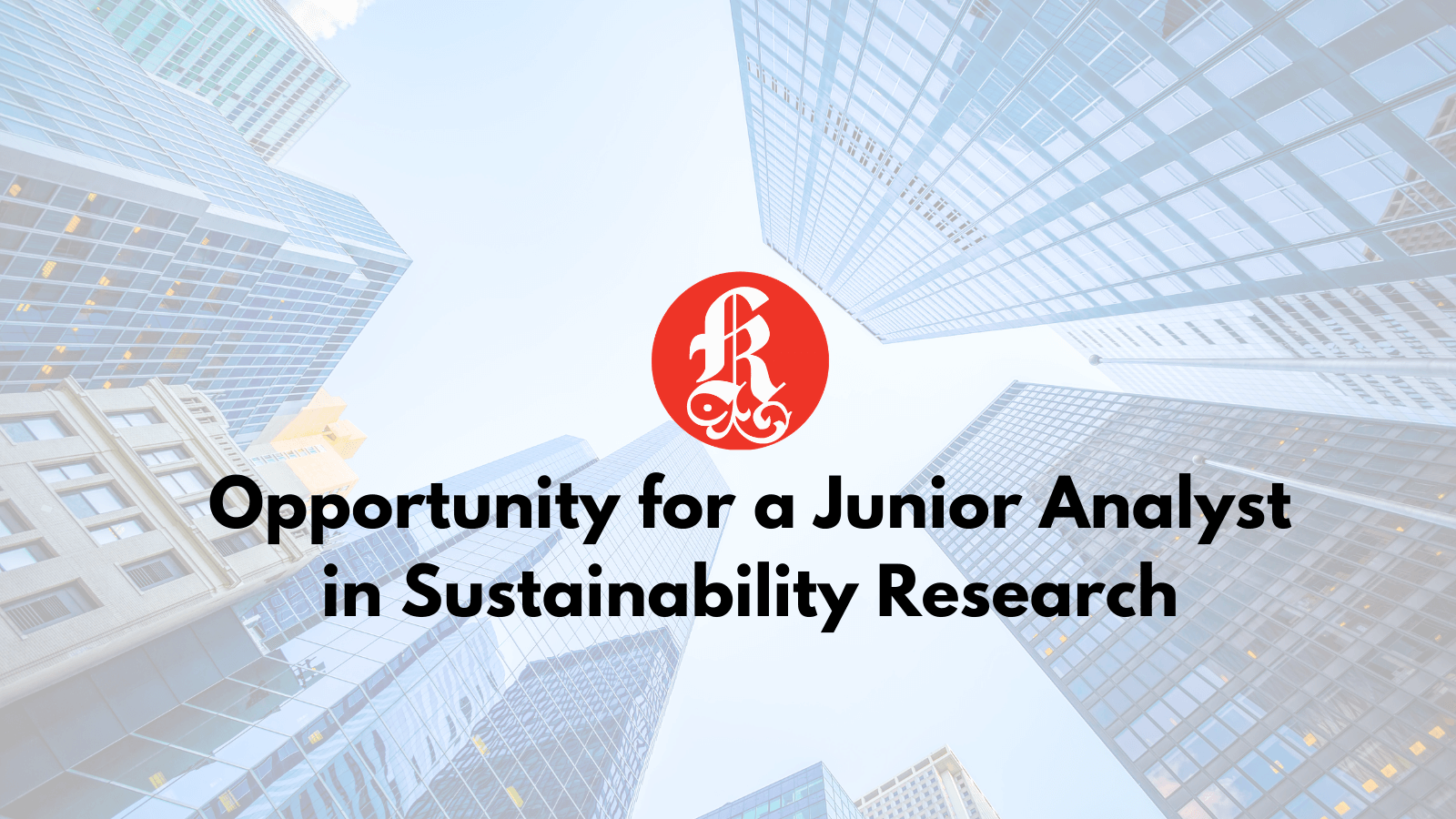 Corporate Knights is seeking a Junior Analyst for our growing data and research division. Interested candidates are invited to submit their resumé, one writing sample, and a brief cover note to careers@corporateknights.com summarizing why you? & why us?.
The deadline to apply is Monday, June 7 at 9AM EDT.
---
JOB SUMMARY:
The Junior Analyst plays an important role in collaborating with and supporting the team in all stages of the research cycle, propelled by the sustainability issues that are key to Corporate Knights' mission. This role includes raw data collection, data transfer, quality assurance, preparing outputs (reports, rankings, datasets, editorial, etc), and leading on rapid response research demands. Success in this role calls for comfort working both independently and in teams, capacity to manage multiple priorities, tenacity, and a creative problem-solving approach to work.
The ideal candidate will be a recent graduate of a college or university program (or possess equivalent experience) in business, social sciences, or sustainability/environment-related studies, with literacy in climate change and other sustainability issues.
This is an excellent opportunity to join an innovative and energetic team, using data and research to help create a clean economy on a thriving planet. There is opportunity for talented candidates to grow within the company.
KEY JOB FUNCTIONS:
Research the environmental, social and governance (ESG) performance of corporations and contribute to the routine updating and ongoing improvement of Corporate Knights' industry leading ratings and rankings database.
Administer research projects, including conceptualization, design, selection of methodology, data collection, analysis, report writing, presentation of findings, and post-project evaluations.
Monitor major research activities, public policy developments, and corporate policies/practices on sustainability issues relevant to Corporate Knights' priorities.
Write research reports, including rankings, scorecards, and benchmarking reports, for both internal use and client orders.
Prepare research-related content and source material for print and online channels.
Participate in selected external events, activities, and forums for dialogue with governments, companies, influencers, and other stakeholders on topics relevant to Corporate Knights priorities.
Other functions that may, from time to time, be required to support the successful operation of the research team and Corporate Knights.
QUALIFICATIONS & SKILLS:
1+ year(s) of work experience (including internships) in a research role and/or with a focus on sustainability or related subject matter.
Foundational understanding of ESG issues, preferably obtained through degree studies and/or relevant work or volunteer experience, plus a hunger to deepen knowledge.
Working command of Microsoft Office programs, especially Excel, and the drive and ability to learn new skills quickly.
Experience in applying qualitative and quantitative research methods, using various softwares to conduct analysis and prepare data presentations (e.g. InDesign, Excel).
Demonstrated analytical and data interpretation skills with sharp attention to detail.
Strong communications skills – written and verbal – with an ability to translate complex research findings into accessible outputs.
Ability to manage and prioritize diverse workloads to consistently meet competing deadlines and self-assess progress to ensure projects stay on track.
Gold standard personal integrity.
COMPENSATION: Base salary commensurate with experience, plus consideration in Corporate Knights profit sharing. Corporate Knights offers a competitive benefits package.
LOCATION: The Corporate Knights office in downtown Toronto. Remote work arrangements are available. (During the COVID-19 pandemic, our office is closed and will reopen based on the latest public health recommendations.)
HOURS: Full-time hours. Evening and weekend work may be required occasionally.
Corporate Knights is an equal opportunity employer that is committed to diversity and inclusion in the workplace.
We thank all applications for their interest. Only those selected for an interview will be contacted.