It's a frustrating situation for women to be in. Most Americans say women are "indistinguishable" from men when it comes to intelligence, capacity for innovation and other key leadership traits. On top of that, many view women as more compassionate and organized, according to a survey conducted by Pew Research.
But that hasn't translated into equality in the top ranks of business and government.
The biggest reason: Americans think women are held to a higher standard. Four-in-10 survey participants said women are expected to do more than their male counterparts to prove themselves. The same portion of Americans feels voters and corporations just aren't ready to put the gender-leadership mix in balance.
Surprisingly, less than 10 per cent thought women weren't tough enough for top business and political jobs. And only one-in-five said women were held back because of the perception that family responsibilities will impact performance.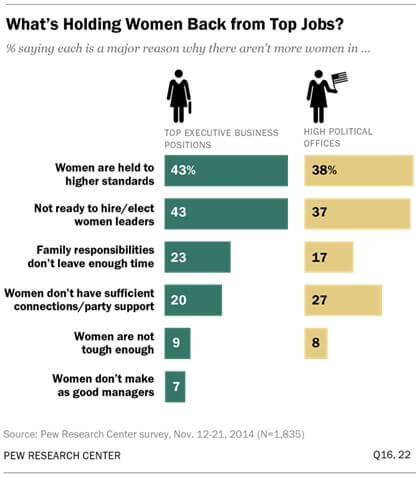 Generally, those surveyed have more hope for women when it comes to politics, with 73 per cent expecting to see a female president during their lifetime. Already, a record number of women (104) are serving in the current U.S. House and Senate. This represents 19 per cent of Congress, a doubling from two decades ago.
When it comes to business, more than half of those surveyed believe men will always hold more top executive positions than women.
Indeed, points out Pew, women have a long way to go. Only 26 women (5 per cent) are now serving as CEOs of Fortune 500 companies. This is still a big improvement over 20 years ago, when there were none.