A lot of leafy promises were made this past decade. Declarations were signed. Celebratory headlines were written. The world's chainsaws, you could be forgiven for presuming, were going to let up in unison by 2020 when hundreds of deforestation-free pledges would finally kick in.
One year from that deadline, UK-based non-profit Global Canopy had some less than laudatory news to share on the International Day of Forests, March 21. Not a single corporation is on track to deliver on their deforestation-free pledges.
There have been so many forest-saving announcements over the years it's hard to keep track of them all. First came the big news of 2010 that 400+ companies in the Consumer Goods Forum would ensure that all their soy, palm oil, beef and pulp and paper would be zero net deforestation by 2020. Then, during a blue-sky day at a UN climate summit in September 2014, over 190 governments, companies (including Nestle, Kellogg's and Cargill) and civil society organizations signed the New York Declaration on Forests with the goal of halving the loss of natural forests by 2020, striving to end it altogether by 2030. Amidst a lack of firm climate commitments, the forest declaration - while voluntary - felt fairly concrete, it felt good, it felt doable.
And the pledges kept on coming. After years of bad press, dozens of the world's biggest palm oil producers and traders earned praise for promising to take on the 'zero-net deforestation by 2020' goal. Hundreds more companies from Unilever to McDonald's had jumped on board.
Considering at least two-thirds of tropical deforestation comes from commercial agriculture, the commitments were – and are – a big deal. At the time, the UN said meeting the New York Declaration would slash carbon pollution by between 4.5 and 8.8 billion tons every year – "about as much as the current emissions of the United States."
But if forests keep falling, is anyone held accountable? Global Canopy's annual Forest 500 ranking has been keeping track of the 350 most influential corporations and 150 financial institutions in forest-risk commodity supply chains (linked to palm oil, soy, cattle and timber products). It concludes that while every year the number of companies making commitments rises, there's a serious implementation gap. According to the report, "Even companies with ambitious commitments are not putting these into practice."
Some of the report's main findings:
• Over 40% of the companies ranked aren't doing anything to tackle deforestation in their supply chains when it comes to palm oil, soy, cattle, timber and pulp and paper.
• Almost 1/3 of those that made commitments didn't include any concrete policies on implementing those commitments, including publishing direct supplier lists or monitoring/verifying compliance.
Some companies are getting with the program. At least a handful are reporting on exactly how close they are to meeting their target. In 2017, Nestle said 58% of its deforestation commitments were met. JBS (the world's largest processor of a fresh beef and pork) reported that 99.7% of its purchases were compliant and independently audited, with maps of all of its Amazon suppliers. However, Global Canopy points out that the commitment only applies to the Amazon rainforest and not to all the areas JBS source from.
While the latest Forest 500 report does offer a bit of data on whether sectors are disclosing supplier maps (overall, disclosure rates are abysmal), we were hoping to see Global Canopy share a list of corporate leaders and laggards on this front. Transparency is, after all, the oxygen for civil society to hold companies to account. Many major apparel companies have been posting their factory supplier lists for years. If major food companies aren't sharing their palm suppliers, soy farms or cattle ranches, let's call them out with a megaphone.
Speaking of cattle, they're the largest driver of tropical deforestation globally, and yet companies in cattle supply chains are least likely to have a commitment. According to the report, only 16% of companies have a forest-related commitment for the beef or leather that they produce or source.
Cattle are the largest driver of tropical deforestation, but only 16% of companies have a forest-related commitment for their beef or leather.
One thing's clear: companies are pretty spotty about which commodities they're committing to clean up. Thanks to heavy campaigning by a number of environmental organizations (and all those heart-wrenching images of orangutans losing their forest homes), companies are more likely to have stronger commitments and implementation reporting on palm oil than any other commodity. Unilever, for instance, is singled out as a leader scoring 89% on palm oil, but it only earned 48% for its overall soy commitments. (With the global spotlight on palm, tellingly, no companies disclose their soy suppliers.)
In recognition of the gap between company commitments and impacts on the ground, the Forest 500 methodology was updated in 2018 to "better distinguish between companies who have set commitments, and those that have taken the next step towards implementation." Still, onlookers will note major discrepancies in how the the organization grades top brands compared to say other forest advocates. Global Canopy gives companies like Nestle, Mondelez and PepsiCo five out of five on their palm policies (see below), when Chain Reaction Research reported in 2018 that the same brands were buying from a top 10 deforester in Asia. Greenpeace International reported that major brands like Nestle, PepsiCo, Unilever and Mondelez were sourcing from palm suppliers responsible for destroying an area of rainforest almost twice the size of Singapore in less than three years.
Global Canopy Forest 500: Palm oil leaders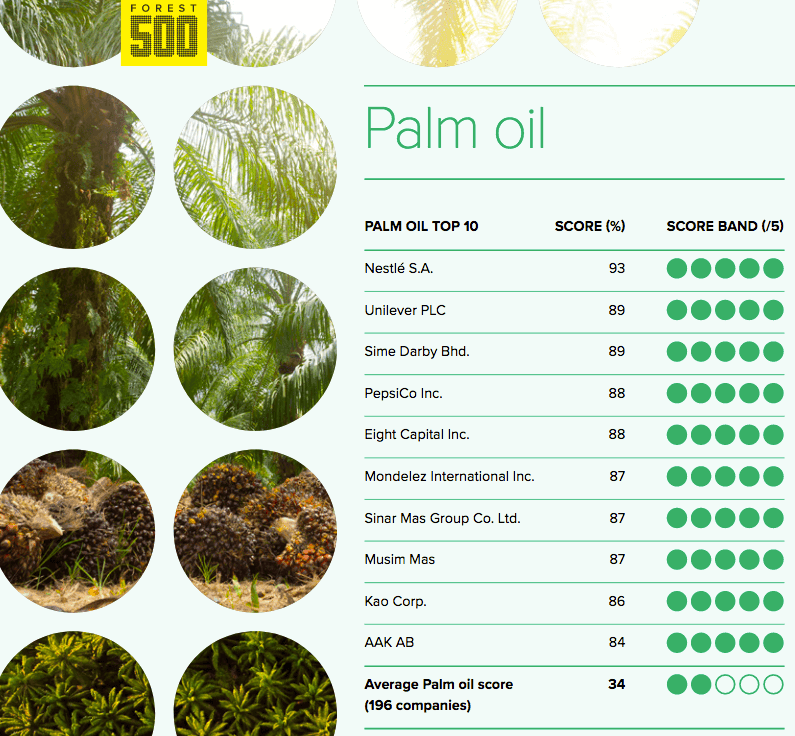 Greenpeace: brand exposure to "dirty" palm oil producers

Global Canopy researcher Sarah Rogerson explains that the Forest 500 assessments only looks at commitments and reporting made publicly by the companies themselves. Says Rogerson, "This is due to the difficulty of getting standardized on-the-ground information across all of the powerbrokers that we look at," adding "although of course company commitments and communications should always be considered alongside these reports where they are available."
Either way, Global Canopy, Greenpeace and others agree that that industry is worryingly behind on sticking to their word. And the longer it takes corporate supply chains to catch up to their public commitments, the more natural forests it's going to cost us.
The official 2018 progress assessment on the New York Declaration on Forests (NYFD) found that despite corporate commitments from roughly 800 companies, "the world continues to lose natural forests at an alarming rate. In the three years following the adoption of the NYDF (2014–17), the average annual rate of natural forest loss was 42 percent higher than in the previous decade."
Yet Rogerson is still hopeful. "It's always worth remembering that when the big commitments were made six to 10 years ago, companies didn't know what it would take to get there. There's been a lot of progress in terms of setting commitments and understanding how to implement those commitments."
Nonetheless, Rogerson says there's a huge need to put pressure on companies lagging behind. "They can't just keep pushing the date away without some sort of backlash." They will, she warns, "be held accountable."
Investing in deforestation:

Investors can and should be a bigger part of holding laggards to account, says Global Canopy. "Financial institutions are even further behind in setting commitments and policies on deforestation. Of the 150 financial institutions assessed, 97 had no financing policy for any of the four key forest-risk commodities."