While land-based wind-powered capacity has boomed across the nation's midsection, where a total of 45 gigawatts is now installed across 11 states from Minnesota to Texas, wind generation has lagged in the Northeast.
This is not for lack of energy potential. The Atlantic seaboard is windy, and its close proximity to big electricity-consuming cities gives would-be wind developers in the region a ready-made nearby market. A significant obstacle to offshore wind development thus far has been its high price tag – right now, offshore wind power projects are currently more than twice as expensive as onshore wind, according to the Energy Information Administration.
Only one small project – the 30- megawatt Block Island facility in Rhode Island – is under construction so far.
But in Massachusetts,  the House and Senate have very recently passed bills requiring the state to seek long-term contracts for as much as 2 gigawatts of offshore power as soon as 2027.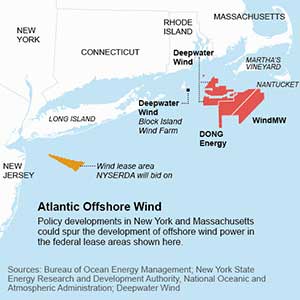 In a telling indication of just how deep support in Bay State is for renewables, the Senate bill passed unanimously, and only one dissenting vote was cast in the House. The legislation is of a piece with Gov. Charlie Baker's campaign to lower greenhouse-base emissions, which in addition to the wind initiative includes expanded reliance on Canadian hydropower.
In New York, the state's Energy Research and Development Authority, controlled by Gov. Andrew Cuomo, announced in June that it would participate in an auction by the Bureau of Ocean Energy Management for a commercial offshore wind-generation lease on an area that runs about 15 miles southeast of the Rockaways in New York City. Should the state win that lease, it would give wind-development initiatives a considerable lift by allowing projects to proceed through streamlined pre-development work, including environmental impact studies, power-purchase-agreements through the New York Power Authority, and construction-permit issuance. The auction is expected to take place sometime after the public comment period ends in early August.
Under the Cuomo administration, New York has set a goal of generating 50 per cent of its electricity from renewables by 2030, a goal that seems within reach considering that the state now gets about 20 per cent of the its electricity from hydro and 3 per cent from wind.
The two northernmost lease areas shown on the map above were won by Deepwater Wind in July 2013, the developer of the Block Island Wind Farm off Rhode Island, and cover an area of nearly 260 square miles. The company calls its plan for this area "Deepwater One" (Rhode Island/Massachusetts lease areas OCS-A 0486 and OCS-A 487 were the first competitive commercial offshore wind lease sale in the U.S.).
Adjacent to these expanses are "Massachusetts" lease areas (so-called by the BOEM, OCS-A 500 and OCS-A 501), both of which were auctioned in January 2015.
The more northerly one (OCS-A 0500) covers almost 300 square miles and is now owned by DONG Energy, a big Danish power company that has built 3 gigawatts of offshore wind capacity in northern Europe. The lease area to the southeast of that went to WindMW, a German-based offshore wind developer that is owned mostly by the Blackstone Group, the New York private equity firm. Wind MW finished a 288MW project in the North Sea in 2014.
The first substantial wind-generation project in the Northeast – indeed the first in the U.S. – is nearing completion  off the coast of Rhode Island.
Deepwater Wind's 30-megawatt, five-turbine Block Island Wind Farm passed a significant milestone at the end of June when a 20-mile undersea cable from Block Island was connected to the mainland by National Grid.
Turbine installation off Block Island, which has about 1,000 year-round residents and 4,000 in the summertime, is scheduled for next month. The project aims to eliminate the island's current reliance on a million gallons of diesel fuel annually to generate electricity and will also send power to the New England grid.
While Block Island is the first offshore project to cross the finish line, it could go down in history as just the beginning of offshore wind development in the region.
---
Seth Feaster is an IEEFA data analyst. This article was originally published by the Institute for Energy Economics and Financial Analysis