In April, Aviva Investors commissioned Corporate Knights Capital, the investment research and financial products arm of Corporate Knights Inc., to investigate the state of sustainability disclosure on the world's stock exchanges. The results of this engagement, a report titled "Trends in Sustainability Disclosure: Benchmarking the World's Composite Stock Exchanges," were officially revealed on June 18 at the Sustainable Stock Exchanges side event to the United Nations Rio+20 conference. Doug Morrow, vice-president of research at CK Capital, shares some highlights from this analysis.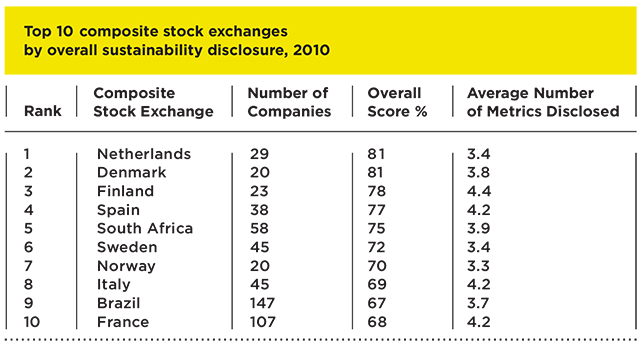 The topic of sustainability disclosure has been extensively researched in recent years, but we feel our report stands out from previous analyses in three main ways. First, we focused exclusively on the reporting practices of large companies, which we defined as having a market capitalization of $2 billion (U.S.) or higher. Second, we looked only at so-called first-generation sustainability indicators, those that are robustly disclosed by the world's largest companies: greenhouse gas (GHG) emissions, energy use, water use, waste, lost-time injury rates, employee turnover and payroll data. Finally, we analyzed disclosure trends over the five-year period from 2006 to 2010.
Since our target audience consisted of national policy-makers, we rolled up our findings for each country into a "composite stock exchange," an aggregation of all stock exchanges in the country. We were primarily interested in determining which countries were leading the pack in disclosing each of the first-generation sustainability indicators, and how disclosure rates had changed over time.
The Netherlands was found to have the world's most advanced composite stock exchange from an overall sustainability disclosure perspective. The Top 10 were rounded out by the composite exchanges of Denmark, Finland, Spain, South Africa, Sweden, Norway, Italy, Brazil and France. As countries with demonstrably effective sustainability disclosure policies – which could potentially be replicated elsewhere – they merit deep investigation by policy-makers.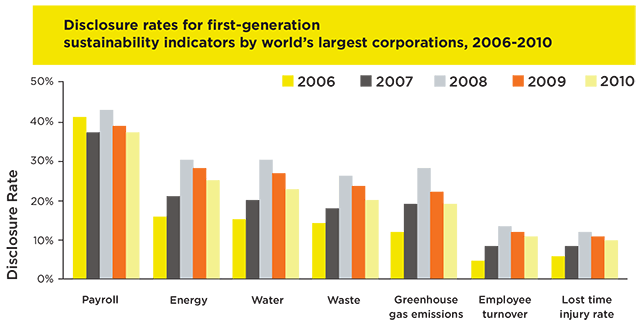 In addition to identifying the world's top-performing composite exchanges, we also analyzed secular trends in reporting practices. On this front, there were a number of surprising findings:
• The global disclosure rate for each of the first-generation indicators is declining. In 2008, over 28 per cent of the world's large companies disclosed their GHG emissions. By 2010, that figure had dropped to 18 per cent. A similar, though less dramatic pattern exists for the other six indicators. This trend could represent a legitimate signal for policy-makers to move forward on a mandatory reporting framework.
• Certain countries are excelling in disclosure around certain first-generation indicators. Portugal has the world's highest disclosure rate of water data (73%), Italy has the highest disclosure rate of employee turnover data (42%) and Denmark has the highest disclosure rate of lost-time injury rates (35%). Notably, Finland has the top disclosure rate on the remaining four indicators: payroll data (91%), waste (83%), energy (78%) and emissions (52%).
• Only 52 large companies, with total market capitalization of $2 trillion, disclosed all seven indicators in 2010.
• A great process of "catch up" is taking place on stock exchanges in the world's emerging markets. Four of five exchanges with the fastest-growing sustainability disclosure rates are emerging markets.
Legendary management consultant Peter Drucker was onto something when he famously observed that, "what gets measured, gets managed." But in order to measure, we need data. The findings from our report can be used by policy-makers to reinvigorate the practice of corporate sustainability reporting and improve the quantity of sustainability data in the market.
Since data quantity should not be confused with data quality, the next step in the continuum should be to find workable solutions to improve the standardization of sustainability data.