Since Corporate Knights began its Leadership Diversity Index six years ago, the conventional wisdom on gender diversity in the boardroom has shifted perceptibly. Lip service is paid to the benefits that result – avoiding groupthink, increasing innovation and improving good governance – while the hard evidence continues to mount that having more women on boards results in better financial returns. Dow Jones VentureSource released a study in October showing that between 1999 and 2011, successful start-ups had demonstrably more women in senior positions than unsuccessful ones. The Credit Suisse Research Institute determined that worldwide, for the past six years, large companies with female-friendly boards performed 26 per cent better than those with men-only boards. 

Progress is being made domestically, with 85 per cent of the Canadian companies ranked this year having a female board member. Despite this, according to the non-profit group Catalyst, Canada places 14th on board gender diversity globally. That puts it behind Turkey. Only 10.3 per cent of overall Canadian board members are female, meaning that only select companies have gone beyond adding one woman to the board. When this occurs the impact is blunted, as the new directors often feel ignored and isolated. Experts in board diversity from the International Institute for Management Development in Switzerland, writing in the Wall Street Journal, say that "only the presence of three or more women on the board leads men to view them as more than just female directors. The women, too, say they feel less self-conscious and less concerned about representing their gender." Australian Prime Minister Julia Gillard, who recently blasted the country's opposition leader as a sexist and misogynist, can surely relate.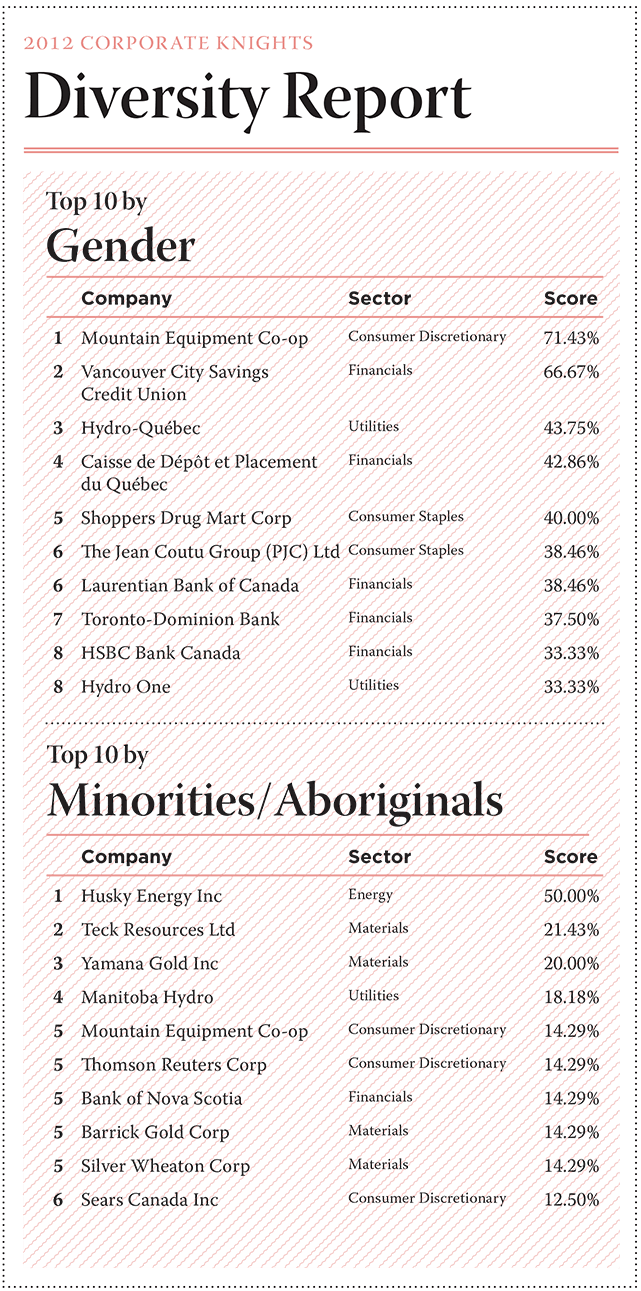 Our 2012 gender ranking features companies that have openly embraced this concept of "more than two," led by Vancity and Mountain Equipment Co-op, both progressive co-operatives that maintain female-dominated boards well above the 50 per cent mark. Utilities, financial organizations, insurance and retail companies tend to be more gender diverse than the manufacturing and resource extraction sectors. TD Bank leads the big five banks with a board that is 38 per cent female. The chairman of TD Bank Group, Brian Levitt, believes this is the result of a concerted push by the organization. "Diversity and inclusion is a key element of TD's culture and plays a fundamental role in attracting and retaining the best talent," he says. "As such, we believe it's important our board reflects the diversity of our employees in a similar way that our employees reflect the diversity of our customers and the communities we serve."

Measuring female representation, while important, does not give a complete picture of the diverse Canadian population. Statistics Canada estimates that the proportion of Canadians belonging to a visible minority group is set to grow from 16 per cent in 2006 to between 29 and 32 per cent by 2030. Corporations are looking to appeal to these communities as new immigrant groups enter the consumer market, while natural resource companies struggle to gain a social licence for projects often located in areas with significant aboriginal populations. The arguments made for expanding gender diversity in the boardroom ring equally true when considering the addition of minorities, yet 72 per cent of Canadian boards fail to provide any representation. 

Husky Energy leads the minority ranking for the third year in a row, with seven directors out of 14. Other leading firms are mining companies, including Teck, Yamana Gold, Barrick Gold and Silver Wheaton, along with retail firms Mountain Equipment Co-op and Sears Canada. The provincial crown corporation Manitoba Hydro, ranked fourth overall, was the top-rated utility. As Manitoba maintains a 15.5 per cent aboriginal population, the two native board members are representative of the province's demographics as a whole. 

Various initiatives around the world are working towards advancing the pace of diversification in corporate boardrooms. In Canada, the Catalyst Accord was launched last year. It calls for Canadian corporations to increase the overall proportion of board seats held by women to 25 per cent by 2017. To support the process, the Catalyst Canada Advisory Board will contribute names to a list of "board-ready" women that will be made available to any signatories.

France, Norway, Spain and Iceland are among the European countries that have created mandatory board diversity requirements for public companies, based on the limited enthusiasm observed for voluntary measures. Viviane Reding, the EU's justice commissioner, announced in October that the union was seriously considering EU-wide quotas for female diversity. Whether voluntary or mandated, we hope these measures grow to incorporate minority representation as well.