Uber, the embattled enabler of ride sharing, loves him.
Tesla Motors, the electric vehicle pioneer, loves him.
And many UberX users around the Toronto area probably love him as well.
Lee (who asked to be identified only with his last name) is known by his Twitter handle @uberxtesla, and since joining UberX he has become somewhat of a celebrity to users of the popular ride-sharing service. After all, it's not often that your ride-for-hire shows up in a shiny white Tesla Model S sedan, an electric car that continues to turn heads three years after its introduction.
"It's been like a crazy adventure," says Lee, 29, over a patio lunch in Toronto. He's wearing an Iron Man t-shirt, which goes well with his disarming, youthful smile. Lee says he drives most nights, usually when he can't sleep. "I've done it at 4 a.m. – it's like instant non-boredom, and I've been connected with so many different people."
(We first learned of Lee after CK associate publisher Natalie Sorichetti hired him for a ride one evening after a social event.)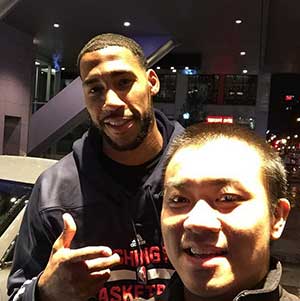 On night he picked up two NASA scientists attending a conference in Toronto. The three hit it off, so much so that Lee was invited to a dinner the same evening with Bill Nye the science guy. He has also picked up Washington Wizards basketball guard Garrett Temple and members from the cast of The Book of Mormon, among others.
The fact Tesla's warranty is market leading and that Lee doesn't have to pay for gas makes the Tesla-UberX relationship not just novel in Toronto, but profitable. "I can drive the crap out of the car and it's all covered," he says. "Here I'm the only guy currently in the UberX system who drives a Tesla, which is kind of surprising because the economics work out so well."
So how did a biology graduate from the University of Western Ontario who now co-manages a medical facility in Toronto become one of the city's most sought-after UberX drivers?
Lee purchased his Tesla Model S in September 2013, but it was only after he dislocated his shoulder last year and couldn't work that he considered the UberX option as a way of making some extra cash on the side.
"I saw an ad that UberX was coming to Canada, and responded to it," Lee recalls. "When they did come, they contacted me, saw my car, and told me, 'You're going to launch UberX in Canada.'"
Tesla Motors, meanwhile, isn't complaining. "All the Tesla guys know I'm doing this with their car. It's like the best advertisement for them," adds Lee, who estimates he has picked up several hundreds of users over the past nine months.
Approaching a dead end?
It would have been 10 months, but in early May a typical left-hand turn became a nightmare for Lee. A row of cars had stopped to let him make his move, but a vehicle in the far lane didn't get the memo and kept driving. As Lee turned, the oncoming car t-boned his Tesla Model S and put his UberX driving routine on hold.
"I'm completely fine, and the other gentleman was okay as well. I think we were both rushing to get to work and just got careless with the driving," Lee explained in an e-mail shortly after the accident. "I just want to get my car back."
The car was significantly damaged, but repairable. Lee is expected to get it back on the road later in June.
But as far as his UberX ambitions go, that might be the least of his worries. The City of Toronto wants Uber shut down in Canada's largest city, arguing in court this month that it is an illegal taxi brokerage that is undermining the city's licensed taxi operators, which number nearly 5,000. Cities around the world have gone after Uber for similar reasons, putting the popular ride-share company on the defensive.
Lawmakers across Canada are closely watching the Toronto lawsuit. Ontario Superior Court hearings were concluded on June 2, but the judge presiding over the case said any decision will likely be appealed and that nobody should expect Uber services to come to an abrupt halt.
That comes as little comfort to Toronto's legitimate tax drivers, who staged a protest during the hearings. Uber, meanwhile, is working behind the scenes hoping to reach some kind of a compromise with the city. Mayor John Tory is a supporter of the technology and has expressed a desire to introduce regulations that would allow Uber to operate legally. (UPDATE: Uber won the Toronto case. Mayor Tory is now pursuing regulation.)
Resisting Uber and services like it is futile, argues Kevin McLaughlin, who founded and led Toronto car-sharing service AutoShare in 1998 until he sold it to Enterprise Rent-A-Car Canada in March 2014.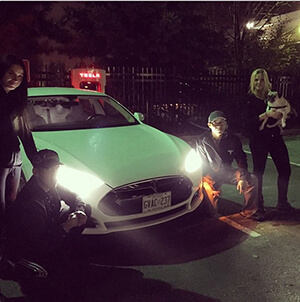 McLaughlin is one of two citizens who sit on the city's Taxi Advisory Committee, which was formed two years ago. "I was telling them there's this peer-to-peer thing coming, and you better worry about it," he says, adding that the taxi industry representatives on the committee were more concerned with new changes coming to Toronto's taxi licensing. "The idea of all these licenses and everything is meaningless now."
Another future risk is peer-to-peer (P2P) car sharing, which allows anyone to rent out their own car from their driveway for short or long periods. In the U.S., services such as Getaround and JustShareIt are two pioneers of this P2P model, which is similar to Zipcar or AutoShare but doesn't require a centrally owned fleet of vehicles.
P2P car sharing can't be launched in Ontario because obsolete insurance regulations currently act as a barrier. UberX drivers are covered by their own insurance, and while this coverage prohibits them from operating as a ride-for-hire, it all comes down to proving it.
"How is the insurance company going to know the passenger is paying for a ride?" asks McLaughlin, who considers Uber a better way to travel than taking a cab. "Do rules really matter anymore?"
Bottom line: insurance regulations and providers in Ontario are woefully behind the times and need to catch up. An insurance company prepared to go out on a limb by designing coverage that accommodates P2P car sharing and ride sharing could gain a major edge over competitors in the long run.
Connecting with the future
Like McLaughlin, those who prefer Uber over traditional taxicabs don't just consider it a potentially cheaper way to ride. It's not difficult to find cabs on Toronto roads that are filthy inside, smelly, or don't feel safe. It's not uncommon to see an engine light flashing, or to be with a taxi driver who is always chatting away on a mobile phone or drives like a maniac.
"The taxi industry is pretty bad," says Lee.
Uber and UberX drivers, on the other hand, can't mess around. The riders they pick up rate them, like someone rates a book on Amazon.com. Drivers can't afford to have smelly, dirty or unsafe vehicles, or to drive in a vomit-inducing fashion.
Lee is a big believer in supporting new technologies if they deliver a social or environmental good. He credits Tesla for being the first, in his view, to make a green product truly sexy. "That's why I support Tesla," he explains. "Money needs to be directed. It's like a vote."
With UberX, he considers it to be a fun social experiment, or what he likes to call the most random thing ever. "Every day I get connected to some random person who could become a friend, or a business partner. I'm also connecting people through people through Uber."
If social media networks like Facebook and Twitter connect people with past friends and family and acquaintances, collaborative social services such as Uber and AirBnB connect people in a way that builds future relationships. "It's like the one is 2D and the other is 3D," explains Lee. "Uber adds a new dimension to social networking."
And Lee's Tesla Model S adds a new dimension to Uber – a technological marriage made in heaven.