Bank of England governor Mark Carney recently called on companies "to disclose how they plan their transition to the net-zero [carbon] world of the future." Carney reiterated this challenge at the recent Paris climate change summit, where he announced the appointment of former New York City mayor Michael Bloomberg to head a new Financial Stability Board task force aimed at helping investors judge how companies are managing the risks that global warming poses to businesses.
In Paris, the Science-Based Targets initiative was also launched to help companies set emissions targets. As of early December, 114 companies had signed up, with 10 companies already reporting their targets including: Coca-Cola Enterprises, Dell, Enel, General Mills, Kellogg, NRG Energy, Procter & Gamble, Sony and Thalys. Combined, these 10 companies will reduce their carbon emissions from operations by 799 million tonnes over the lifetime of the targets, equivalent to approximately 1.86 billion barrels of oil not burned. These companies have also made ambitious commitments to reduce indirect emissions throughout their value chains.
In terms of the science, if the global economy can decarbonize and achieve netzero emissions by 2070, humanity has a 50 per cent chance of holding global warming to under 2 C.
In this spirit, Corporate Knights invited the chief executives from a leadership group of 300 global companies identified through the Global 100 research process to comment on what role their companies will play in the transition to a net-zero carbon future.
---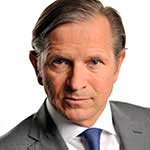 Marc Bolland
Chief Executive Officer, Marks & Spencer
"We support the call for responsible companies to show leadership on creating a low carbon future. We believe it makes good business sense. We are implementing a comprehensive plan to reduce emissions from products, stores, factories, farms and forests."
---

Jean-Laurent Bonnafé
Diector and Chief Executive Officer, BNP Paribas
"As key players in economic development, banks should explain exactly what part they intend to play, alongside governments and industry, in helping to keep average global warming below the critical 2°C threshold.
BNP Paribas made combating climate disruptions its main priority in the field of environmental responsibility back in 2011, when the Group first drew up a set of formal sector policies. Our aim is to finance an energy mix in line with the IEA's 2°C scenario, which today enjoys general scientific and political consensus.
The new energy financing policy which we announced a few days ago means that we will: 1) from now on be even more selective in our financing of fossil energy sources; and 2) be providing massive support, worth a total of €15 billion in 2020, to renewable energy – i.e. double our current financing level in this area.
BNP Paribas is also going to include a climate component in its methodology for rating companies and projects financed by the Bank. This means that going forward the Group will progressively integrate the use of an internal carbon price in its financing decisions.
Finally, given that energy efficiency has a major role to play in overall efforts to reduce GHG emissions, BNP Paribas is to significantly step up its initiatives in this field.
We're determined to live up to our role as a responsible bank by supporting clients committed to the transition to sustainable energy use. This is a high priority in which technological innovation will help to drive progress. Consequently, we have also made a commitment to invest €100 million by 2020 in green start-ups."
---

Svein Richard Brandtzæg
President and Chief Executive Officer, Norsk Hydro ASA
"As a global aluminium company, we regard sustainability both as part of our license to operate and as key to our future competitiveness. Doors will start to close on those who remain part of the problem, while new doors will open for those who are part of the solution. Not only do we want to avoid doors closing on us, but want to be among the very first to enter the doors that will open as the world moves towards a low-carbon reality. That is why we have one of the most ambitious climate strategies in our industry, which is to become carbon-neutral from a life-cycle perspective already by 2020."
---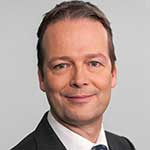 Ton Büchner
Chief Executive Officer, AkzoNobel Global
"If we're going to truly chart a course to a more sustainable future, we can't work alone. We have to collaborate more and set up strategic partnerships across entire value chains. At AkzoNobel, only 15 per cent of our total carbon footprint lies within our direct control. That's why we developed our Planet Possible strategy of doing more with less. It's designed to help us work more closely with both suppliers and customers to find new ways of reducing our overall impact. By 2020, we want our entire value chain to be 25-30 per cent more efficient.
Collaboration is something we strongly believe in and we can point to several success stories. For example, we recently signed a multi-year agreement to purchase sustainably generated steam from Dutch energy provider Eneco. This will help reduce our CO2 emissions by over 100,000 tons a year. We also focus on helping our customers to become more efficient. We continue to develop a wide range of innovative products, such as additives that allow asphalt to be laid at low temperatures and solar-reflective exterior paint that reduces a building's energy use by up to 15 per cent.
At AkzoNobel, we believe that if we're going to successfully tackle the challenges we will undoubtedly face, we all have to embrace more collaborative ways of working and play a leading role in shaping the future of our industries."
---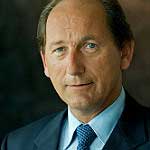 Paul Bulcke
Chief Executive Officer, Nestlé
"At Nestlé, we are fully committed to providing leadership on climate change. Action is what matters, and we will continue to take decisive steps in the area of air emissions reduction and climate change adaptation.
We strongly believe that business is part of the solution and that industrywide, multi-agency, collaborative efforts are pivotal to scale efforts and make lasting change."
---

Dr. Roland Busch
Member of the Managing Board, Siemens AG
"I believe that, as a leading innovator in energy-efficient and low-carbon technologies, our company has a clear responsibility to lead by example. This is why Siemens aims to be the first major industrial company to achieve a net-zero carbon footprint by 2030. Today, our operations and 300 factories result in annual emissions of 2.2 million metric tons of CO2. Achieving a net-zero carbon footprint would mean cutting emissions equivalent to about 180,000 U.S. households."
---
James Cashman III
President and Chief Executive Officer, ANSYS, Inc.
"Almost every product you interact with today, whether a car, airplane, cell phone, medical device or even the bridges you travel across, has been impacted by ANSYS technology. As product development companies transition to the net zero carbon world of the future, they are examining the sustainability of their products from conception to end of life. ANSYS' simulation technology enables customers to understand how different designs, materials, electronics, power consumption requirements, and other choices will allow them to meet their goals. Implementing a simulation driven product development cycle, results in significantly fewer prototypes, better manufacturing processes, and most importantly improved product performance and efficiency. All of which enables companies to accelerate their progress towards their net zero carbon goals. As an example, leading manufacturer Grundfos used simulation to improve the efficiency of new pump design by 1 – 2 points and when pumps account for an estimated 10 per cent of the world's total electricity consumption even small improvements have a large environmental impact.
However, ANSYS is doing more than this. Earlier this year, ANSYS released our technology in the cloud. As independent research has shown, transitioning from locally hosted software to an on cloud implementation can reduce energy use and carbon emissions by more than 30 per cent, and often much more, when compared with computer simulations performed on premise. As a consequence, ANSYS is helping companies deliver on their net zero carbon initiatives not only in developing better products, but also how they use computational tools to design and manufacture them."
---
Alan Clark
Chief Executive Officer, SABMiller
"At SABMiller we want a clean world where nothing goes to waste and emissions are dramatically lower. Climate change has far-reaching consequences for our business and the communities where we operate. That is why we have set stretching 2020 targets for our business: to reduce emissions from our breweries by 50 per cent against a 2010 base and to reduce the carbon footprint per litre of beer across our value chain by 25 per cent.We are already making excellent progress towards these goals, having cut global carbon emissions from onsite energy use by 35 per cent since 2008, reducing our absolute emissions by nearly one million tonnes."
---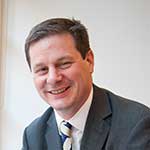 Paul Dollin
Chief Operating Officer, WSP | Parsons Brinckerhoff
"As a professional services organisation WSP | Parsons Brinckerhoff's biggest impact on the transition to a zero-carbon world comes from the expert advice we provide to our clients. Mark Carney's argument centres around the importance of providing investors with information regarding the carbon intensity of their assets. To enable WSP | Parsons Brinckerhoff's experts to provide clients with information and speak about climate change and related issues with confidence, we are implementing our 'Future Ready' program across the globe. Future Ready supports our teams by helping them deliver designs and advice appropriate for today's reality but better prepared for the future. The intended outcome is that clients make better decisions and, as Mr. Carney has stated, this will smooth the transition to a zero-carbon world."
---
Bill Downe
Chief Executive Officer, BMO Financial Group
"Climate change, and the public policy response to it, may eventually prove to be the biggest adjustment our society will have faced in generations. Each of us, individually and in the organizations we comprise, bears responsibility for the effectiveness of that response. As employees of Canada's first bank, we set high expectations for ourselves – our customers would expect nothing less. We have moved quickly and deliberately to reduce our own environmental footprint and, having done that, we intend to sustain carbon neutrality across the entire enterprise.
As a financial institution, however, we bear a responsibility to consider not only our own actions, but also the impact of the projects we finance. As a result, as we work to reduce the environmental impact of our own business operations, we actively seek out and support clients who will have a direct impact on our future – for example, those who are developing renewable energy projects, such as wind, hydro-electric and biomass – as well as those who will affect our future indirectly, as they adopt their own sustainable practices. Last year alone, we helped raise nearly $2.9 billion (CAD)* in debt and equity for green enterprises and lent them an additional $2.5  billion.  In this way, banks like ours will play an important role in the transition to a low carbon economy."
*An error was made in the print magazine, all values are in Canadian dollars, not U.S. dollars.
---

Darren Entwistle
President and Chief Executive Officer, TELUS
"At TELUS, we believe that there is a symbiotic relationship between our company, our team and the health of our communities and the planet.  We consistently demonstrate our commitment to sustainability by taking measured action to address climate change and mitigate our overall impact on the environment.
All of our targets are public and integrated into our governance practices and our executive compensation.  We are progressing our goal for an absolute 10 per cent reduction in energy use and a 25 per cent reduction in GHG emissions by 2020 based on a 2010 baseline.  Importantly, this leadership in sustainability is further expressed through our portfolio of environmentally advanced, LEED certified workplaces, including our new home, TELUS Garden, the first and only LEED Platinum office tower in Vancouver.  Moreover, enabling communities to be sustainable for generations to come is a central pillar of our heartfelt community giving philosophy – we give where we live.  Since 2000, TELUS, our team members and retirees have donated over $430 million and volunteered over 6.5 million hours of service – the equivalent of almost 900,000 days of work – to build stronger, more sustainable communities.
We will continue to support the ongoing transition toward net zero by managing energy-related risks through strong governance and technology innovation and by partnering with others, like Corporate Knights, who share our unwavering commitment to green development and building sustainable communities."
---

Brian Ferguson
President and Chief Executive Officer, Cenovus
Cenovus Energy is a Canadian oil company committed to being a responsible developer of one of Canada's most valuable resources – the oil sands.
"At Cenovus we share the public's concern that climate change is one of the greatest global challenges of our times," says Brian Ferguson, President & Chief Executive Officer, Cenovus. "As an oil producer, we are committed to doing our part to address climate change. To find solutions that will eliminate emissions both from the production of oil and from its use. Solutions that will ensure oil can continue to play a role in enhancing the quality of life around the world for as long as it's needed.
With the right level of commitment and collaboration with the brightest minds from around the world, I believe oil can be part of the clean energy future we all desire."
---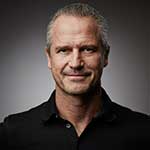 Marco Gadola
Chief Executive Officer, Staumann
"Sustainabilty is only achievable with the right mindset. Our biggest contribution will come through our key strategic priority to instill a high performance culture thoughout our organization in which each individual drives efficiency and reduces waste"
---
Tim Gitzel
President and Chief Executive Officer, Cameco
"Our vision is to energize the world as the global leader of fuel supply for clean-air nuclear power. We are focused on delivering a low-carbon future while protecting the safety of people and the environment today."
---
Magnus Groth
President and Chief Executive Officer, Svenska Cellulosa Aktiebolaget
"We all have a role to play to achieve a net-zero carbon world; customers and consumers by making conscious choices and business by providing sustainable and resource efficient solutions. SCA takes a 360-degree approach to its environmental impact – we have targets in place for reducing carbon dioxide emissions, tripling the production of forest-based biofuels and increasing the availability of wind power. As Europe's largest private forest owner we also possess a unique carbon sink – our forestland net absorbs 2.6 million tons of CO2 annually, which is more than is discharged from SCA's total production."
---

Marc Grynberg
Chief Executive Officer, Umicore
"Umicore already plays an important role in the transition to a low carbon society.  Examples of our contribution include the materials we produce for rechargeable batteries used in electrified vehicles and the recovery of precious and scarce metals with overall lower carbon footprints thanks to our unique recycling processes."
---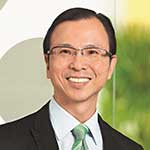 Tan Tong Hai
Chief Executive Officer and Executive Director, StarHub Ltd.
"As a telecommunications service provider*, StarHub believes in pursuing the sustainable reduction of our carbon footprint. For instance, when we streamlined our service call operations, we saw savings of over 50,000 litres of fuel every year. We are an advocate of innovation  and our use of energy-efficient technology for our network of mobile base transceiver stations saw a remarkable 12 per cent drop in electricity consumption despite the addition of a whole new LTE network. In line with our commitment to reduce our environmental impact, we will continue to explore new ways to move closer towards a net-zero world. After all, this is our only planet and we all have a role to play in preserving it."
---

Herbert Hainer
Chief Executive Officer, adidas Group
"The adidas Group has long been recognised for its leadership when it comes to corporate social and environmental responsibility. Climate Change requires all parties affected to take immediate action – this is why we are committed to continue to measure and reduce our carbon emissions while compensating for unavoidable emissions. The vision of our Green Company Initiative is to achieve carbon neutrality across our operations."
---
Brian Hartzer
Managing Director & Chief Executive Office
"Westpac is committed to operating, both directly and indirectly, in a manner consistent with supporting an economy that limits global warming to less than two degrees. Westpac will continue to evolve its frameworks, policies and position statements, linked to concrete action to ensure our lending and investing activities support an economy that limits global warming to less than two degrees, based on research into the carbon intensity of our activities."
---

Mikko Helander
President and Chief Executive Officer, Kesko
"We actively search for material and energy efficient solutions as well as innovations based on renewable energy in our stores and along our supply chains."
---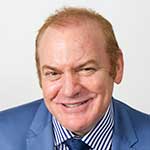 Nick Holland
Chief Executive Officer, Gold Fields
"Climate change is an undeniable and critical global challenge, and its causes will be addressed in a financially sustainable manner by responsible mining companies, such as Gold Fields. Amongst other measures that reduce CO2 emissions, Gold Fields supports a binding global agreement on climate change, a market price for carbon, greater energy efficiencies as well as more extensive use of renewable energies."
---

Daniel Joseph Houston
Chief Executive Officer, Principal
"At The Principal, we remain highly committed to protecting the environment. We're decreasing our overall environmental impact by reducing our carbon footprint, ensuring efficient use of water and energy, implementing comprehensive recycling and waste management programs, and engaging employees and suppliers in environmental awareness initiatives.
Our energy and sustainability team pursues opportunities to invest in energy efficient systems, new technologies and alternative energy that improve the energy efficiency of our existing operations and reduce our carbon footprint.
Our most substantial investment to date involves a multi-year, major renovation to our downtown Des Moines corporate campus, which incorporates sustainability as a critical element in the design process. The Principal invested over $3M in energy efficiency improvements throughout the first building that was renovated, including all LED lighting, updated controls and building automation, and new HVAC equipment. As we continue our campus renovations, sustainability will remain a top priority."
---

Kasuo Kashio
Chairman and Chief Executive Officer, Casio Computer Co., Ltd.
"Casio has produced products that enabled energy-efficiency and natural -resource-saving with Casio's unique compact, lightweight, slim, and energy-efficient technology.
In the days ahead, Casio will continue to strive with the aim of reducing environmental impact of product lifecycle.
Casio's Global Environmental Management Policy is as the following:
Medium-term target
To reduce the total volume of global greenhouse gas emissions from business activities by 30 per cent compared to fiscal 2006, by fiscal 2021.
Long-term target
To reduce the total volume of global greenhouse gas emissions from business activities by 80 per cent compared to fiscal 2006, by fiscal 2051.
Casio acknowledges that Casio is responsible to achieve the above targets and will strive for building a sustainable society."
---

Pertti Korhonen
President and Chief Executive Officer, Outotec
"Mining and metals processing industries are very energy intensive. Energy consumption is the main reason for our customers' CO2 emissions. Outotec's greatest contribution to reducing CO2 emissions is made through delivering sustainable technologies that utilize the energy contained within the raw materials and minimize the need for external energy. The annual emissions avoided by the metallurgical industry through the use of five Outotec technologies amounted to 5.9 million tonnes of CO2-e in 2014. In line with our mission 'Sustainable use of Earth's natural resources', we continuously develop solutions which minimize our customers' life-time ecological impact and operating costs."
---

Jean-Bernard Levy
Chairman and Chief Executive Officer, Electricité de France
"Building on its low carbon electricity, EDF is already enabling the energy transition, empowering its customers to become "prosumers" through digital revolution. We want to build an even more decarbonized electricity mix using the complementarity of renewable and nuclear. For that we will double our renewable capacity by 2030 at 50GW."
---

Bill McDermott
Chief Executive Officer, SAP SE
"At SAP, we believe in helping the world run better and improving people's lives – and we see a critical role for technology in achieving that goal.
SAP already uses 100 per cent electricity from renewable sources for all data centers and buildings, and we support our customers in minimizing their carbon footprint with our cloud solutions, hosted in our green data centers.
We also see great potential for reducing greenhouse gas emissions through digitization – the shift from physical, "offline" processes to electronic, online processes.
One example of this is the utilities industry, where SAP offers a broad range of services to support digitization. For example, our smart meter infrastructure enables utilities to closely engage with their customers for conscious energy usage. In addition, SAP's in-memory technology helps quickly analyze large data sets like weather data, which gives energy analysts a powerful tool to help match energy demand by integrating, simulating, and forecasting renewable energy supply.
With SAP HANA as the new architecture for 21st-century live systems, we believe SAP is well positioned to help make a net-zero carbon world a reality."
---

David McKay
President and Chief Executive Officer
"Climate change is one of the most pressing issues of our time, and one that has galvanized humans to act. While we've seen important political progress, if we have any hopes of lasting change to the way we produce and consume energy, business has to be at the forefront.
At RBC, we've publicly supported the principle of carbon pricing for more than a decade. We're pushing every part of our business to do more. We've expanded our financing of clean tech, energy efficiency and renewable energy businesses, and are excited to be part of the developing green bond and carbon trading markets.  Last year we established a greenhouse gas reduction target for our global operations and we're now one of the largest purchasers of renewable energy, and one of the largest leasers of certified green office space in Canada. What does a bank see in a lower-carbon future? We see an essential path to prosperity for our clients and their communities, knowing that a sustainable planet goes hand in hand with a more efficient, productive and ultimately profitable economy for everyone."
---
Hamid R. Moghadam
Chairman and Chief Executive Officer, Prologis
"Prologis plans to lead not follow as we progress forward toward a net-zero carbon world. Across our global portfolio of high quality logistics real estate, we apply energy generation, storage and efficiency technologies to minimize our energy footprint. Our inter-connected rooftop solar installations already represent 123 MW of generating capacity, and we meet or exceed our carbon-reduction targets through cool roofs, energy efficient lighting, investing in renewables, and building to the industry's highest sustainability standards."
---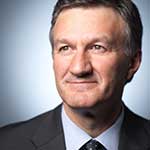 Al Monaco
President and Chief Executive Officer, Enbridge Inc.
"For Enbridge, the role we play is driven by the need to ensure we meet society's need for secure energy supply that supports day-to-day life, while at the same time reducing emissions and protecting the environment.
To that end, we're focused on four things.
First is ensuring the safe and reliable delivery of the energy people need. Our energy pipeline businesses deliver energy to heat homes and fuel transportation, as well as contribute to products from medicines to fabrics and plastics. In meeting those needs, we'll continue to focus on reducing our own emissions and publicly disclosing our progress. We'll continue to advocate for carbon pricing policies that reduce consumption and incent investment in technology and innovation.
Second, to bridge to a lower carbon energy mix, we're growing our natural gas business. Natural gas has great potential as a lower carbon alternative for electricity generation. Equally important, it complements the growth of renewable generation through its ability to address intermittency of wind and solar. We're exploring greater use of natural gas as a transportation fuel; we have the largest fleet of natural gas-powered vehicles in Canada.
Third, we're continuing to expand our interests in renewable energy. From our initial investment more than a decade ago we've become one of the largest investors in wind and solar energy in Canada. To date, we have invested $5 billion; our goal is to double our renewable generation by 2020.
Finally, we're making a real mark on the consumption side of the equation, which is also critical to lowering emissions; in fact, we're recognized as leaders in energy efficiency and demand side management programs. Since 1995, these initiatives have saved approximately 16.5 million tonnes of emissions – the equivalent of taking approximately 3.2 million cars off the road for a year."
---
Ian Narev
Managing Director and Chief Executive Officer, Commonwealth Bank
"Our vision centres around the long-term wellbeing of people, businesses and communities. As part of that, we are committed to supporting the transition to a low carbon economy, and contributing to international efforts to limit global warming to 2° Celsius. We welcome Governor Carney's call for transparency.
We recognise that the decisions we make have an impact on the environment. We have set ambitious targets to reduce our own carbon emissions and consistently examine our lending and investing decisions to assess and mitigate any environmental impacts. Our lending is governed by a comprehensive Environmental, Social and Governance Risk Management Framework; and a Responsible Investing Framework guides our wealth management activities.
We actively seek to lend to, invest in, and support innovative technologies and businesses that decrease dependence on fossil fuels and that mitigate the effects of climate change. We also continue to work with clients to manage their environmental impacts, and help them meet their own environmental goals through the provision of appropriate financial products and services.
We believe it is important to provide full disclosure of our direct carbon emissions and the assessed carbon emissions that arise from our business lending. This disclosure improves the transparency of our business decisions, enables us to track our performance and creates an imperative for us to act on key opportunities to continually improve our carbon performance."
---

Peder Holk Nielsen
President and Chief Exeuctive Officer, Novozymes
"In 2014, customers reduced their CO2 emissions by an estimated 60 million tons through the application of our products – equivalent to taking 25 million cars off the road. Inspired by Rio+20 and the post-2015 process, we have built our company strategy around sustainability and the Sustainable Development Goals. When we work with our partners, the products we develop together can save up to 100 times the amount of carbon that went into producing them. They help farmers produce more sustainably, they help clean clothes with less water and chemicals – and they help produce advanced transportation fuels.
When Government creates the right overall framework and sets the level of ambition, the private sector invests and innovates in these types of solutions, helping to contribute to shared prosperity. Carbon needs to carry a cost that alters our behaviours, and is priced so that it guides our decisions and incentivizes solutions."
---

Mario Plourde
President and Chief Executive Officer, Cascades
"Even though it consumes 55 per cent less energy than average for the Canadian industry in producing the same products, Cascades plans to continue to reduce its carbon footprint and energy consumption by adopting aggressive energy-saving measures. In this regard, we are proud to be the first paper manufacturer to carry out projects using solar energy."
---

Xavier Rolet
Chief Executive Officer, London Stock Exchange Group
"The global economy is standing at the edge of its next great transformation to a new, low-carbon world. London Stock Exchange Group will play the same role it has in all of the economic evolutions that have marked our 300 year history: providing the markets, pathways and tools to finance and support the innovators and entrepreneurs building our new, greener economy."
---

Eldar Sætre
President and Chief Executive Officer, Statoil
"The future of energy must be low carbon. Oil and gas will remain important energy sources for decades, and Statoil seeks to be the world's most carbon efficient producer. At the same time, growth in the world's energy demand must be met by renewable energy. This offers new opportunities to use our technology and powers of innovation, and we are currently building a renewable business based on our position in offshore wind."
---

Henrik Saxborn
Chief Executive Officer, Castellums
"To evolve is the only truly sustainable approach and we believe that as an organization, in the long term, working with sustainability is a requirement to create economic growth.
Sustainability has always been a natural element of Castellum operations. As far-sighted property-owners we focus on environmental, social and economic sustainability. This can cover everything from utilizing natural resources as efficiently as possible, with reliable monitoring processes – to ensuring that our properties are environmentally certified. Moreover, Castellum actively contributes to the sustainable development of the cities which host our operations.
To be successful in the future, you cannot choose to work with sustainability. Sustainability has to be a part of the business strategy. As a major real estate owner in Sweden Castellum has a responsibility to contribute to sustainable development. In the real estate sector carbon emissions from the real estate portflio and projects is our largest footprint, therefor we have a pronounced focus on environmental efforts. This means that resources, such as energy and water are used as wisely and efficiently as possible. To stear in a sustainabile approach we have decided on challanging targets on energy efficiency, by using 50 per cent less energy than the average building in Sweden. Other challanging targets are set to lower carbon emissions by 70 per cent to 2017, using 90 per cent renewable energy by 2017, develop sustainable and certified buildings, sustainable co-operations with tenant and supplier and last but not least socialt commitment and responsibility."
---

Henrik Sjölund
President and Chief Executive Officer
"The growing forest is the starting point for all Holmen's business. From the renewable material that the forest yields, the Group's paper mills and sawmills currently produce paperboard, printing paper and sawn timber. Our sustainability work is a core aspect of the business and a driver of long-term commercial value.
Holmen's production plants are supplied with natural raw materials from sustainably managed forests and much of the energy required is self-generated from renewables, with any surplus energy put to good use and by-products from the production process used in fossil-free energy generation. The renewable wood raw material from Holmen's forests makes an important contribution to the vital work of promoting effective resource management and combating climate change. This occurs in part via the substitution effect that arises when renewable materials and biofuels from the forest replace fossil materials, and partly via the standing forest which, like wooden structures and joinery products, stores large quantities of carbon dioxide. In addition, Holmen's paper and paperboard products can be recycled into new products or bioenergy.
There are thus many ways in which Holmen's business does good, when one takes into account the carbon dioxide stored in the forest products, and the resource-efficient production run overwhelmingly on renewable energy. Thanks to investment in self-generated energy, and the development of new products based on forest raw material, the positive effects on the climate will only grow stronger in the future. This will be Holmen's contribution in the transition to a bio-based economy. And at the same time, we create value for both shareholders and future generations."
---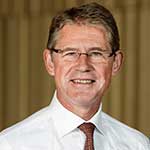 Lars Rebien Sørensen
President and Chief Executive Officer, Novo Nordisk
"Novo Nordisk produces nearly half of the world's insulin and injection devices at production sites across the world. The number of people living with diabetes and otherserious chronic conditions is increasing at an alarming rate and we need to meet the needs for our products in a sustainable way. We have therefore set an ambitious target of zero CO2 emissions from electrical power at all our global production sites by 2020. Already, we have made the switch to renewable power at production sites in Denmark, China, Brazil and Japan. This ambition helps us secure long-term cost and risk reduction, and as more companies invest in renewable power, green technology is likely to get more efficient, less costly and become a more attractive power source."
---
Michael Ward
Chairman and Chief Executive Officer, CSX
"Freight rail continues to be the most fuel-efficient way to ship goods over land, and converting to rail reduces emissions for many of our customers as they evaluate their global supply chains.  With its reach to two-thirds of Americans, CSX can help reduce emissions for our customers, and we're finding additional ways to improve. Locomotive fuel efficiency is the greatest opportunity to reduce our environmental footprint. Since 1980, CSX doubled fuel efficiency, and in 2014, we moved one ton of freight an average of 483 miles on one gallon of fuel – a record-setting year."
---

Alan Wilson
Chairman and Chief Executive Officer, McCormick
"McCormick is very supportive of the move to a net-zero carbon world and we've taken several steps to begin the transition. Our company does not have a large environmental footprint but we've set aggressive goals against energy reduction, solid waste, packaging, water and Greenhouse Gas emissions for 2019. I am pleased with our progress to date but we have more to accomplish. McCormick is not a large emitter of GHGs but we are absolutely focused on reducing emissions and are using alternative energy sources with lower carbon footprints where possible. We are expanding the use of solar panel arrays in our locations which will remove significant amounts of CO2 while providing equivalent power. By 2019, we expect to reduce GHG emissions per unit of output by 5 per cent globally.
Our long term efforts are underway as we continue to work on sustainable agricultural initiatives to ensure that raw materials around the world are responsibly sourced. Additionally, we are exploring new innovative ways to use renewable and sustainable packaging materials. We plan to share more news about this effort in our next CSR report."
---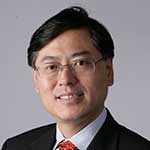 Yang Yuanqing
Chairman and Chief Executive Officer, Lenovo
"In the last 10 years, Lenovo has gone from a local Chinese PC player to a nearly $50b global company – and as our global business has grown, so has our responsibility as a global citizen.  We recognize that climate change is a serious challenge for all of us – individuals and companies.  Lenovo is taking direct action to minimize our carbon footprint.  We've committed to a 40 per cent reduction in our operational greenhouse gas emissions by 2020 versus where we were in 2009 and have made real progress towards that goal.  We're continually trying to increase the amount of renewable energy we generate at our facilities.  We have solar arrays at our Shanghai manufacturing plant and our new Beijing headquarters building.  From the policies we use to operate our business, to the products we sell in 160 countries, sustainability, responsibility and long-term impact are always key considerations for Lenovo."
---
Click here to go back to the ranking landing page.