2020 Best 50 ranking
Which companies earned a spot in Corporate Knights' 2020 list of Canada's best corporate citizens?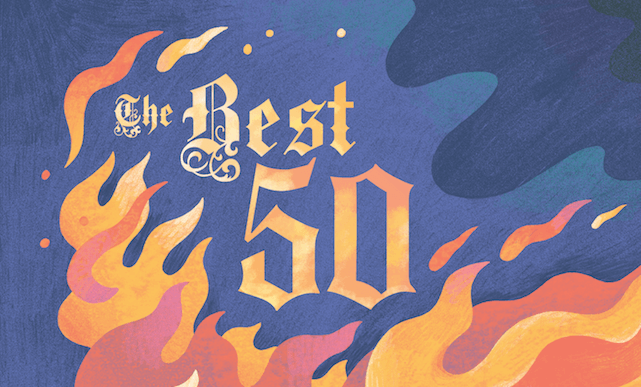 Illustration by Kaley McKean
Every year, Corporate Knights ranks Canadian companies with an annual revenue of over $1 billion on up to 21 indicators. Below is the Best 50 summary chart for 2020, including the clean revenue result for each company, which is percentile-ranked against industry peers and weighted at 50% toward the overall score.
For complete scores, return to 2020 Best 50 landing page and click on 'free results.'
2020 Best 50 updated
| Rank 2020 | Rank 2019 | Company | Peer Group | Overall Score |
| --- | --- | --- | --- | --- |
| 1 | 17 | Mountain Equipment Co-op | Apparel and Accessories Retail | 85.6% |
| 2 | 13 | Toronto Hydro Corp | Electric Utilities | 85.1% |
| 3 | 33 | Alectra Inc | Electric Utilities | 84.0% |
| 4 | 1 | The Co-Operators | Insurance | 82.1% |
| 5 | 2 | Hydro-Québec | Wholesale Power | 82.0% |
| 6 | 9 | Société de transport de Montréal | Other Passenger Transportation | 81.4% |
| 7 | 3 | Algonquin Power & Utilities Corp | Electric Utilities | 79.6% |
| 8 | 11 | Vancouver City Savings Credit Union | Banks | 78.3% |
| 9 | 37 | Bank of Montreal | Banks | 73.2% |
| 10 | 8 | Transcontinental Inc | Printing Services | 73.1% |
| 11 | 16 | Hydro One Ltd | Electric Utilities | 72.7% |
| 12 | 23 | British Columbia Hydro and Power Authority | Wholesale Power | 72.3% |
| 13 | 5 | Bombardier Inc | Aerospace and Defence Manufacturing | 72.3% |
| 14 | 24 | Fortis Inc | Electric Utilities | 72.2% |
| 15 | 0 | Canadian Pacific Railway Ltd | Cargo Transportation and Infrastructure Services | 69.8% |
| 16 | 6 | Cascades Inc | Containers and Packaging | 69.1% |
| 17 | 42 | Brookfield Renewable Partners LP | Wholesale Power | 68.4% |
| 18 | 0 | Transat AT Inc | Travel Arrangement and Reservation Services | 67.1% |
| 19 | 19 | Sun Life Financial Inc | Insurance | 66.7% |
| 20 | 38 | Telus Corp | Wireless and Wireline Telecommunications Services | 66.0% |
| 21 | 12 | Stantec Inc | Facilities and Construction Services | 66.0% |
| 22 | 0 | RioCan Real Estate Investment Trust Co | Real Estate Investment Trusts (REITs) | 65.6% |
| 23 | 27 | Ivanhoé Cambridge Inc | Real Estate Investment and Services | 65.1% |
| 24 | 14 | EPCOR Utilities | Electric Utilities | 64.4% |
| 25 | 10 | Kruger Products | Personal Care and Cleaning Products | 64.3% |
| 26 | 7 | Desjardins Group | Banks | 63.4% |
| 27 | 32 | Northland Power Inc | Wholesale Power | 63.0% |
| 28 | 30 | Ontario Power Generation Inc | Wholesale Power | 62.1% |
| 29 | 20 | Canadian National Railway Co | Cargo Transportation and Infrastructure Services | 60.7% |
| 30 | 18 | Énergir LP | Natural Gas Utilities | 58.1% |
| 31 | 50 | Agnico Eagle Mines Ltd | Metal Ore Mining | 58.0% |
| 32 | 22 | Catalyst Paper Corp | Forestry and Paper Products | 57.8% |
| 33 | 36 | Canadian Solar Inc | Electrical Equipment and Power Systems | 57.7% |
| 34 | 15 | Suncor Energy Inc | Integrated Oil and Gas Exploration and Production | 56.8% |
| 35 | 0 | Brookfield Asset Management Inc | Investment Services | 56.7% |
| 36 | 0 | Secure Energy Services Inc | Support Activities for Oil and Gas Operations | 56.5% |
| 37 | 0 | IGM Financial Inc | Investment Services | 55.5% |
| 38 | 25 | Canadian Tire Corporation Ltd | General Merchandise Retail | 53.6% |
| 39 | 4 | Teck Resources Ltd | Metal Ore Mining | 53.4% |
| 40 | 40 | SunOpta Inc | Food and Beverage Production | 53.3% |
| 41 | 28 | Manitoba Hydro-Electric Board | Wholesale Power | 53.2% |
| 42 | 39 | Enbridge Inc | Midstream Energy | 52.7% |
| 43 | 0 | Power Corporation of Canada | Insurance | 52.3% |
| 44 | 29 | High Liner Foods Inc | Food and Beverage Production | 50.9% |
| 45 | 49 | Maple Leaf Foods Inc | Food and Beverage Production | 50.8% |
| 46 | 0 | The Royal Bank of Canada | Banks | 50.7% |
| 47 | 31 | Cogeco Communications Inc | Wireless and Wireline Telecommunications Services | 50.6% |
| 48 | 21 | BGIS | Facilities and Construction Services | 50.4% |
| 49 | 35 | HSBC Bank Canada | Banks | 50.2% |
| 50 | 0 | Toronto-Dominion Bank | Banks | 50.1% |
| Rank 2020 | Rank 2019 | Company | Peer Group | Overall Score |