"We can't divest from fossil fuels because it would lead to lower returns, and investors wouldn't like that."
That's the response universities, governments, pension funds and other asset owners typically give when faced with pressure to divest from their fossil-fuel holdings.
But a report from MSCI Inc., which compared the performance of fossil-free portfolios to conventional, fossil-filled portfolios, found that the lower-return argument doesn't hold – at least not since 2010.
MSCI, the world's largest stock market index provider, found that portfolios with a mix of coal-, gas- and oil-producing companies returned 11.8 per cent a year. Fossil-free portfolios had an average return of 13 per cent.
The benchmark for this analysis is the MSCI ACWI Index, which represents the broad market by capturing large and mid-cap stocks across 23 developed and 23 emerging countries. That index has returned 62.2 per cent since 2010.
When MSCI eliminates companies that own large fossil-fuel reserves, the index has returned 69.9 per cent since 2010.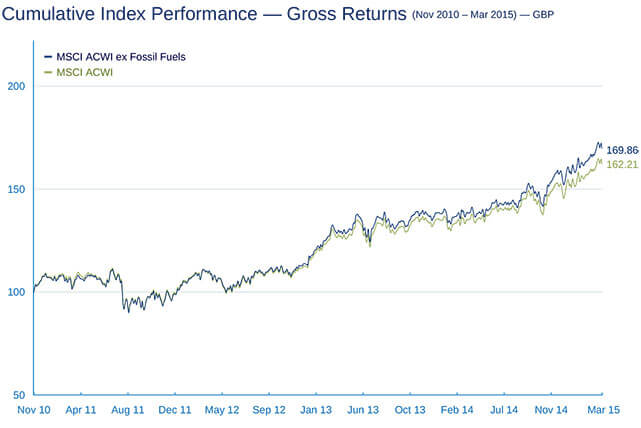 This reality may explain why the number of investment professionals in the United States offering fossil-fuel free portfolios to investors has nearly doubled – jumping from 22 per cent in 2013 to 42 per cent this year, according to a divestment survey released in April by First Affirmative Financial Network.
It might also explain why G20 powers are reportedly investigating the risks that fossil-fuel companies are taking by investing in new projects that are incompatible with the move to a low-carbon economy and heightened climate action.
Banking giant HSBC recently warned that it's not just climate regulations and falling oil prices putting fossil-fuel projects at risk of becoming stranded assets.
"We expect innovation in efficiency and technological advancements, including in renewables, battery storage and enhanced oil recovery, to alter the energy mix and pricing in the energy economy, potentially resulting in further stranding of high carbon and high cost fossil fuels," the bank said in a sobering April report.