On July 14, U.S. President Donald Trump tweeted: "Why don't they go back and help fix the totally broken and crime infested places from which they came." Many interpreted the tweet as a racist dog whistle directed at four barnstorming congresswomen, Representatives Alexandria Ocasio-Cortez, Ilhan Omar, Ayanna Pressley and Rashida Tlaib, never mind the fact that three of them were born in the U.S.
The following day as a firestorm raged in response to the controversial tweet, Lockheed Martin CEO Marillyn Hewson was the only major corporate chief to appear on stage with Trump at a White House business summit, lending the president an imprimatur of blue-chip legitimacy.
Given that Lockheed Martin is at the heart of the military industrial complex as the Pentagon's number one supplier, this may not be surprising, but the especially cozy relationship between the White House and the company prompted the national security trade publication Defense One to label Hewson as Trump's favourite Defense CEO. "Lockheed CEO Marillyn Hewson is now clearly 'all-in' on 2020 Trump re-election," Jim McAleese, who runs the Virginia-based McAleese and Associates consulting firm, wrote in a July 15 note to investors.
Politics aside, Lockheed Martin is the largest weapons company in the U.S., with a history that includes making the bomber that dropped Little Boy, the first nuclear weapon that decimated Hiroshima during the Second World War. Many people consider Lockheed Martin the antithesis of responsible investment. Some of the world's largest investors who do invest in other major weapons companies—such as the US$1 trillion Norwegian Sovereign Fund and US$564 billion Dutch pension APG—will not touch Lockheed Martin with a ten-foot pole, because of its one-third interest in the company that runs the U.K. Government's nuclear weapons program.
Can weapons be sustainable?
Corporate Knights also excludes Lockheed Martin from consideration on our annual Global 100 Most Sustainable Corporations in the World list, as the company derives more than half its revenue from weapons. Lockheed Martin's director of sustainability Matthew Swibel expressed his discontent with this decision in a note to me in 2014 in which he wrote:
"The irony is thick today with regards to your list's exclusionary scheme. During today's 3Q14 Earnings Webcast, our CEO boldly talked about the mark of Lockheed Martin's ESG performance. It is self-evident to sophisticated investors that the Aerospace & Defense sector, and LMT in particular, plays an important and critical role in industrial-scale solutions for sustainability in the realms of energy, cyber, corruption controls, climate science, safety and more.  And there's a widely held belief that core weapons platforms counter perilous security threats to the free world and the fiercest challenges to sustainable development."
To be fair, Lockheed Martin, through its Skunk Works division,  is a significant investor in emerging clean technologies such as compact fusion and blimp-like hybrid airships, which have breakthrough potential to decarbonize the economy.
But the company's main bet is on the F-35 fighter jet, which generated 27% of overall revenues in 2018, and the company guidance suggests it will make up an even greater portion of revenues in years to come.
Therein lies a big political risk for investors. A sizable chunk of its international sales prospects have been derailed in recent years from Turkey to Canada. Remember when Stephen Harper's government announced the planned purchase of 65 Lockheed Martin F-35 fighters back in 2010 – with promised delivery by 2020. This became an election issue in 2015, drawing criticism over the high costs, the lack of public competition and the fact that F35s are single-engine fighters. It's 2019, and there are still no F-35s in Canada, with a new procurement process delaying any final order decisions until 2020.
---
---
Canadian pensions invested in Lockheed Martin
Think you don't have anything to do with Lockheed Martin? Not the case if you are members of any of the following major pension funds, which all invest millions of dollars in Lockheed Martin.

INVESTORS
LOCKHEED MARTIN SHARES (US$)

Caisse de Depot et Placement du Quebec

                                                           $61,455,359
Canadian Pension Plan
                                                             $59,476,404

British Columbia Investment Management Corp

.
                                                           $15,534,180
PSP Investments
                                                                $8,273,610

Vestcor Investment Management Corporation*

                                                               $1,866,396
Ontario Teachers' Pension Plan Board
                                                                $1,530,816

Source: Most recent SEC 13F filings

*Jointly owned by the New Brunswick Public Service Pension Plan and the New Brunswick Teachers Pension Plan.
---
---
That said, it's not like Lockheed Martin is hemorrhaging cash. Revenue has increased in each of the past three years, and the company recently raised earnings estimates for the year.
As Lockheed Martin makes up a scant 0.21% of the MSCI ACWI, the global benchmark of blue-chip stocks, investors can afford to look elsewhere without dire risks of reducing their investable universe.
What should you invest in instead?
One interesting stock with less potential of blowing up the world or your portfolio is Dassault Systèmes, which ranked number one overall on our 2018 Global 100 Most Sustainable Corporations in the World list.
Founded in 1981 as a spinoff from another major military contractor France's Dassault Aviation, Dassault Systèmes has a mission "to help industry make products that help to harmonize production, nature and life."
Its 3D Experience software platform allows customers to "virtualize" the design process for products by creating 3D designs and simulating their use on screen before they are made in the physical world, obviating much waste from building physical prototypes.
Among the aircraft that Dassault Systèmes' software has helped design is the ground-breaking Solar Impulse 2, the first aircraft to fly around the world using only solar power.
Although the company started out creating design tools for aircraft manufacturers, aerospace now makes up only 13% of its sales. The industries it currently serves include automotive, energy, consumer goods and construction. Its products can now even model, simulate, visualize and experience entire cities as they become increasingly connected, integrated and smart.
From a shareholder perspective, Dassault Systèmes has generated a total return of 160.85% over the past five years through to July 18, besting Lockheed Martin's 153.45% result over the same time period, albeit with slightly higher volatility and lower dividend yield.
Beyond returns and its products and services, Dassault Systèmes stacks up favourably against Lockheed Martin on carbon footprint (two thirds lighter), CEO-to-average worker pay (10x lower ratio), board gender diversity (42% versus 25%) and percentage of taxes paid (27% versus 20%).
Bottom line: With Dassault Systèmes, you can invest in clean solutions rather than bombs and still get bang for your buck.
Beta is a measure of a stock's volatility in relation to the market. By definition, the market has a beta of 1.0, and individual stocks are ranked according to how much they deviate from the market. A stock that swings more than the market over time has a beta above 1.0. Lower beta means less risk.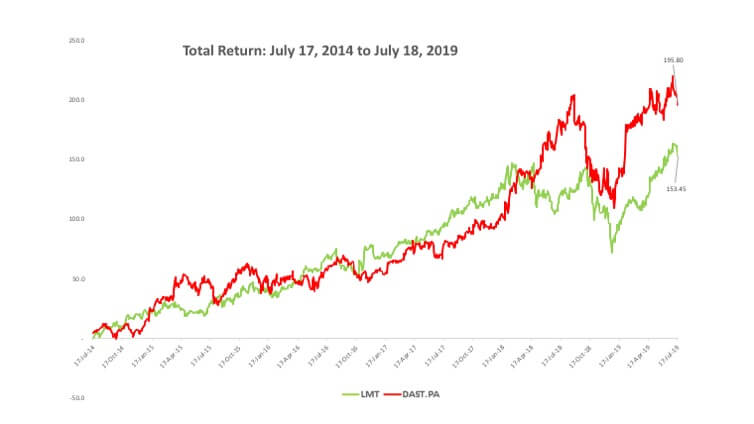 Have a company in your portfolio that you want to replace with a more sustainable option? Write us an email or send us a tweet!
Investing comes with risk. This article is a general discussion of the merits and risks associated with these stocks, not a specific recommendation. Speak to an investment professional and make sure your portfolio is diversified.