For decades, when people thought of Johnson & Johnson, benign images of baby shampoo and baby powder came to mind. Now, the century-old brand is soiled with lawsuits.
Last month, a California jury awarded a $29 million settlement to a woman who charged that her ovarian cancer was caused by the frequent use of J&J baby powder in the 1960s and '70s. Back in December, the company lost its bid to reverse a jury verdict that awarded a whopping US$4.69 billion to 22 women for similar reasons.
It turns out talc mines are often co-located with asbestos deposits, so carcinogenic asbestos contamination is hard to avoid. Even worse, a scathing report from Reuters alleges that J&J executives knew in the 1970s that talcum powder samples sometimes tested positive for asbestos. Said Reuters, "Other tests by J&J's own contract labs and others periodically found small amounts of asbestos in talc from mines that supplied the mineral for Baby Powder and other cosmetic products into the early 2000s." In cases like these, it's always the coverup that makes it worse.
The New Jersey-headquartered company faces lawsuits from roughly 13,000 plaintiffs on this issue. Some of the lawsuits will probably fail (right after J&J settled three cancer suits, the company won a trial over a California man's cancer case in early April). But even if only a small percentage of the verdicts go against J&J, the financial liabilities could add up quickly. Moreover, Johnson & Johnson's reputation is in tatters as consumer trust in the brand has eroded. J&J's stock (JNJ) plunged more than 10% in December with the failed appeal of the $4.69 billion settlement, although it has bounced back considerably since then. I'd expect future lawsuits to trigger similar stock volatility.
With a combination of ethical violations and financial risks stemming from these lawsuits, it's no wonder ethically-minded investors are brushing the company off.
We struggled to choose an alternative company to J&J, since its revenues are split between pharmaceuticals, medical devices and consumer goods. Not all ethical investment clients are keen on investing in pharmaceutical companies, so in the end, we leaned towards the consumer goods side of the business and decided to go with Unilever.
Unilever (UL) is an Anglo-Dutch consumer conglomerate that owns a whole bunch of well-known brands from soaps and detergents to soups and ice cream. Unilever came a long way in the past decade under the leadership of former CEO Paul Polman. On his first day as CEO in 2009, Polman shifted Unilever's reporting schedule from quarterly earnings reports to annual reports to reduce short-term pressures and let the company take a longer-term perspective with sustainability at the core of its business strategy.
Unilever has done a good job setting ambitious goals in its Sustainable Living Plan, including halving its environmental footprint across the life cycle of its products by 2030. Named #65 on Corporate Knights' Global 100 list of the most sustainable corporations in the world, Unilever easily beats J&J on clean revenue, carbon footprint, gender diversity, tax responsibility and other indicators (see scorecard below).
Sadly, Polman announced his retirement late last year, raising questions about whether his enlightened leadership will be carried on by his successor. Only time will tell whether new CEO Alan Jope will continue this legacy. Unilever has lots of work remaining, so we'll have to keep our eye on it.
J&J and Unilever are companies with very similar financial profiles, but, in my view, Unilever's brand is thriving while Johnson and Johnson's is deteriorating. There's no doubt that Unilever is this week's winner of the Sustainable Stock Showdown. Besides, since Unilever purchased Ben & Jerry's in 2001, you'd also own shares of my favourite ice cream brand.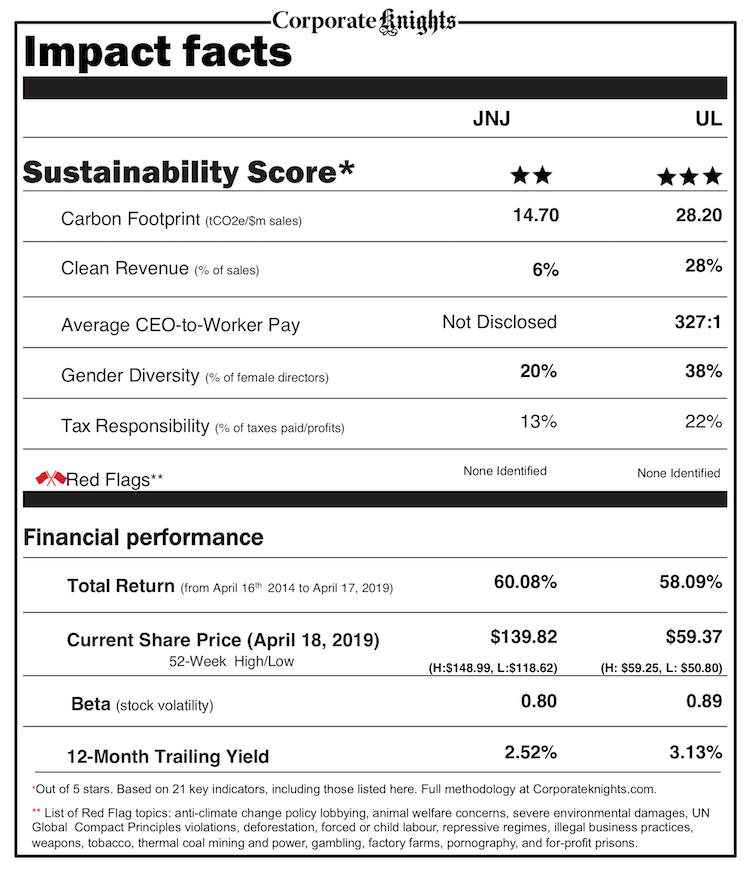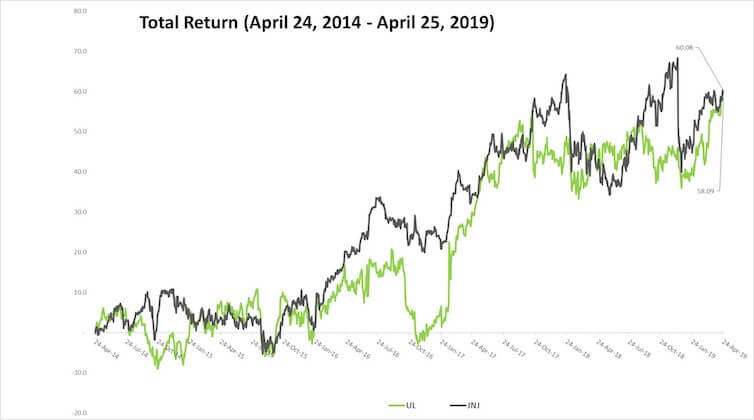 Have a company in your portfolio that you want to replace with a more sustainable option? Write us an email or send us a tweet!
Tim Nash blogs as The Sustainable Economist and is the founder of Good Investing. Tweet him at @timenash.
Investing comes with risk. This article is a general discussion of the merits and risks associated with these stocks, not a specific recommendation. Speak to an investment professional and make sure your portfolio is diversified.
Tim Nash does not own any shares of the companies mentioned in this article.