They say there are only two sure things in life: death and taxes. But if there's another thing we all share in common, it's our reliance on, well, disposable paper products. This week we look at two companies in this sector: Kimberly-Clark (KMB.NYSE) and Cascades (CAS.TO).
Kimberly-Clark is an American consumer products company that makes personal care products like diapers, tissues, and yes, toilet paper. Some of its brands include Huggies, Kleenex, Kotex and Cottonelle. I was quite skeptical of Kimberly-Clark going into my research. The forestry sector, in general, has a chequered past with impacts on biodiversity loss, climate change, and indigenous rights.  As far back as 2005, Greenpeace vocally accused Kleenex of blowing our noses on the Boreal forest.
Earlier this year, Natural Resources Defense Council (NRDC) and Stand.earth released a damning new report: The Issue with Tissue: How Americans are Flushing Forests Down the Toilet. You may have also read about how disposable wipes are creating costly sewage systems clogs or 'fatbergs' – giant clumps of unflushable waste mixed with grease. How could I forget learning about the epic fatberg found in London, England that was 250 meters long and weighed 130 tonnes in 2017.
It's worth noting that, since Greenpeace's early campaign, KC developed a sourcing strategy that dramatically increased its recycled content (anywhere from 24 to 28% of its total fibre usage is currently recycled). And the vast majority of its virgin tissue fibres are certified by the Forest Stewardship Council (FSC). FSC certification isn't perfect. The NRDC calls FSC certification a floor, not a ceiling for responsible sourcing. But it's the most respected forestry certification out there.
No matter how stringent FSC certification becomes (it's just announced comprehensive new Canadian standards), some environmentally conscious investors may not want to flush trees down the toilet. Lucky for them, there is a Canadian company that produces a line of toilet paper from 100% recycled fibre. Cascades is a Quebec-based paper company that produces tissues and packaging, with a long history of sustainability leadership.  Across its entire product line, 82% of its fibres come from recycled sources, and any virgin (non-recycled) source material comes from FSC-certified sources. Cascades has also hired a third-party firm EcoVadis to assess suppliers on sustainability criteria. With all of these initiatives, it's no surprise that Cascades is a common sight on Corporate Knights' ranking of the best 50 Corporate Citizens in Canada list (the 2019 list will be released June 4th).
From an investment perspective, Cascades is a much smaller company than Kimberly-Clark and pays a smaller dividend. Cascades could see higher revenue growth from expansion into areas like 100% recycled food packaging, and may provide better growth over time as the anti-plastic wave picks up.
Both companies have good sustainability scores, but I'll give Cascades the win for this week's Sustainable Stock Showdown since it is the Canadian king of virgin tree-free paper products.
Beta is a measure of a stock's volatility in relation to the market. By definition, the market has a beta of 1.0, and individual stocks are ranked according to how much they deviate from the market. A stock that swings more than the market over time has a beta above 1.0. Lower beta means less risk.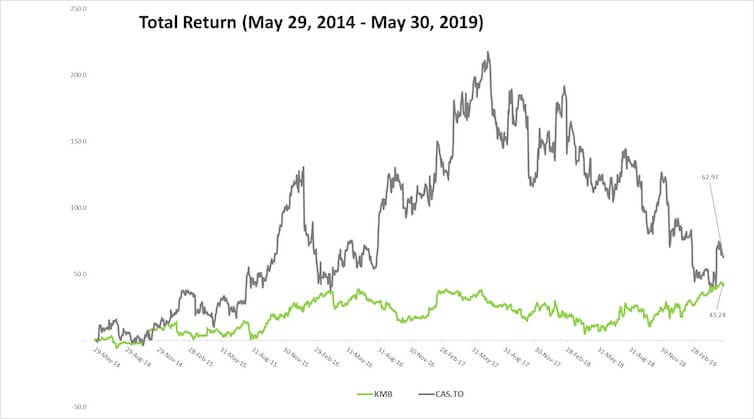 Have a company in your portfolio that you want to replace with a more sustainable option? Write us an email or send us a tweet!
Tim Nash blogs as The Sustainable Economist and is the founder of Good Investing.

Investing comes with risk. This article is a general discussion of the merits and risks associated with these stocks, not a specific recommendation. Speak to an investment professional and make sure your portfolio is diversified.
Tim Nash does not own any shares of the companies mentioned in this article.