Besides tree planting and contemplating how our governments aren't doing enough to tackle climate change, Earth Day is the perfect time to consider how your investments are affecting the planet. And my Easter chocolate hangover seems like a solid opportunity to take a bite out of a couple of the biggest chocolate stocks.
I don't think there's a more iconic Easter treat than Cadbury Creme and Mini Eggs. Just seeing the packaging gives me a sugar high. Cadbury is a British confectioner that was bought by American food conglomerate Mondelez International (MDLZ) in 2010.
In 2016, Cadbury made the controversial announcement that it would be removing the Fairtrade logo from the front of its certified brands and replacing it with Mondelez's in-house Cocoa Life program. While Cocoa Life claims it pays farmers at least as well as Fairtrade requires, questions linger about how stringently its internal guidelines will be applied. For its part, the Fairtrade Foundation says it remains an "implementing partner" and that FLOCERT (Fairtrade's independent assurance and certification body) will continue to independently verify the supply chain of Cocoa Life as the program grows.
According to Mondelez's Impact for Growth 2017 Progress Report, 35% of Mondelez's cocoa was 'sustainably sourced' under the Cocoa Life program and the shift from Fairtrade to Cocoa Life covers five times the amount of cocoa previously certified Fairtrade.
While third-party seals have faced their share of criticism for not doing enough to improve the lives of farmers, industry watchdog Fair World Project isn't impressed with the trend in leading manufacturers moving to self-certification, arguing that it leads to uneven standards, undermines consumer confidence and encourages "fairwashing."
A fairwashing scandal could trigger a public relations nightmare, and I'd expect the stock to decline in that scenario. For now, I'm happy to see that Fairtrade is still working in partnership with Mondelez and produces an Annual Partnership Statement, but sustainable investors need to keep an eye on Mondelez.
Beyond ditching the Fairtrade logo, Mondelez has been slammed for its deforestation practices. Back in November, Greenpeace issued an entire report dedicated to Mondelez's troubled palm oil sourcing called 'Dying for a Cookie – how Mondelez's dirty palm oil is driving the climate and extinction crisis.' Greenpeace says that between 2015 and 2017, 22 of Mondelez's palm oil suppliers cleared over 70,000 hectares of rainforest and almost 25,000 hectares of that was orangutan habitat. With lacklustre performance on other sustainability indicators,  Mondelez only gets one star.
We looked far and wide for the most sustainable chocolate company, but the companies doing really cool things are all either co-ops or private companies. Since we can't invest in those, we decided to look at Swiss chocolatier Lindt & Sprungli (LISN). Lindt won the Good Egg Award from Mighty Earth in this year's Easter Chocolate Shopping Guide as the chocolate company with the greatest improvement in sustainable policies.
Lindt also uses an in-house program called the Farming Program to measure progress on social and environmental impact. I'm impressed by their commitment to transparency with 79% of the cocoa beans in their supply chain both traceable and verified by The Earthworm Foundation, up from just 32% in 2015. However, like Mondelez, it doesn't guarantee a minimum price to farm workers or use third-party labour or environmental certifications, which explains its lack of points for Clean Revenue (below).
Both companies are similar from an investment standpoint. Mondelez is much larger and more diversified, although they both have similar risk and return profiles. This week's Sustainable Stock Showdown is practically a coin toss, although I'd give it to Lindt by a bunny's whisker.
Either way, I'm going to satisfy my 'hair of the rabbit' craving by supporting Camino, a Canadian chocolate co-op with products that are certified as both organic and fair trade.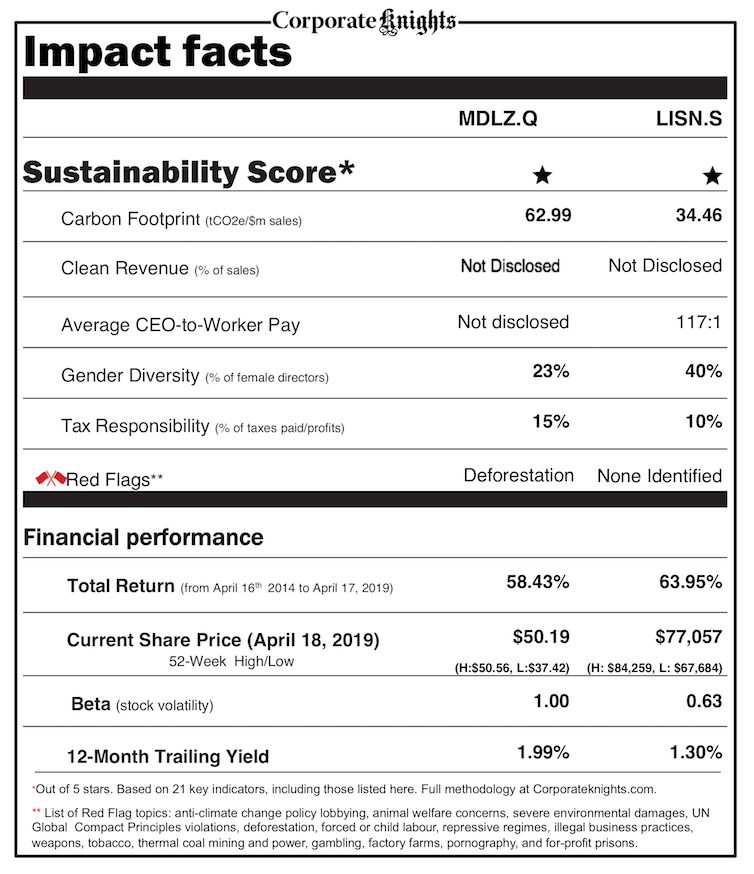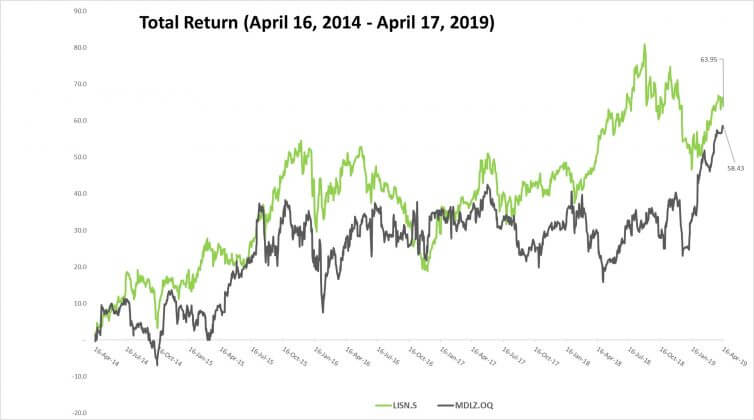 Have a company in your portfolio that you want to replace with a more sustainable option? Write us an email or tweet us!  
Tim Nash blogs as The Sustainable Economist and is the founder of Good Investing. Tweet him at @timenash.
Investing comes with risk. This article is a general discussion of the merits and risks associated with these stocks, not a specific recommendation. Speak to an investment professional and make sure your portfolio is diversified.
Tim Nash does not own any shares of the companies mentioned in this article.