Have I got an investment for you. Donald Trump loves this company. It's been almost ten years and it still hasn't been able to get its biggest project – an umbilical cord for the oil sands – built and rating agencies are taking a hammer to their credit rating.
Few Canadian companies have ever captured the imagination of a U.S. president quite like TC Energy (formerly known as TransCanada Corp). Trump has tweeted about the company's Keystone XL an astonishing 44 times. Despite the White House's enthusiasm for the 1,897 km pipeline that would deliver oil sands down to the Gulf of Mexico, investors are still waiting for the ribbon to be cut. Keystone XL has been mired in a years-long legal battle with landowners and environmental organizations and, last month, environmental groups filed a fresh lawsuit to further block/delay the project.
While TC Energy has a new de-Canadianized name and has renamed its energy business "energy and storage," its capital investment plans tell the same old story: it's still largely focused on transporting oil and gas, and instead of boosting its renewable business it's selling it off to help pay off some of its hefty debt load.
In comparison to oil and gas extraction companies, companies like TC Energy are better insulated against fossil fuel price shocks, relying instead on long-term shipping contracts. That means steady cash flows as long as the fossil fuel business is in business, but it does spell some clear long-term risk as the economy transitions away from fossil fuels.
More immediately, when you stack up TC's $36 billion planned spending on system upgrades and new pipelines alongside its huge existing debt pile, it's not hard to see why both Moody's Investors Service and Standard & Poor's both downgraded the company's debt.
If you are looking for an energy company aligned with a low-carbon future whose name doesn't autocomplete on the U.S. President's tweet deck, Brookfield Renewable Partners could be a nice option. The Toronto-based power utility—technically headquartered in Bermuda for tax reasons—is one of the world's largest pure-play renewable energy companies.
Brookfield Renewable Partners is majority owned by Brookfield Asset Management, and therefore has access to plenty of capital to grow. They recently announced that they are  acquiring a 50% stake in X-ELIO, a Spanish solar project developer with lots of growth protentional.
Unfortunately, Brookfield Renewable Partners doesn't produce an annual sustainability report so its disclosure is lacklustre. While it has an awesome portfolio of green energy, the company's gender diversity and average CEO-to-Worker Pay ratios are nothing to write home about.
It wouldn't take much for Brookfield Renewable Partners to become an all-round sustainability leader, but with the cash rolling in, it doesn't seem to be a top priority for senior management. Still, with a much cleaner business model and lower exposure to carbon risk, Brookfield Renewable Partners is this week's winner of the Sustainable Stock Showdown.
Beta is a measure of a stock's volatility in relation to the market. By definition, the market has a beta of 1.0, and individual stocks are ranked according to how much they deviate from the market. A stock that swings more than the market over time has a beta above 1.0. Lower beta means less risk.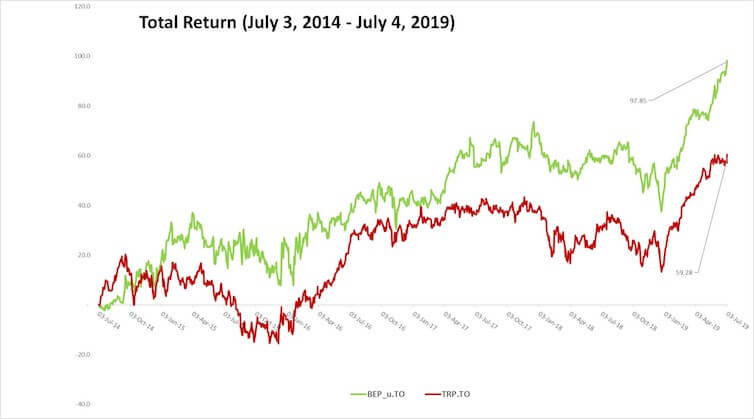 Have a company in your portfolio that you want to replace with a more sustainable option? Write us an email or send us a tweet!
Tim Nash blogs as The Sustainable Economist and is the founder of Good Investing.

Investing comes with risk. This article is a general discussion of the merits and risks associated with these stocks, not a specific recommendation. Speak to an investment professional and make sure your portfolio is diversified.
Tim Nash does not own any shares of the companies mentioned in this article.