New York City mayor Bill de Blasio is pushing a new proposal for a north-south streetcar between Brooklyn and Queens, an idea that would return streetcars to the city for the first time in over 60 years.
The Brooklyn Queens Connector would travel 26 kilometres along the East River, weaving its way through a series of fast-growing neighbourhoods like Sunset Park in Brooklyn and Astoria in Queens. At an estimated price tag of $2.5 billion (U.S.), it presents a more economical option compared to any potential subway expansion.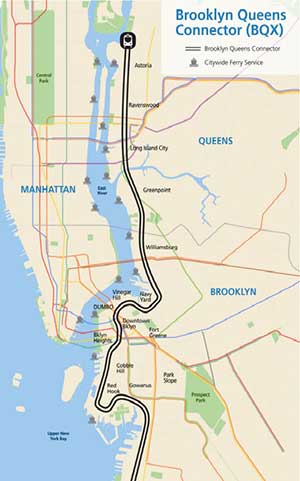 "This, to me, is a good and noble experiment to see if we can make this one work. It could open the door to light rail in other parts of the city as well," de Blasio told a press conference in Red Hook. "There's a set of conditions here that may be different than many other places, but if it works here, it's going to make it easier to do light rail in other areas that could use it as well."
De Blasio is arguing that new development spurred on by the line will end up paying for itself. A local development corporation would issue the tax exempt bonds, which would then be repaid by siphoning off some of the revenue from increasing property values in the area.
Another benefit of this proposal is that it wouldn't require the involvement of the Metropolitan Transit Authority, controlled by New York governor Andrew Cuomo. Relations between the two politicians remain strained over previous disputes.
Although the mayor's office has already assembled a powerful coalition of developers and politicians under the umbrella group Friends of the Brooklyn Queens Connector, numerous detractors have emerged since the idea was first floated in early February.
Politicians from Staten Island and other transit-starved corners of the city have cried foul, while others have summarized the project as nothing more than a giveaway to politically connected developers and questioned why buses could not be substituted instead.
A number of transit experts like Yonah Freemark have also expressed concerns that the route will only run on dedicated lanes an estimated 70 per cent of the time, reducing its average speed to about 19 km an hour.
Streetcars have been in the midst of a renaissance throughout the United States over the past decade, with 20 new lines having been completed or under construction.