The future for Canadian business
Posted
Part 2 of a dialogue on how corporate Canada can transition towards a sustainable, low-carbon economy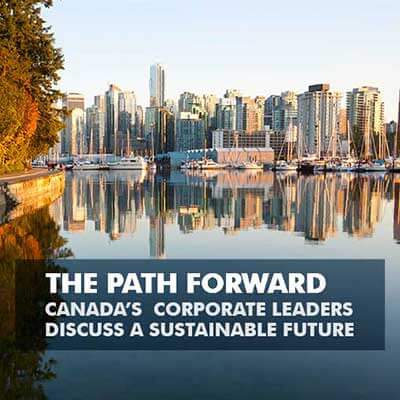 Canada has a unique opportunity to be a global leader in the transition to a low-carbon economy but will need better alignment across government and industry to push its agenda forward, some of the country's top sustainability leaders say.
"If Canada can't lead the way, then who will?" said Karen Clarke-Whistler, chief environment officer, TD Bank Group. "Our Canadian brand is so strong. We have everything to be a leader in the low-carbon economy and how the future will look. We have the skills, the education, the diverse population and the resources."
But Clarke-Whistler says governments and industry need to step up their efforts and collaborate more, or risk losing momentum and competitiveness amid the global transition to a low-carbon economy.
"The risk is that we are Canadian," said Clarke-Whistler. "We may be victims of our failure to have the courage to rise to the occasion… . Can we get a national vision together that we can align around and overcome our regional differences and operate as Team Canada? We are in a global economy. We can't live in a bubble of provinces and cities. We have got to connect with the rest of the world."
Added Clarke-Whistler: "Our opportunity is us and our risk is us … . Let's not blow it."
Clarke-Whistler was speaking at Bullfrog Power's The Path Forward event held in Vancouver on June 22. It was the second stop on a cross-country tour organized by Bullfrog Power, in partnership with Corporate Knights, to celebrate Canada's sesquicentennial and connect with the sustainability community to deliberate on the country's path to a low-carbon future. The event was moderated by Esther Speck, vice president of global sustainability at Vancouver-based retailer Lululemon and also included Jyoti Stephens, vice president of people, culture and mission at organic and natural food company Nature's Path.
What business can do, too
The discussion also focused on how industries, including big and small companies, play a crucial role in building a low-carbon economy by running more sustainable operations.
Clarke-Whistler said TD identified climate risk as being a mega-economic trend a decade ago, and has significantly lowered its carbon footprint ever since. She said it was also the first Canadian bank to issue a green bond, which included $500-million to support environmental mandates.
"We have used ourselves as a lab and kept building on that," Clarke-Whistler. "Our customers are also very vocal. They tell us what they do like and they don't like – and we take that very seriously."
At Nature's Path, the company's stated mission is to "leave the earth better than we found it," said Stephens.
While most employees and suppliers are behind the vision, as part of the company's culture, it has been a challenge over the years to get some to adapt to change to how it produces and packages its products.
"Having a number of wins gives you a bigger voice at the table," said Stephens, which has led to a large cultural shift towards increased sustainability across the company's operations.
The path forward
More businesses and industries are taking steps to boost sustainability, without waiting for governments to impose policies.
"Businesses are taking the initiative," said Stephens. "There's more collaboration that I'm seeing across industries. I think that will continue to address sustainability challenges and to address climate, since we're not seeing enough of that action from government."
Companies are responding to consumer demand for more sustainable goods and services, while also realizing the economic benefit of reducing resources such as water, energy and waste.
Stephens said companies should take an integrated approach to sustainability across operations, and use it to drive productivity and engagement.
"It gives employees a sense of purpose," she said, which is what more employees are seeking in careers today, in particular millennials who make up nearly half of the global workforce.
Technology is also forcing change across various industries and making companies more sustainable. Still, collaboration will continue to be the main driver, said Clarke-Whistler.
"We aren't going to get to where we want to get to unless we're working together," said Clarke-Whistler. "I know it sounds like gospel, but we seem to be living in a world where people are afraid of working together. It makes people think short term and curls them up. We have to avoid that."
Speck of Lululemon reiterated the importance of business and government working together.
"This isn't something we can do alone – that business or government can do individually," Speck said. "It's time to step up and move forward together. How we balance that is the work over the next 10 or so years. That means deep collaboration and bringing everyone along."
Corporate Knights founder and CEO Toby Heaps summarized the discussion saying Canadians need to be firm and focused in the future.
"It's great to be nice as Canadians … but I think this is a time where we can be nice, but we can't be meek," Heaps said. "We have to be brave and we have to seize the opportunity. It will take a lot more courage than I think we've mustered as society, from the bottom up to the top."
Heaps also called for more collaboration and innovation, starting immediately.
"Don't wait for perfect. Start throwing some ideas on the blackboard … The revolution isn't tomorrow, it's today," Heaps said. "This is a big opportunity. This isn't the time for baby steps. It's a time to take big leaps."