Saint-Hyacinthe organic waste powers L'Oréal Canada
Posted
A cosmetics giant turns its Canadian production facilities 100 per cent carbon neutral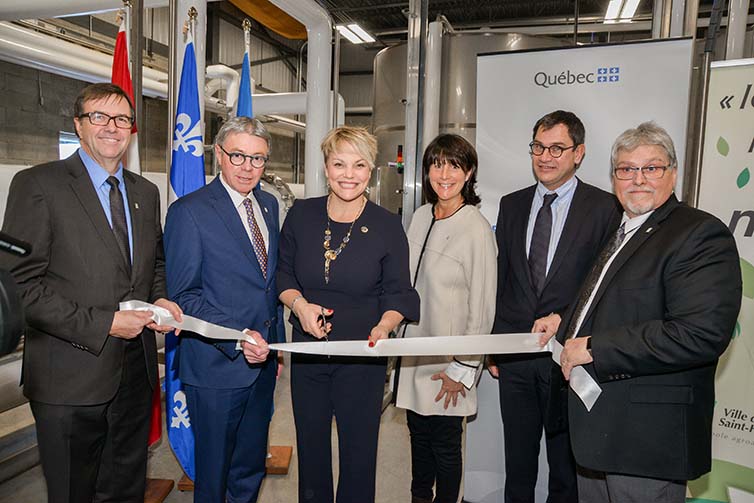 Ribbon-cutting ceremony at the opening of Saint-Hyacinthe's biomethanation plant on January 26, 2018 (From left to right: Louis Bilodeau, general director of Saint-Hyacinthe, Claude Corbeil, mayor of Saint-Hyacinthe, Isabelle Melançon, Quebec's minister of sustainable development, environment, and the fight against climate change, Sophie Brochu, president and chief executive officer, Énergir, Jean-Victor Pycke, vice-president and plant director, L'Oréal Canada, Pierre Mathieu, department director of wastewater management and biomethanation of Saint-Hyacinthe). Photo courtesy of L'Oréal Canada.
This article is "sponsored content" as defined by Corporate Knights' content disclosure policy.
---
Saint-Hyacinthe, a city of 55,648 about a one-hour drive east of Montréal, is now the first city in the province to generate energy using biomethanation – microbiologically converting organic waste into usable green power.
On January 26, the Saint-Hyacinthe biomethanation plant – the largest of its kind in the country – was inaugurated in the presence of Isabelle Melançon, Québec's minister of sustainable development, the environment and the fight against climate change, Claude Corbeil, Saint-Hyacinthe's mayor, and other representatives of surrounding municipalities.
"Recycling our organic waste represents one more step toward a zero-waste society, the kind of society we want to hand down to our children," Melançon explained at the announcement.
The plant received $42.2 million in support from the Government of Québec's Green Fund, $11.4 million from the Government of Canada's Green Infrastructure Fund and almost $27 million contributed by the city of Saint-Hyacinthe.
Renewable natural gas (RNG) makes it possible to reduce greenhouse gas (GHG) emissions in areas such as waste management, transportation and industrial operations without having to replace equipment. The biomethanation process both prevents GHG emissions and replaces the consumption of petroleum products used in building heating and transportation with a renewable carbon-neutral alternative.
In addition to creating sustainable employment opportunities in the region, transforming local organic matter into green energy highlights a regenerative economic model. "This is a good example of the circular economy, as citizens and local agrifood companies send their organic materials to the biomethanation facility, which turns them into renewable natural gas," said Corbeil.
In Saint-Hyacinthe, organic materials are extracted from the waste found in the brown bins of 25 surrounding municipalities and local agrifood companies. This is then turned into renewable natural gas through biomethanation at the plant and used to heat municipal buildings and vehicles.
With an expected production of 13 million cubic metres of RNG per year, roughly 1.25 million cubic metres will be used by the city. This makes it possible to divert nearly 200,000 tonnes of organic waste from the region, leading to an annual GHG emissions reduction of 49,000 tonnes. And the surplus of renewable natural gas? Sold and fed into the grid of leading Québec natural gas distributor, Énergir.
The collaboration between the city and Énergir stems from a 2014 framework agreement in which the city agreed to inject the remaining RNG into the gas distributor's network from its production at the biomethanation plant, beyond its own usage, for a projected 20 years.
Énergir president and chief executive officer Sophie Brochu and Jean-Victor Pycke, vice president and plant director of L'Oréal Canada, were also on hand to inaugurate the Saint-Hyacinthe biomethanation plant.
Énergir, the diversified energy company based in Québec, was known up until November 2017 as Gaz Métro. Distributing roughly 97 per cent of the gas used in the province, it is dedicated to supporting the energy needs of its 520,000 consumers and their communities through increased sustainability and efficiency. It is investing resources and efforts into innovative energy projects that provide renewable, liquefied and compressed natural gas, and biomethane.
"We're proud to have worked with the City of Saint-Hyacinthe to make this first major biomethanation project a reality, as an alternative to burying waste," says Brochu. The project, which fits in with Québec's 2030 Energy Policy, actively contributes to combatting climate change.
L'Oréal Canada, Énergir's first client to purchase renewable natural gas from Saint-Hyacinthe, has gone carbon-neutral within its two main Montréal-based production and distribution facilities since December 2017. This makes Canada the first country in the Americas where the cosmetics giant's centres have made the complete transition.
Frank Kollmar, L'Oréal Canada's president and chief executive officer, is proud of how the innovative initiative has taken shape. "We believe that beauty can be expressed in multiple ways, particularly through the environment and biodiversity," he said. Through its agreement with Énergir, any energy consumption by L'Oréal Canada will be from a renewable source. This step forward will enable the company to reduce annual GHG emissions by more than 2,100 tonnes.
L'Oréal Canada's carbon-neutral switch is in line with L'Oréal Group's international corporate social responsibility program Sharing Beauty with All. Launched in Paris during the COP21 UN climate change conference, it committed the company to a number of ambitious sustainability targets.
By 2020, the parent company anticipates a 60 per cent reduction in GHG emissions, in the production of waste generated by finished products and in water consumption per finished product, respectively. Kollmar said that purchasing Énergir's renewable natural gas "offers us an extraordinary opportunity to take a major step toward achieving our goal in Canada."