First Lady Michelle Obama unveiled the U.S. Food and Drug Administration's (FDA) revamped Nutrition Facts food labels at a nutrition conference in May, the first major change made since 1994. Most of the alterations are designed to make the label more legible and easier to comprehend, such as bigger fonts for calories and serving sizes. In addition, serving sizes have been adjusted to conform more closely to the way in which people actually consume food. The most controversial section involves the additional disclosure of added sugar content, an ingredient that has faced increased scrutiny from public health officials and nutritionists in recent years.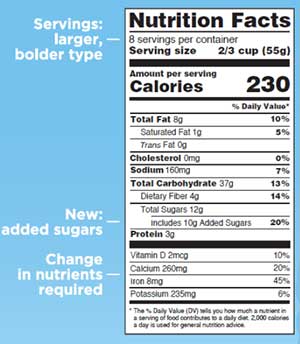 "So very soon – very soon – you will no longer need a microscope, a calculator or a degree in nutrition to figure out whether the food you're buying is actually good for our kids," said Obama at the announcement. Improving the nutritional intake of young Americans has been at the centre of Michelle Obama's Let's Move campaign, geared towards eliminating childhood obesity.
Efforts to overhaul food labels have been in the works for more than a decade, with the Obama administration pushing the process forward despite strong resistance from industry groups. Opposition quickly centred on the sugar provision once the FDA released its first design template in 2014, led by The Sugar Association and the Grocery Manufacturers Association.
The line for added sugar content has been criticized as nebulous by The Sugar Association, as natural and artificial sugars are the same at the molecular level. "We are concerned that the ruling sets a dangerous precedent that is not grounded in science, and could actually deter us from our shared goal of a healthier America," it said in a statement.
Organizations like the Center for Science in the Public Interest have countered that added sugars are responsible for the American over-consumption of sugar, currently estimated at roughly double the recommended daily intake.